Animation: 12/1030UTC. CLICK IF NECESSARY.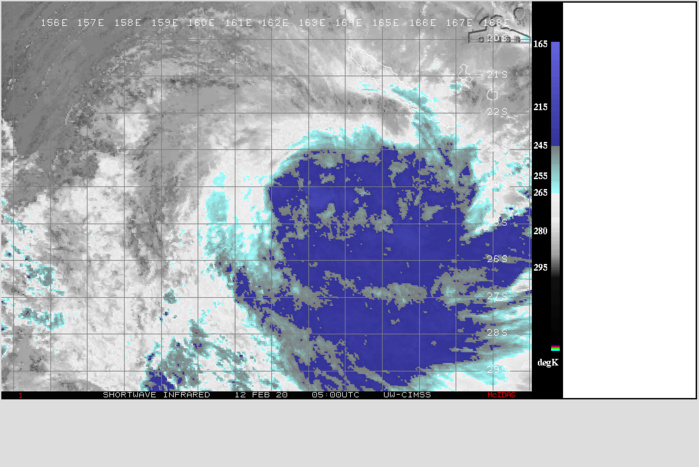 CIMSS/US

Location: 23.4°S 162.2°E
Maximum Winds: 70 kt ( 130km/h)
Gusts: 85 kt ( 160km/h)
Minimum Central Pressure: 973 mb
TPPS10 PGTW 120917
A. TROPICAL CYCLONE 15P (UESI)
B. 12/0840Z
C. 23.67S
D. 162.10E
E. FIVE/HMWRI8
F. T3.5/4.0/W1.0/24HRS STT: S0.0/03HRS
G. IR/EIR
H. REMARKS: 38A/PBO SBC/ANMTN. CNVCTN WRAPS .55 ON LOG10 SPIRAL
YIELDING A DT OF 2.5. MET AND PT YIELD A 3.0. DBO CONSTRAINTS
WHICH LIMIT CHANGE TO 0.5 OVER 6 HRS.
I. ADDITIONAL POSITIONS:
12/0442Z 23.17S 162.42E SSMI
12/0534Z 23.30S 162.25E SSMS
12/0642Z 23.48S 162.30E MMHS
12/0726Z 23.53S 162.18E GPMI
12/0733Z 23.50S 162.12E SSMS
RICHARDSON
REMARKS:
120900Z POSITION NEAR 23.9S 162.0E.
12FEB20. TROPICAL CYCLONE 15P (UESI), LOCATED APPROXIMATELY 229 NM
WEST-SOUTHWEST OF NOUMEA, NEW CALEDONIA, HAS TRACKED SOUTH-
SOUTHWESTWARD AT 08 KNOTS OVER THE PAST SIX HOURS. THE CURRENT
POSITION IS BASED ON A LOW-LEVEL EYE EVIDENT IN 120534Z SSMIS 37 GHZ
MICROWAVE SATELLITE IMAGERY. THE INTENSITY OF 70 KNOTS IS CONSISTENT
WITH A CONSENSUS OF SUBJECTIVE DVORAK CURRENT INTENSITY AND AUTOMATED
INTENSITY ESTIMATES FROM VARIOUS REPORTING AGENCIES. TC 15P IS
TRACKING POLEWARD ALONG THE WESTERN PERIPHERY OF A DEEP-LAYERED
SUBTROPICAL RIDGE SITUATED TO THE EAST. OVER THE PAST SIX HOURS,
INCREASING NORTHWESTERLY VERTICAL WIND SHEAR HAS EXPOSED THE LOW-
LEVEL CENTER AND CONFINED DEEP CONVECTIVE BANDING TO THE SOUTHEASTERN
PORTION OF THE CIRCULATION. TC 15P WILL TRACK GENERALLY SOUTH-
SOUTHWESTWARD THROUGHOUT THE FORECAST PERIOD AS IT CONTINUES TO
FOLLOW THE FLOW ASSOCIATED WITH THE CURRENT STEERING RIDGE. STRONG
VERTICAL WIND SHEAR AND PASSAGE OVER COOLER WATER WILL DRIVE A
GRADUAL WEAKENING TREND. HOWEVER, FAVORABLE DIFFLUENCE ALOFT IN THE
NEAR-TERM PLUS EVENTUAL BAROCLINIC SUPPORT FROM AN APPROACHING
MIDLATITUDE TROUGH TO THE SOUTHWEST WILL LIMIT THE EXTENT OF
WEAKENING. OVER THE NEXT 48 HOURS, TC 15P IS EXPECTED TO INTERACT AND
MERGE WITH THE AFOREMENTIONED TROUGH AND UNDERGO A QUICK TRANSITION
INTO A SUBTROPICAL SYSTEM. NUMERIC MODELS REMAIN IN TIGHT AGREEMENT.
THE CURRENT JTWC FORECAST TRACK LIES NEAR THE MULTI-MODEL CONSENSUS
WITH HIGH CONFIDENCE. MAXIMUM SIGNIFICANT WAVE HEIGHT AT 120600Z IS
24 FEET. NEXT WARNINGS AT 121500Z, 122100Z, 130300Z AND 130900Z.//
NNNN


WARNING 14.
TRACK AND INTENSITY GUIDANCE
02/12 0513UTC
02/11 23UTC