TC 12P: WARNING 1. PEAK INTENSITY NEAR 50KT FORECAST WITHIN 24H.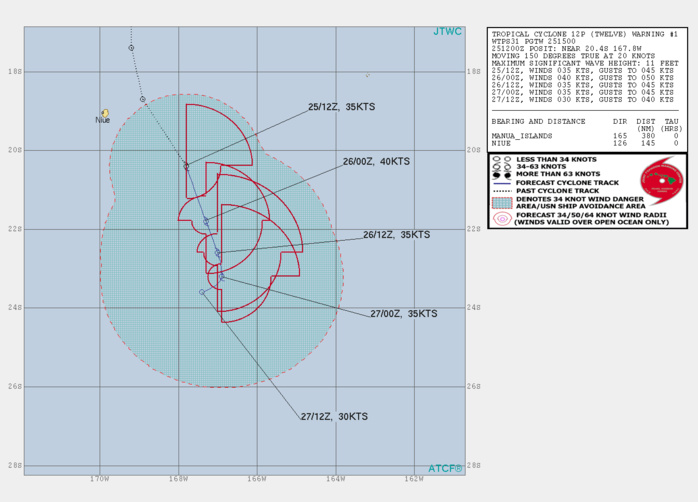 TC 12P(96p) SOUTH PACIFIC
Location: 20.4°S 167.8°W
Maximum Winds: 35 kt ( 65km/h)
Gusts: 45 kt ( 85km/h)
Minimum Central Pressure: 1003 mb
REMARKS:
251500Z POSITION NEAR 20.7S 167.7W.
25JAN20. TROPICAL CYCLONE (TC) 12P (TWELVE), LOCATED APPROXIMATELY
142 NM SOUTHEAST OF NIUE, HAS TRACKED SOUTH-SOUTHEASTWARD AT 20
KNOTS (KTS) OVER THE PAST SIX HOURS. ANIMATED ENHANCED INFRARED
(EIR) SATELLITE IMAGERY REVEALS LOW LEVEL BANDING WRAPPING UNDER
FLARING, DEEP CONVECTION. THE INITIAL POSITION IS BASED ON AN
EXTRAPOLATION OF A 250919Z METOP-B BULLSEYE ASCAT DEPICTING WINDS IN
THE NORTHEAST QUADRANT WRAPPING INTO A LOW-LEVEL CIRCULATION CENTER
(LLCC). BASED ON A SWATH OF 35-40 KT WINDS IN THE AFOREMENTIONED
ASCAT, THE CURRENT INTENSITY IS SET AT 35 KTS WITH GOOD CONFIDENCE.
ENVIRONMENTAL ANALYSIS REVEALS ROBUST EQUATORWARD AND POLEWARD
OUTFLOW CHANNELS, LOW (10-15 KT) VERTICAL WIND SHEAR (VWS) AND WARM
(27-28 CELSIUS) SEA SURFACE TEMPERATURES, CREATING AN ENVIRONMENT
FAVORABLE FOR FURTHER DEVELOPMENT. TC 12P IS TRACKING ALONG THE
WESTERN PERIPHERY OF A SUBTROPICAL RIDGE (STR) TO THE EAST. FOR THE
NEXT 24 HOURS, THE SYSTEM WILL MAINTAIN A SOUTH-SOUTHEASTWARD TRACK
WITH FAVORABLE CONDITIONS, ALLOWING FOR FURTHER INTENSIFICATION TO A
PEAK OF 40 KTS BY TAU 12. AFTER TAU 12, INCREASING VWS AND COOLING
SST WILL GRADUALLY WEAKEN THE SYSTEM. A LOW-LEVEL SUBTROPICAL RIDGE
BUILDING IN TO THE SOUTH WILL BECOME THE PRIMARY STEERING FEATURE
FOR TC 12P BY TAU 24. THIS STR WILL SLOWLY TURN TC 12P TO A
SOUTHWESTWARD TRACK AS THE SYSTEM TRANSITS ALONG THE NORTHERN
PERIPHERY OF THE STR FOR THE REMAINDER OF THE FORECAST PERIOD. TC
12P IS EXPECTED TO DISSIPATE OVER WATER BY TAU 48 AS THE SYSTEM
TRACKS THROUGH AN ENVIRONMENT OF COOL (<26 CELSIUS) SST AND HIGH
(>35 KTS) VWS. DYNAMIC MODEL GUIDANCE IS IN GOOD AGREEMENT THROUGH
TAU 12. BEYOND THAT, VARIATIONS IN ALONG-TRACK SPEEDS CAUSE THE
MODELS TO DIVERGE AS THE SYSTEM TURNS TO ITS SOUTHWESTWARD TRACK,
INCREASING MODEL SPREAD TO 70 NM BY TAU 48. OF NOTE, THERE ARE A FEW
OUTLIER SOLUTIONS PRESENTED BY NAVGEM AND ECMWF/ECMWF ENSEMBLE. THE
NAVGEM SOLUTION TRACKS TC 12P TO THE SOUTH AT SLOWER SPEEDS PRIOR TO
TURNING SOUTHWESTWARD WHILE THE ECMWF AND ECMWF ENSEMBLE SOLUTIONS
MAINTAIN A SOUTH-SOUTHEASTWARD TRACK THROUGHOUT THE ENTIRE FORECAST
PERIOD. THE JTWC FORECAST TRACK IS PLACED NEAR THE MULTI-MODEL
CONSENSUS. HOWEVER, THERE IS LOW OVERALL CONFIDENCE IN THE JTWC
FORECAST TRACK DUE TO THE VARIATIONS IN THE TIMING OF THE TURN.
MAXIMUM SIGNIFICANT WAVE HEIGHT AT 251200Z IS 11 FEET. NEXT WARNINGS
AT 252100Z, 260300Z, 260900Z AND 261500Z.
2. THIS CANCELS AND SUPERSEDES REF A (WTPS21 PGTW 242200).//
NNNN
TRACK AND INTENSITY GUIDANCE
01/25 0919UTC. ASCAT
01/25 12UTC
01/25 15UTC