INVEST 91S: SHOWING RECENT SIGNS OF EARLY DEVELOPMENT TO THE SOUTH-WEST OF DIÉGO GARCIA.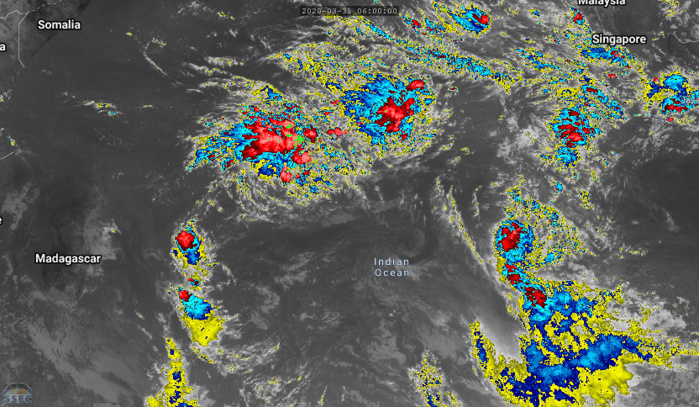 CIRA

As of 06:00 UTC Mar 31, 2020:
Location: 12.8°S 69.2°E
Maximum Winds: 20 kt
Minimum Central Pressure: 1007 mb
ABIO10 PGTW 311200
2. SOUTH INDIAN OCEAN AREA (135E WEST TO COAST OF AFRICA):
A. TROPICAL CYCLONE SUMMARY: NONE.
B. TROPICAL DISTURBANCE SUMMARY:
(1) THE AREA OF CONVECTION (INVEST 91S) PREVIOUSLY LOCATED
NEAR 14.1S 69.7E IS NOW LOCATED NEAR 12.8S 69.2E, APPROXIMATELY 380
NM SOUTH-SOUTHWEST OF DIEGO GARCIA. ANIMATED MULTISPECTRAL SATELLITE
IMAGERY DEPICTS A CONSOLIDATING LOW LEVEL CIRCULATION (LLC) WITH
BUILDING DEEP CONVECTION OVERHEAD AND TO THE NORTH. A 310909Z AMSR2
89GHZ MICROWAVE IMAGE REVEALS FRAGMENTED DEEP CONVECTION OVERHEAD
THE LLC AND TO THE NORTH. A 310434Z METOP-A ASCAT PARTIAL PASS SHOWS
TROUGHING AND 10-15 KT WINDS. 91S IS CURRENTLY IN A MARGINAL
ENVIRONMENT, EXPERIENCING EXCELLENT EQUATORWARD AND WESTWARD OUTFLOW
AND WARM (30-31 CELSIUS) SEA SURFACE TEMPERATURES, OFFSET BY HIGH
(35-40 KNOT) VERTICAL WIND SHEAR. GLOBAL MODELS ARE IN GOOD
AGREEMENT THAT 91S WILL TRACK SLOWLY EASTWARD BEFORE MAKING A
SOUTHWARD TURN INTO MORE FAVORABLE VERTICAL WIND SHEAR AND BEGIN TO
INTENSIFY, REACHING WARNING CRITERIA WITHIN ABOUT 48 HOURS. MAXIMUM
SUSTAINED SURFACE WINDS ARE ESTIMATED AT 15 TO 20 KNOTS. MINIMUM SEA
LEVEL PRESSURE IS ESTIMATED TO BE NEAR 1007 MB. THE POTENTIAL FOR
THE DEVELOPMENT OF A SIGNIFICANT TROPICAL CYCLONE WITHIN THE NEXT 24
HOURS IS UPGRADED TO MEDIUM.
INVEST 91S HAS BEEN UP-GRADED TO MEDIUM AT 12UTC.
FORECAST TRACK AND INTENSITY GUIDANCE WITH THE GFS ENSEMBLE. STRONG AGREEMENT ON THE POSSIBLE TRACK.