13/20UTC ANIMATION OVER 6H.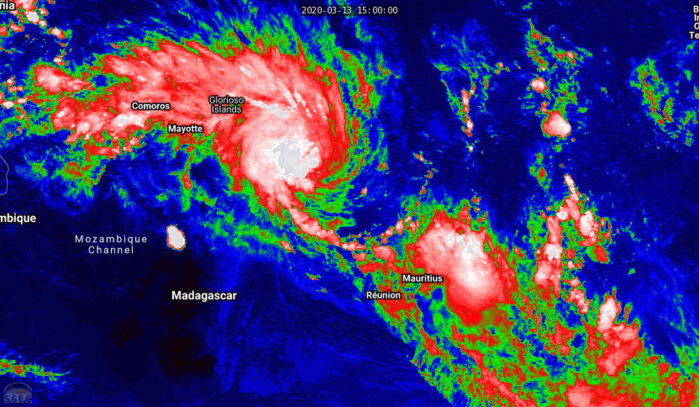 Location: 14.7°S 52.0°E
Maximum Winds: 45 kt ( 85km/h)
Gusts: 55 kt ( 100km/h)
Minimum Central Pressure: 999 mb
REMARKS:
132100Z POSITION NEAR 14.8S 51.9E.
13MAR20. TROPICAL CYCLONE (TC) 22S (HEROLD), LOCATED APPROXIMATELY 444 NM NORTHWEST OF PORT LOUIS, MAURITIUS, HAS TRACKED SOUTHWESTWARD AT 03 KNOTS OVER THE PAST SIX HOURS. ANIMATED ENHANCED INFRARED (EIR) SATELLITE IMAGERY DEPICTS PERSISTENT DEEP CONVECTION OVER A QUICKLY CONSOLIDATING SYSTEM. THE INITIAL POSITION IS PLACED WITH FAIR CONFIDENCE BASED ON THE PRESENCE OF A LOW LEVEL CIRCULATION IN TIMELY 131755Z ASCAT-A DATA. THE INITIAL INTENSITY OF 45 KTS IS PLACED WITH HIGH CONFIDENCE BASED ON MULTI-AGENCY DVORAK CURRENT INTENSITY ESTIMATES OF 3.0 (45 KTS, PGTW, KNES) AND 2.5 (35 KTS, FMEE) AND IS IN AGREEMENT WITH A 131537Z CIMS SATCON ESTIMATE OF 47 KTS. TC HEROLD IS CURRENTLY IN AN ENVIRONMENT FAVORABLE FOR FURTHER DEVELOPMENT WITH WARM (28-29 CELSIUS) SEA SURFACE TEMPERATURES (SST), LOW (3-5 KTS) VERTICAL WIND SHEAR AND ESTABLISHED POLEWARD AND EQUATORWARD OUTFLOW ALOFT. THE SYSTEM IS CURRENTLY IN A WEAK STEERING ENVIRONMENT AND IS FORECAST TO TRACK SLOWLY SOUTH-SOUTHWESTWARD ALONG THE PERIPHERY OF A WEAK STEERING RIDGE POSITIONED TO THE NORTHEAST THROUGH TAU 12. AFTER TAU 12, HOWEVER, TC 22S IS FORECAST TO BEGIN TRACKING SOUTH-SOUTHEASTWARD AS IT BEGINS INTERACTING WITH A BUILDING NEAR-EQUATORIAL RIDGE POSITIONED TO THE NORTHEAST. THE SYSTEM IS THEN FORECAST TO INTENSIFY RAPIDLY AS A RESULT OF THE FAVORABLE ENVIRONMENT AND CONTINUED ROBUST OUTFLOW, REACHING A PEAK INTENSITY OF 105 KTS BY TAU 72. THE SYSTEM WILL THEN BEGIN TO WEAKEN DUE TO INCREASING VERTICAL WIND AS IT BEGINS TO TRACK GENERALLY SOUTHEASTWARD. BY TAU 96, TC HEROLD WILL BEGIN SUBTROPICAL TRANSITION AND WEAKEN AS IT BEGINS INTERACTING WITH SUBTROPICAL WESTERLIES TO THE SOUTH. THE SYSTEM WILL THEN BECOME EMBEDDED IN THE WESTERLY FLOW AND COMPLETE SUBTROPICAL TRANSITION BY TAU 120. GLOBAL MODELS ARE GENERALLY IN FAIR AGREEMENT TEMPORALLY AND SPATIALLY. THERE IS A 24 HOUR SPREAD IN THE TIMING OF THE INITIAL TRACK CHANGE FROM SOUTH-SOUTHWEST TO SOUTH-SOUTHEAST BETWEEN TAU 12 AND TAU 36. ADDITIONALLY THERE IS A SPREAD OF 138 NM IN TRACK POSITIONS BY TAU 60 THAT INCREASES THEREAFTER DUE TO THE MODIFICATION OF THE STEERING ENVIRONMENT BY AN APPROACHING TROUGH SOUTH OF THE SUBTROPICAL WESTERLIES. THIS SPREAD IN THE MEMBERS OF THE JTWC MULTI-MODEL CONSENSUS LEND ONLY FAIR CONFIDENCE TO THE OVERALL FORECAST TRACK. MAXIMUM SIGNIFICANT WAVE HEIGHT AT 131800Z IS 14 FEET. NEXT WARNINGS AT 140900Z AND 142100Z.
//
NNNN

WARNING 2: FORECAST TO REACH 105KTS ( CAT 3 US) WITHIN 72H.
TRACK AND INTENSITY GUIDANCE
13/1755UTC