TC 13S. FORECAST PEAK INTENSITY OF 45KNOTS WITHIN 24H.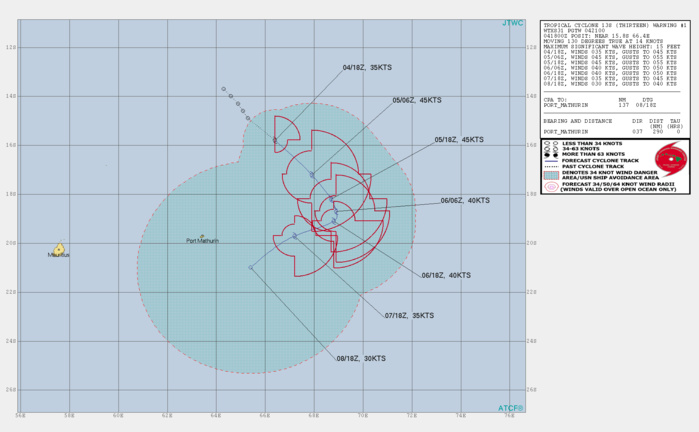 INVEST 92S: GFS ENSEMBLE
TC 13S SOUTH INDIAN
Location: 16.3°S 67.1°E
Maximum Winds: 35 kt ( 65km/h)
Gusts: 45 kt ( 85km/h)
Minimum Central Pressure: 1000 mb
REMARKS:
042100Z POSITION NEAR 16.2S 66.8E.
04FEB20. TROPICAL CYCLONE (TC) 13S (THIRTEEN), LOCATED
APPROXIMATELY 580 NM EAST-NORTHEAST OF PORT LOUIS, MAURITIUS, HAS
TRACKED SOUTHEASTWARD AT 14 KNOTS (KTS) OVER THE PAST SIX HOURS.
ANIMATED ENHANCED INFRARED SATELLITE IMAGERY DEPICTS FLARING
CONVECTION OVERHEAD AND TO THE NORTH OF A LOW LEVEL CIRCULATION
CENTER (LLCC). A DIRECT 041740Z METOP-B ASCAT IMAGE DEPICTS A
CONSOLIDATED LLCC WITH A SWATH OF 35 KT WIND BARBS TO THE
NORTHEAST AND WRAPPING INTO THE LLCC FROM THE EAST. THIS IMAGE
PLACES HIGH CONFIDENCE IN THE INITIAL POSITION AND INTENSITY,
WHICH IS FURTHER SUPPORTED BY DVORAK CURRENT INTENSITY ESTIMATES
OF T2.0-2.5 (30-35 KTS) BY PGTW, KNES, AND FMEE. WIND RADII HAVE
BEEN UPDATED BASED ON THE AFOREMENTIONED ASCAT. LOCATED IN AN
OVERALL FAVORABLE ENVIRONMENT, THE SYSTEM IS EXPERIENCING ROBUST
DUAL CHANNEL OUTFLOW, LOW TO MODERATE (15-20 KT) VERTICAL WIND
SHEAR, AND WARM (29-30 CELSIUS) SEA SURFACE TEMPERATURES (SST).
THIS ENVIRONMENT WILL ALLOW FOR A BRIEF PERIOD OF INTENSIFICATION
TO A PEAK OF 45 KTS BEFORE INCREASING VERTICAL WIND SHEAR VALUES
BEGIN TO LIMIT DEVELOPMENT. TC 13S IS TRACKING ALONG THE SOUTHERN
PERIPHERY OF A NEAR EQUATORIAL RIDGE TO THE NORTH WHICH WILL ACT
AS THE PRIMARY STEERING FEATURE THROUGH TAU 48. AFTER THAT, A
SUBTROPICAL RIDGE (STR) BUILDING TO THE SOUTH AND EAST WILL TURN
TC 13S TO A GENERALLY SOUTHWESTWARD TRACK. CONCURRENTLY,
DECREASING DIVERGENCE ALOFT WILL CAUSE THE SYSTEM TO GRADUALLY
WEAKEN, WITH DISSIPATION OVER WATER EXPECTED BY TAU 96. THE
DYNAMIC MODEL GUIDANCE IS IN FAIR AGREEMENT THROUGH TAU 24.
HOWEVER, DUE TO VARIATIONS IN THE TIMING AND EXTENT OF THE
SOUTHWESTWARD TURN, MODEL SPREAD BEGINS TO INCREASE AFTER TAU 24.
SPECIFICALLY, THE MODEL SOLUTIONS DIVERGE DUE TO VARIATIONS IN THE
TIMING AND STRENGTH OF A PASSING TROUGH TO THE SOUTH. THE GFS
SOLUTION SHOWS A WEAKER TROUGH THAN THE ECMWF SOLUTION, CAUSING
IMPACTS TO THE STR STEERING TC 13S IN THE EXTENDED FORECAST. DUE
TO THESE DIFFERENCES, THERE IS LOW CONFIDENCE IN THE JTWC FORECAST
TRACK. MAXIMUM SIGNIFICANT WAVE HEIGHT AT 041800Z IS 15 FEET. NEXT
WARNINGS AT 050900Z AND 052100Z.
2. THIS CANCELS AND SUPERSEDES REF A (WTXS21 041500).//
NNNN
Location: 16.5°S 123.0°E
Maximum Winds: 25 kt
Minimum Central Pressure: 1004 mb
ABIO10 PGTW 042130
2. SOUTH INDIAN OCEAN AREA (135E WEST TO COAST OF AFRICA):
B. TROPICAL DISTURBANCE SUMMARY:
(1) THE AREA OF CONVECTION (INVEST 92S) PREVIOUSLY LOCATED
NEAR 16.1S 126.7E IS NOW LOCATED NEAR 16.1S 125.8E, APPROXIMATELY
232 NM EAST-NORTHEAST OF BROOME. ANIMATED ENHANCED INFRARED
SATELLITE AND A 041103Z SSMI 91GHZ IMAGE SHOWS BANDING WRAPPING
INTO A DEFINED LOW LEVEL CIRCULATION CENTER (LLCC) CURRENTLY PLACED
OVER LAND. THE CONTINUED IMPROVING STRUCTURE EVIDENT IN THE
ANIMATED IMAGERY REFLECTS STEADY CONSOLIDATION AS INVEST 92S TRACKS
GENERALLY WESTWARD TOWARD THE COAST. A 041302Z ASCAT-A PASS SHOWS
WINDS (20-25 KNOTS) WRAPPING TOWARDS THE LLCC OFF THE NORTHERN
COAST OF AUSTRALIA. 92S IS EXPECTED TO RAPIDLY DEVELOP AS IT
CONTINUES ITS TRACK WEST OVER VERY WARM WATER (30-32C) AND INTO AN
AREA OF LOW (10-15 KNOTS) VWS AND IMPROVING DIFFLUENCE ALOFT.
GLOBAL MODELS CONTINUE TO AGREE ON THE WESTWARD TRACK OVER THE NEXT
48 HOURS. MAXIMUM SUSTAINED SURFACE WINDS ARE ESTIMATED AT 20 TO
25 KNOTS. MINIMUM SEA LEVEL PRESSURE IS ESTIMATED TO BE NEAR 1004
MB. THE POTENTIAL FOR THE DEVELOPMENT OF A SIGNIFICANT TROPICAL
CYCLONE WITHIN THE NEXT 24 HOURS REMAINS MEDIUM.
INVEST 92S: MEDIUM
TC 13S: 02/04 18UTC
TC 13S: 02/04 1740UTC
TC 13S: GFS ENSEMBLE TRACK AND INTENSITY GUIDANCE
INVEST 92S: GFS ENSEMBLE TRACK AND INTENSITY GUIDANCE