TC 13S. INTENSITY FORECAST TO FALL BELOW 35KT IN 48H.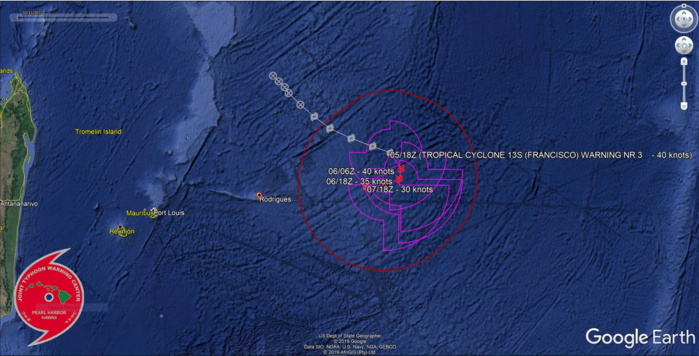 WARNING 3
TC 13S SOUTH INDIAN
Location: 17.6°S 70.3°E
Maximum Winds: 40 kt ( 75km/h)
Gusts: 50 kt ( 95km/h)
Minimum Central Pressure: 996 mb
REMARKS:
052100Z POSITION NEAR 17.8S 70.4E.
05FEB20. TROPICAL CYCLONE 13S (FRANCISCO), LOCATED APPROXIMATELY
643 NM SOUTH OF DIEGO GARCIA, HAS TRACKED EAST-SOUTHEASTWARD AT
09 KNOTS OVER THE PAST SIX HOURS. THE CURRENT POSITION IS BASED ON
RECENT MICROWAVE SATELLITE DATA, INCLUDING 051451Z GMI SENSOR IMAGERY,
AND A 051604Z ASCAT PASS. THE INTENSITY OF 40 KNOTS IS CONSISTENT WITH
THE ASCAT DATA, WHICH INDICATES 35-40 KNOT NEAR-CENTER WINDS AND
STRONGER 40-45 KNOT WINDS ASSOCIATED WITH AN AREA OF FLARING
CONVECTION ASSOCIATED WITH CONVERGENT FLOW SITUATED WELL TO THE
SOUTHEAST OF THE ELONGATING CIRCULATION CENTER. TC 13S IS TRACKING
EAST-SOUTHEASTWARD ALONG THE PERIPHERY OF A DEEP-LAYERED STEERING
RIDGE TO THE NORTH. MODERATE TO STRONG NORTHWESTERLY VERTICAL WIND
SHEAR (15-25 KNOTS) HAS EXPOSED THE CIRCULATION CENTER AND DISPLACED
THE PRIMARY DEEP CONVECTION ASSOCIATED WITH THE SYSTEM SOUTHEASTWARD.
TC 13S IS EXPECTED TO TURN POLEWARD OVER THE NEXT SIX TO TWELVE HOURS
AS SUBTROPICAL RIDGING BUILDS TO THE EAST. PERSISTENT VERTICAL WIND
SHEAR WILL INDUCE A SLOW BUT STEADY WEAKENING TREND. AS THE SYSTEM
WEAKENS, LOWER-LEVEL EASTERLY FLOW TO THE SOUTH WILL TAKE OVER AS THE
PREDOMINANT STEERING MECHANISM, PUSHING THE SYSTEM WESTWARD AFTER TAU
24 THROUGH THE REMAINDER OF THE FORECAST PERIOD. DISSIPATION OF
MAXIMUM SUSTAINED WINDS BELOW THE 35-KNOT WARNING THRESHOLD IS NOW
EXPECTED TO OCCUR BY TAU 48. NUMERICAL MODELS ARE IN GOOD AGREEMENT
REGARDING THE OVERALL FORECAST SCENARIO. HOWEVER, THERE IS SIGNIFICANT
SPREAD AMONG INDIVIDUAL MODEL TRACK FORECASTS DUE TO DIFFERING
DEPICTIONS OF NEAR-TERM CHANGES IN THE STEERING PATTERN AND THE
ANTICIPATED STORM WEAKENING TREND. THE CURRENT TRACK FORECAST LIES TO
THE EAST OF THE PREVIOUS FORECAST BASED ON RECENT STORM MOTION, AND
CLOSE TO THE MULTI-MODEL CONSENSUS WITH LOW CONFIDENCE BASED ON NOTED
MODEL SPREAD. MAXIMUM SIGNIFICANT WAVE HEIGHT AT 051800Z IS 17 FEET.
NEXT WARNINGS AT 060900Z AND 062100Z.//
NNNN
Location: 16.9°S 121.4°E
Maximum Winds: 30 kt ( 55km/h)
Gusts: 40 kt ( 75km/h)
Minimum Central Pressure: 1000 mb
ABIO10 PGTW 051800
SOUTH INDIAN OCEAN AREA (135E WEST TO COAST OF AFRICA):
B. TROPICAL DISTURBANCE SUMMARY:
(1) THE AREA OF CONVECTION (INVEST 92S) PREVIOUSLY LOCATED
NEAR 16.5S 123.0E IS NOW LOCATED NEAR 16.7S 122.3E, APPROXIMATELY 75
NM NORTH OF BROOME. ANIMATED ENHANCED INFRARED SATELLITE AND A
051354Z METOP-B 89 GHZ MICROWAVE IMAGE SHOW BANDING WRAPPING INTO A
DEFINED LOW LEVEL CIRCULATION CENTER (LLCC) WITH FLARING CONVECTION.
THE IMPROVING STRUCTURE EVIDENT IN THE ANIMATED IMAGERY REFLECTS
STEADY CONSOLIDATION AS INVEST 92S HAS BEGUN TO TRACK OVER WATER. A
051355Z ASCAT-B PASS SHOWS WINDS (25-30 KNOTS) WRAPPING TOWARDS THE
LLCC FROM THE NORTH. INVEST 92S IS IN A FAVORABLE ENVIRONMENT FOR
DEVELOPMENT AS IT CONTINUES TO TRACK GENERALLY WESTWARD THROUGH A
REGION OF VERY WARM WATER (30-32C), MODERATE (10-20 KNOTS) VWS, AND
GOOD DIFFLUENCE ALOFT. GLOBAL MODELS AGREE ON THE WEST-SOUTHWESTWARD
TRACK OVER THE NEXT 48 HOURS. MAXIMUM SUSTAINED SURFACE WINDS ARE
ESTIMATED AT 25 TO 30 KNOTS. MINIMUM SEA LEVEL PRESSURE IS ESTIMATED
TO BE NEAR 1002 MB. THE POTENTIAL FOR THE DEVELOPMENT OF A
SIGNIFICANT TROPICAL CYCLONE WITHIN THE NEXT 24 HOURS REMAINS HIGH.
SEE REF B (WTXS21 PGTW 050330) FOR FURTHER DETAILS.
INVEST 92S: HIGH
TC 13S: 02/05 1930UTC
TC 13S: 02/05 1718UTC: POORLY ORGANIZED SYSTEM
INVEST 92S AT 02/05 1356UTC
TC 13S: TRACK AND INTENSITY GUIDANCE
INVEST 92S: TRACK AND INTENSITY GUIDANCE