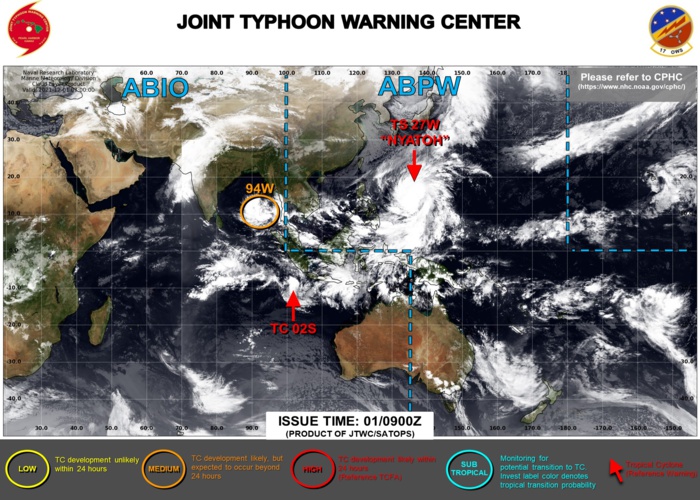 JTWC IS ISSUING 6HOURLY WARNINGS AND 3HOURLY SATELLITE BULLETINS ON 27W AND 02S.
SOUTHERN HEMISPHERE/SOUTH INDIAN OCEAN: TC 02S. WARNING 1 ISSUED AT 01/09UTC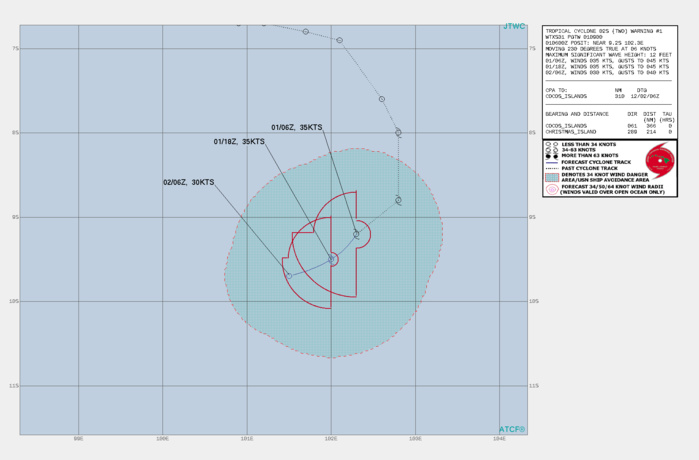 FORECAST REASONING. SIGNIFICANT FORECAST CHANGES: THIS INITIAL PROGNOSTIC REASONING MESSAGE ESTABLISHES THE FORECAST PHILOSOPHY. FORECAST DISCUSSION: TROPICAL CYCLONE 02S IS CURRENTLY IN A WEAK STEERING ENVIRONMENT AND IS EXPECTED TO SLOWLY DRIFT SOUTHWESTWARD OVER THE NEXT 24 HOURS. WHILE SEA SURFACE TEMPERATURES AND VERTICAL WIND SHEAR WILL REMAIN RELATIVELY FAVORABLE OVER THE NEXT 24 HOURS, TC 02S WILL HAVE LITTLE TO NO OUTFLOW ALOFT TO ENCOURAGE FURTHER INTENSIFICATION. THEREFORE, THE SYSTEM WILL BRIEFLY REMAIN AT 35 KNOTS BEFORE WEAKENING TO 30 KNOTS OR LESS BY 24H.

0221112912 67S1009E 15
0221112918 67S1012E 15
0221113000 68S1017E 20
0221113006 69S1021E 15
0221113012 76S1026E 25
0221113018 80S1028E 35
0221120100 88S1028E 35
0221120106 92S1023E 35
NNNN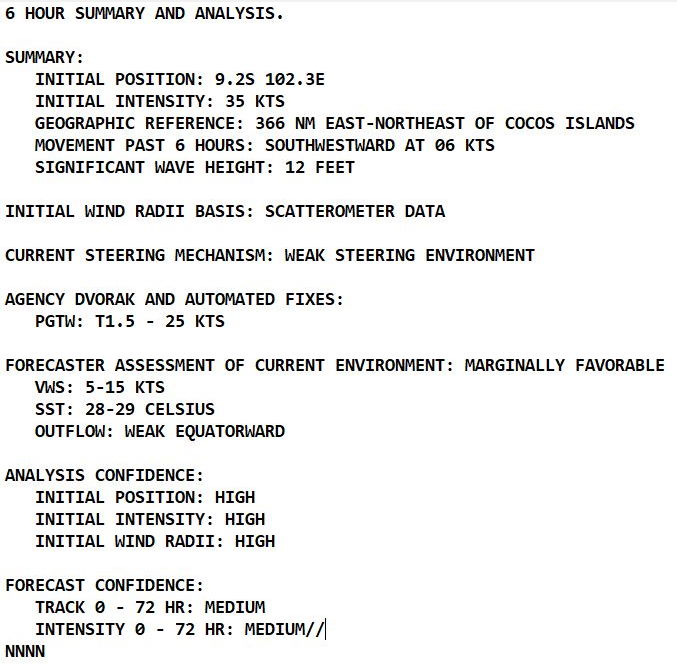 IF NEEDED CLICK ON THE IMAGERY TO GET IT ANIMATED AND TO ENLARGE IT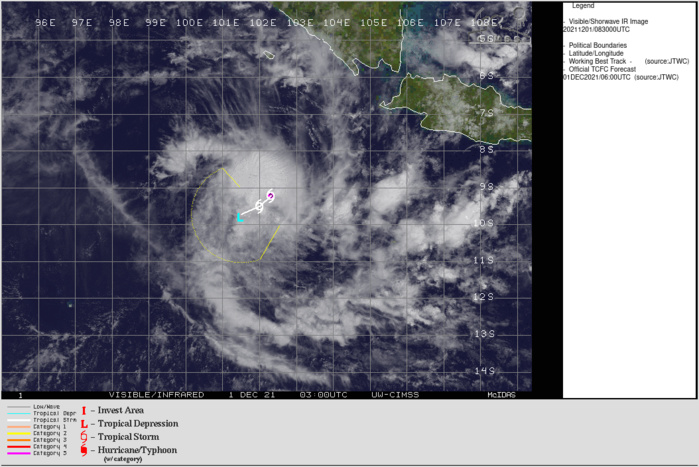 SATELLITE ANALYSIS, INITIAL POSITION AND INTENSITY DISCUSSION: ANIMATED MULTISPECTRAL SATELLITE IMAGERY (MSI) DEPICTS A SYSTEM THAT HAD A BRIEF PERIOD OF SUSTAINED CONVECTION OVER THE PAST SIX HOURS BUT NOW APPEARS TO HAVE BECOME STAGNANT WITH ITS PROGRESSION. THE INITIAL POSITION AND INITIAL INTENSITY IS BASED ON A 010258Z ASCAT IMAGE SHOWING A DEFINED CIRCULATION WITH 30-35 KTS WINDS AROUND THE CENTER.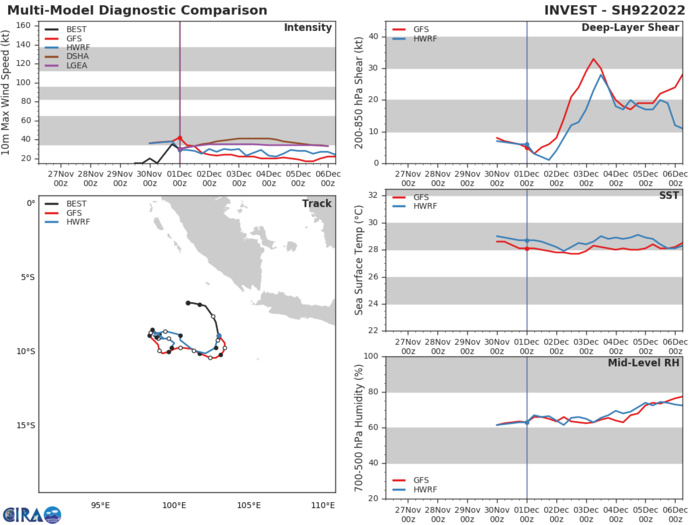 MODEL DISCUSSION: WITH THE EXCEPTION OF THE DECAY SHIPS MODELS (BOTH NVGM AND AFUM VERSIONS) WHICH ONLY SHOW MINIMAL INTENSIFICATION OVER THE NEXT SEVERAL DAYS, THERE IS CURRENTLY NO MODEL SUPPORT FOR FURTHER INTENSIFICATION OF TC 02S.