CLICK TO ANIMATE.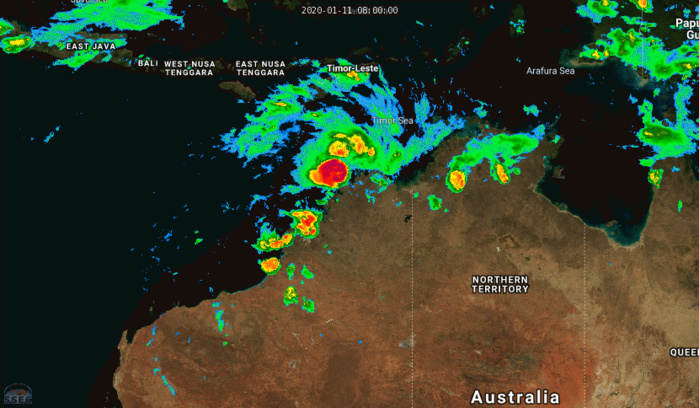 TC 07S SOUTH INDIAN
As of 12:00 UTC Jan 11, 2020:
Location: 13.2°S 126.2°E
Maximum Winds: 35 kt ( 65km/h)
Gusts: 45 kt ( 85km/h)
Minimum Central Pressure: 1000 mb
REMARKS:
111500Z POSITION NEAR 13.4S 125.7E.
11JAN20. TROPICAL CYCLONE (TC) 07S (SEVEN), LOCATED APPROXIMATELY 365
NM NORTHEAST OF BROOME, AUSTRALIA, HAS TRACKED WESTWARD AT 11 KNOTS
(KTS) OVER THE PAST SIX HOURS. ANIMATED ENHANCED INFRARED (EIR)
SATELLITE IMAGERY SHOWS CONVECTIVE BANDING WRAPPING UNDER FLARING,
DEEP CONVECTION WHICH OBSCURES THE LOW LEVEL CIRCULATION CENTER
(LLCC) AND IS BEING SHEARED SLIGHTLY TO THE WEST. THE INITIAL
POSITION IS BASED ON THE LOW LEVEL TURNING IN EIR IMAGERY ALONG WITH
AN EXTRAPOLATION OF AN 110849Z SSMIS 91 GHZ COLORPCT MICROWAVE IMAGE
WHICH SHOWS CONVECTIVE BANDING WRAPPING TIGHTLY INTO A LLCC. THERE IS
GOOD CONFIDENCE IN THE INITIAL POSITION BASED ON AN 111259Z BULLSEYE
METOP-A ASCAT IMAGE SHOWING A WELL-DEFINED LLCC WITH A SWATH OF 35 KT
WINDS LOCATED TO THE NORTH OF THE LLCC. THE INITIAL INTENSITY IS SET
AT 35 KTS WITH GOOD CONFIDENCE BASED ON THE AFOREMENTIONED ASCAT
IMAGE AND MULTI-AGENCY DVORAK CURRENT INTENSITY ESTIMATES OF T2.5 (35
KTS) BY PGTW AND KNES. TC 07S IS TRANSITING THROUGH AN AREA OF HIGH
(30-31 CELSIUS) SEA SURFACE TEMPERATURES (SST) WITH GOOD EQUATORWARD
OUTFLOW. THE MODERATE TO HIGH (20-25 KT) VERTICAL WIND SHEAR (VWS) IS
IN-PHASE WITH THE STORM MOTION, CURRENTLY LESSENING THE UNFAVORABLE
SHEAR EFFECT AND CONTRIBUTING TO AN OVERALL FAVORABLE ENVIRONMENT FOR
INTENSIFICATION. A DEEP-LAYER MEAN RIDGE TO THE SOUTH OF TC 07S IS
ACTING AS THE PRIMARY STEERING MECHANISM FOR THE SYSTEM. THROUGHOUT
THE FORECAST PERIOD, THE SYSTEM WILL FOLLOW THE FLOW ASSOCIATED WITH
THIS RIDGE, TRACKING WEST-SOUTHWESTWARD AS IT INTENSIFIES TO A PEAK
OF 80 KTS AROUND TAU 48. AFTER THAT, COOLING SST AND DECREASING
UPPER-LEVEL DIVERGENCE WILL CAUSE TC 07S TO BEGIN TO SLOWLY WEAKEN.
NUMERICAL MODELS ARE IN EXCELLENT AGREEMENT THROUGHOUT THE ENTIRE
FORECAST PERIOD, INCREASING TO ONLY 112 NM OF CROSS-TRACK SPREAD AT
TAU 72. THIS LENDS GOOD CONFIDENCE TO THE JTWC TRACK FORECAST WHICH
LIES NEAR THE MULTI-MODEL CONSENSUS. MAXIMUM SIGNIFICANT WAVE HEIGHT
AT 111200Z IS 10 FEET. NEXT WARNINGS AT 112100Z, 120300Z, 120900Z AND
121500Z.
2. THIS CANCELS AND SUPERSEDES REF A (WTXS21 PGTW 110300).//
NNNN
WARNING 1. FORECAST TO TRACK APPRX 140KM TO THE ROWLEY SHOALS AS A CAT 1.
11/1259UTC: ASCAT DEPICTING AT LEAST 35KTS WINDS
MODELS AGREE VERY WELL ON EXPECTED TRACK
01/11 1430UTC.