SOUTHERN HEMISPHERE/SOUTH INDIAN OCEAN: TC 01S(PADDY). WARNING 1 ISSUED AT 22/09UTC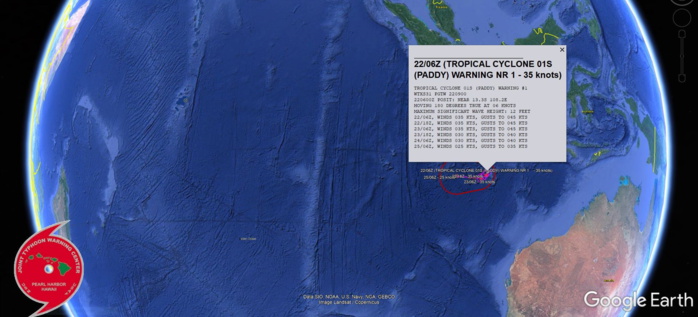 0121111818 98S1011E 15
0121111900 99S1021E 15
0121111906 100S1030E 20
0121111912 103S1035E 20
0121111918 104S1040E 20
0121112000 103S1042E 20
0121112006 102S1044E 20
0121112012 102S1047E 20
0121112018 105S1050E 20
0121112100 110S1056E 20
0121112106 115S1065E 20
0121112112 118S1073E 20
0121112118 121S1080E 20
0121112200 127S1082E 30
0121112206 133S1082E 35
NNNN
Cheers,
Patrick Hoareau
JTWC PH
ILES SOEURS
Joint Typhoon Warning Center
JTWC BIS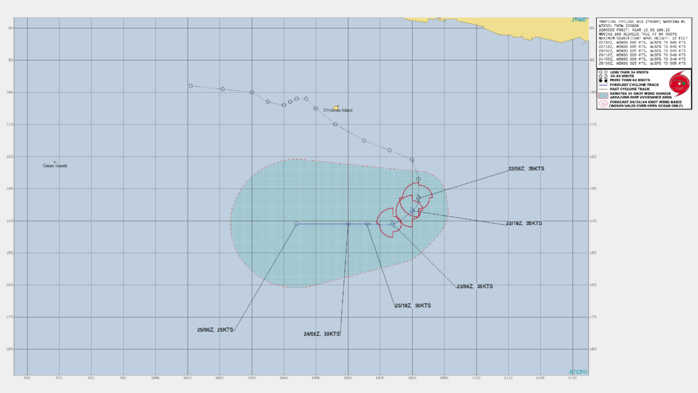 FORECAST REASONING. SIGNIFICANT FORECAST CHANGES: THIS INITIAL PROGNOSTIC REASONING MESSAGE ESTABLISHES THE FORECAST PHILOSOPHY. FORECAST DISCUSSION: TC PADDY WAS HEADING IN A PREDOMINATELY SOUTHEASTWARD DIRECTION PRIOR TO DEVELOPMENT. HOWEVER, OVER THE PAST 6 HOURS IT HAS TRACKED SOUTHWARD DUE TO THE SUBTROPICAL RIDGE(STR) SLOWLY BUILDING IN FROM THE SOUTHEAST. AS THE STR CONTINUES TO BUILD, TC PADDY WILL TURN SOUTHWESTWARD BY 12H. BY 24H, TC PADDY WILL MAKE ITS FINAL TURN WESTWARD AND WILL RIDE ANOTHER, MORE BROADER STR BUILDING IN FROM THE SOUTH. BY 36H, TC PADDY WILL CONTINUE THIS WESTWARD TRACK AND WILL BEGIN TO ENCOUNTER AN AREA OF INCREASED VERTICAL WIND SHEAR AND CONSISTENT DRIER AIR BEING INTRODUCED FROM THE SOUTHWEST. CONDITIONS WILL CONTINUE TO BECOME MORE UNFAVORABLE THROUGHOUT THE REMAINDER OF THE FORECAST TRACK. FULL DISSIPATION IS EXPECTED BY 72H.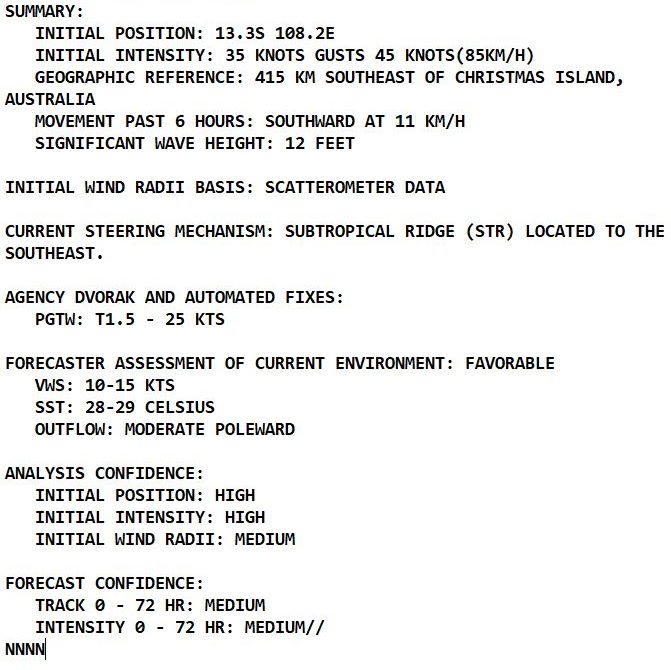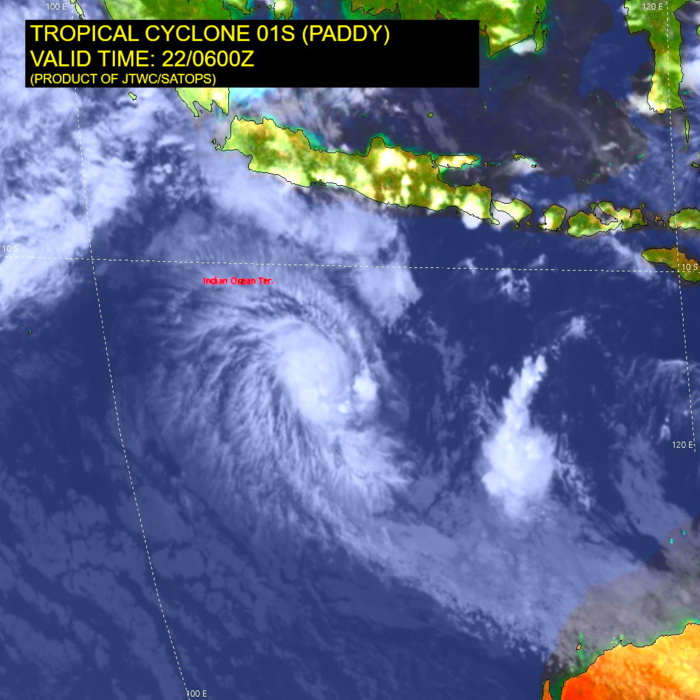 SATELLITE ANALYSIS, INITIAL POSITION AND INTENSITY DISCUSSION: ANIMATED MULTISPECTRAL SATELLITE IMAGERY (MSI) DEPICTS AN AREA OF DEEP, FLARING CONVECTION WITH SLIGHTLY FRAGMENTED BANDING WRAPPING INTO AN ASSESSED LOW LEVEL CIRCULATION CENTER (LLCC). A 220153Z ASCAT-B PASS INDICATES 35 KNOT WINDS SURROUNDING THE LLCC WITHIN 90 KM. TC PADDY IS IN A FAVORABLE ENVIRONMENT WITH GOOD POLEWARD OUTFLOW ALOFT, LOW (10-15 KTS) VERTICAL WIND SHEAR (VWS), AND WARM (28-29 C) SEA SURFACE TEMPERATURES (SST). THE INITIAL POSITION AND INTENSITY ARE BOTH PLACED WITH HIGH CONFIDENCE BASED OFF THE AFOREMENTIONED MSI AND ASCAT DATA.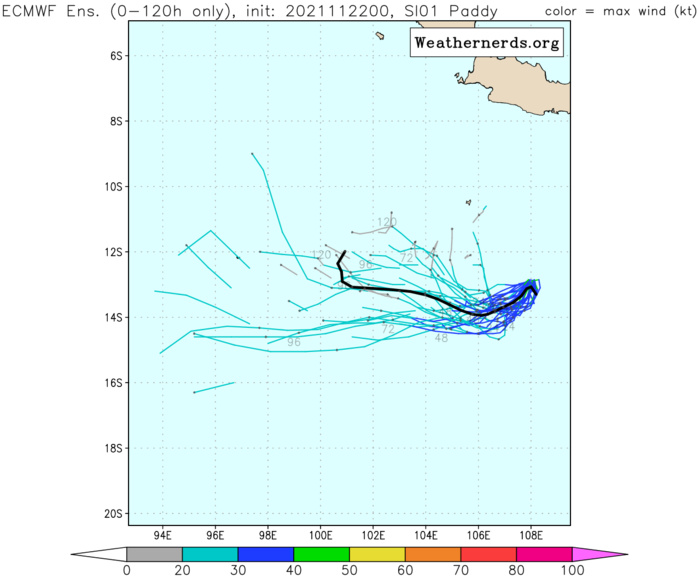 MODEL DISCUSSION: AVAILABLE MODEL GUIDANCE INDICATES THAT TC PADDY WILL MAKE THE SOUTHWESTWARD TURN, FOLLOWED BY A MORE STRAIGHT FORWARD WESTWARD TRACK AFTER 24H. THE JTWC TRACK IS PLACED WITH MEDIUM CONFIDENCE, HEDGED CLOSELY TO THE ECMWF FORECAST TRACKS. THE JTWC FORECAST INTENSITY IS SET WITH MEDIUM CONFIDENCE AND IN AGREEMENT WITH AVAILABLE MODEL GUIDANCE.