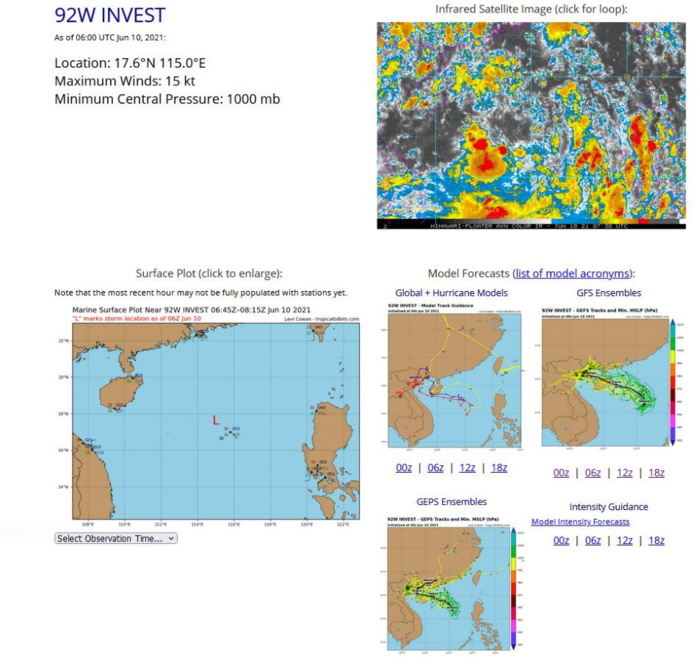 INVEST 92W. ANIMATED MULTISPECTRAL SATELLITE IMAGERY AND A 100534Z AMSR2 89 GHZ MICROWAVE IMAGE DEPICT A BROAD LOW LEVEL CIRCULATION WITH CONVECTION DISPLACED FROM THE CENTER AND THE RADIUS OF MAX WINDS EXTENDING TO APPROXIMATELY 185KM FROM THE CENTER, INDICATING THAT 92W IS A MONSOON DEPRESSION AT THIS TIME. UPPER LEVEL ANALYSIS INDICATES A MARGINALLY FAVORABLE ENVIRONMENT WITH LOW VERTICAL WIND SHEAR (
2021 JUNE 10 0825UTC #WESTERNNORTHPACIFIC
INVEST #92W
UPDATE
As of 06:00 UTC June10, 2021:
Location: 17.6°N 115.0°E
Maximum Winds: 15/20 kt
Minimum Central Pressure: 1000 mb
LOCATED AT 10/06UTC APPROXIMATELY 520 KM SOUTH OF HONG KONG.
CURRENT POTENTIAL FOR THE NEXT 24HOURS: LOW
Cheers,
Patrick Hoareau
JTWC PH
ILES SOEURS
Joint Typhoon Warning Center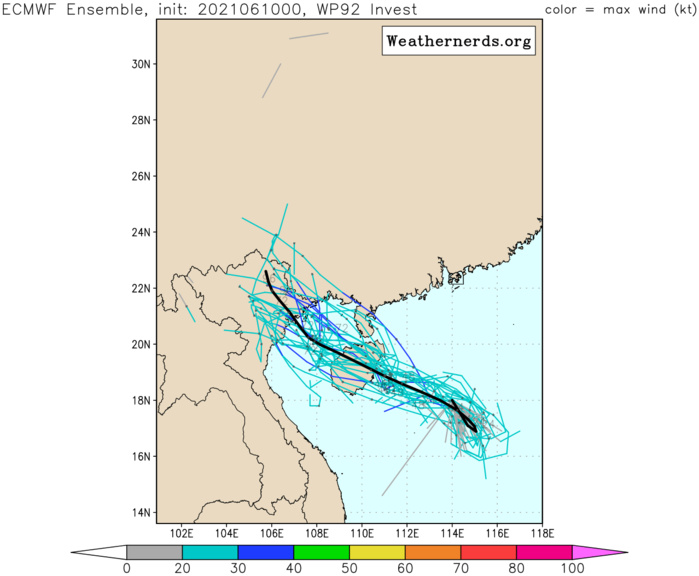 INVEST 92W. GLOBAL MODELS ARE IN GOOD AGREEMENT THAT 92W WILL CONTINUE ITS TRACK WEST-NORTHWESTWARD AS IT STEADILY CONSOLIDATES AND INTENSIFIES OVER THE NEXT 48 HOURS. AN UPPER LEVEL ANTICYCLONE TO THE NORTH DURING THIS TIME PERIOD WILL BEGIN TO MOVE EAST AND REORIENT THUS INCREASING DIVERGENT FLOW OVER THE SYSTEM ALLOWING FOR FURTHER DEVELOPMENT.