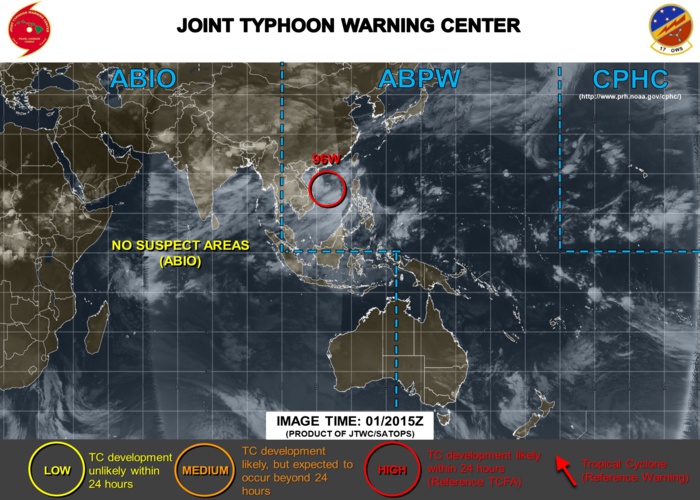 https://www.meteo974.re/M974World_r7.html
https://www.facebook.com/groups/1817419381676514/
WESTERN NORTH PACIFIC
Location: 17.8°N 113.3°E
Maximum Winds: 20 kt
Minimum Central Pressure: 997 mb
WTPN21 PGTW 012100
MSGID/GENADMIN/JOINT TYPHOON WRNCEN PEARL HARBOR HI//
SUBJ/TROPICAL CYCLONE FORMATION ALERT//
RMKS/
1. FORMATION OF A SIGNIFICANT TROPICAL CYCLONE IS POSSIBLE WITHIN
170 NM EITHER SIDE OF A LINE FROM 17.4N 113.8E TO 20.9N 107.3E
WITHIN THE NEXT 12 TO 24 HOURS. AVAILABLE DATA DOES NOT JUSTIFY
ISSUANCE OF NUMBERED TROPICAL CYCLONE WARNINGS AT THIS TIME.
WINDS IN THE AREA ARE ESTIMATED TO BE 18 TO 23 KNOTS. METSAT
IMAGERY AT 011800Z INDICATES THAT A CIRCULATION CENTER IS LOCATED
NEAR 17.8N 113.3E. THE SYSTEM IS MOVING NORTHWESTWARD AT 03
KNOTS.
2. REMARKS: THE AREA OF CONVECTION (INVEST 96W) PREVIOUSLY LOCATED
NEAR 18.2N 114.7E, IS NOW LOCATED NEAR 17.8N 113.3E, APPROXIMATELY
270 NM SOUTH OF HONG KONG. ANIMATED ENHANCED INFRARED SATELLITE
IMAGERY DEPICTS BROAD TURNING. A 011320Z METOP-A 89GHZ MICROWAVE
IMAGE SHOWS MINIMAL CONVECTION OVER THE ELONGATED CENTER AND
FORMATIVE LOW LEVEL BANDING WRAPPING IN. WINDS ARE STRONGER TO THE
SOUTH OVER THE SOUTH CHINA SEA DUE TO SOUTHWESTERLY MONSOONAL FLOW.
THE OVERALL ENVIRONMENT IS MARGINALLY UNFAVORABLE FOR FURTHER
DEVELOPMENT. THE SYSTEM IS ON THE BORDER OF A HIGH VERTICAL WIND
SHEAR AREA (25-35 KTS) TO THE SOUTHEAST. SEA SURFACE TEMPERATURES
ARE FAVORABLE, 30-32 CELSIUS, BUT THERE IS MARGINAL DIFFLUENCE
ALOFT. GLOBAL MODELS AGREE THAT THE SYSTEM WILL TRACK GENERALLY
WESTWARD OVER THE NEXT SEVERAL DAYS WITH SOME UNCERTAINTY IN THE
NEAR TERM. MAXIMUM SUSTAINED SURFACE WINDS ARE ESTIMATED AT 18 TO 23
KNOTS. MINIMUM SEA LEVEL PRESSURE IS ESTIMATED TO BE NEAR
997 MB. THE POTENTIAL FOR THE DEVELOPMENT OF A SIGNIFICANT TROPICAL
CYCLONE WITHIN THE NEXT 24 HOURS IS HIGH.
3. THIS ALERT WILL BE REISSUED, UPGRADED TO WARNING OR CANCELLED BY
022100Z.
//
NNNN