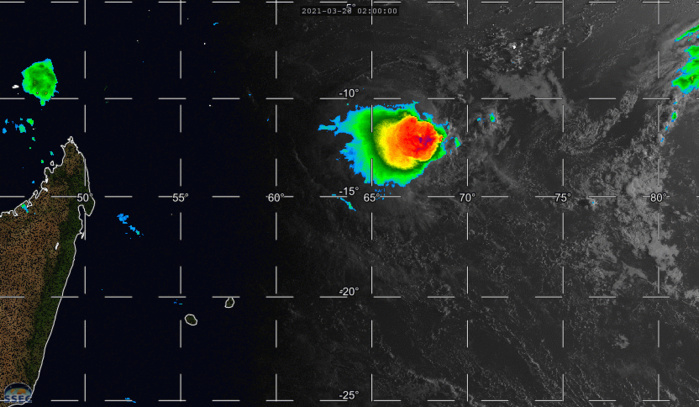 INVEST 98S. 28/08UTC. 6H LOOP. ANIMATED MULTISPECTRAL SATELLITE IMAGERY SHOWS THAT A WELL-DEFINED LOW-LEVEL CIRCULATION REMAINS CENTERED NEAR THE NORTHEASTERN EDGE OF A RAGGED AREA OF DEEP CONVECTION, WHICH HAS PULSED IN DISORGANIZED FASHION DURING THE PAST 24 HOURS, AND HAS DEGRADED IN PRESENTATION. IF NEEDED CLICK TO ANIMATE.
INVEST #98S #SOUTHINDIANOCEAN
As of 06:00 UTC Mar 28, 2021:
Maximum Winds: 28/33 kt ( 55/60km/h)
Gusts: 40 kt ( 75km/h)
Minimum Central Pressure: 1003 mb
CURRENT POTENTIAL FOR THE NEXT 24HOURS: HIGH
LOCATED AT 28/06UTC APPROXIMATELY 660KM SOUTHWEST OF DIEGO GARCIA .
THE SYSTEM IS MOVING EAST-SOUTHEASTWARD AT 17 KM/H.
Satellite bulletins are to be found in the comments of this post on
JTWC BIS
Cheers,
Patrick Hoareau
M974World
ILES SOEURS
Cyclone Class 4
Cheers,PH.
Joint Typhoon Warning Center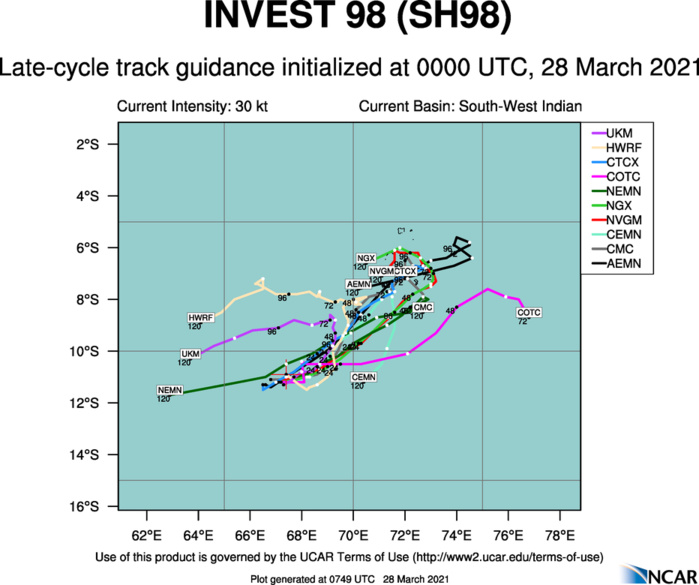 INVEST 98S. THE LOW LEVEL CIRCULATION REMAINS DECOUPLED FROM THE MID-LEVEL CIRCULATION TO ITS SOUTHWEST DUE TO NORTHEASTERLY VERTICAL WIND SHEAR (VWS) OF 15-20 KNOTS, WHICH IS NOW INCREASING DUE TO OUTFLOW FROM A LARGE AREA OF CONVECTION WEST OF THE MALDIVES. OVERALL, THE SYSTEM'S ENVIRONMENT IS MARGINALLY FAVORABLE AND BECOMING LESS HOSPITABLE, DUE TO THE AFOREMENTIONED INCREASING VWS AND A DRYING AIR MASS TO THE NORTH OF THE CIRCULATION. HOWEVER, NUMERICAL MODELS CONTINUE TO INDICATE THAT SLIGHT INTENSIFICATION INTO A SHORT-LIVED 35KNOTS SYSTEM IS POSSIBLE IN THE NEAR TERM DUE TO THE COMPACT NATURE OF THE VORTEX AND WARM UNDERLYING SEA SURFACE TEMPERATURES OF 29C. INVEST 98S IS EXPECTED TO SOON TURN EASTWARD AND THEN NORTHEASTWARD, TOWARD THE VICINITY OF DIEGO GARCIA, FOLLOWING THE BELT OF STRONG LOW TO MID-LEVEL WESTERLY FLOW ALONG THE SOUTHERN PERIPHERY OF A BROAD CIRCULATION WEST OF THE MALDIVES.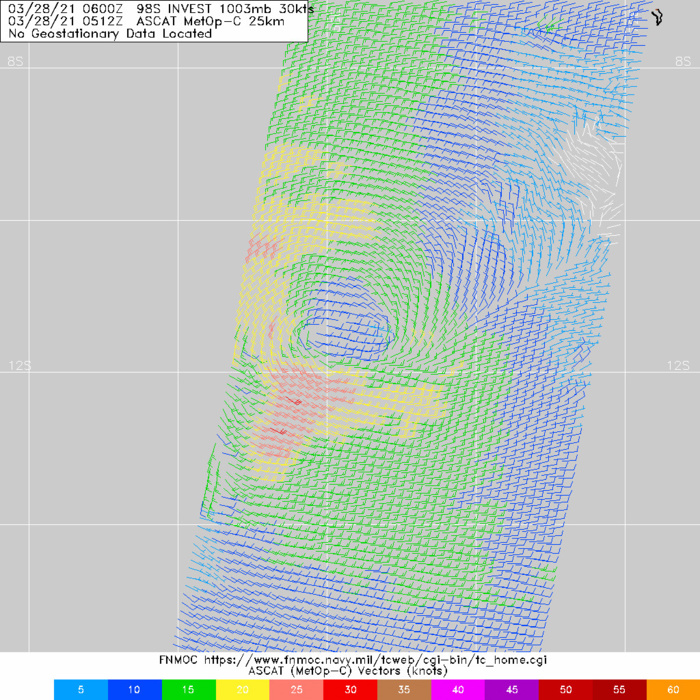 INVEST 98S. 28/051UTC. A 280512UTC ASCAT-C PASS INDICATES THAT THE VORTEX IS LESS STOUT THAN 24 HOURS AGO, WITH THE MAX WIND BAND NO LONGER WRAPPING AROUND THE NORTH SIDE.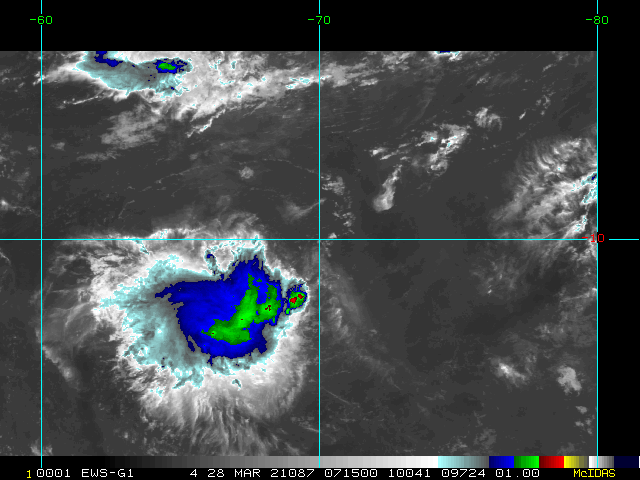 INVEST 98S. 28/0715UTC. WEAKENING CONVECTION WITH WARMING CLOUD-TOPS.