TC 25P . CLICK TO ANIMATE IF NECESSARY.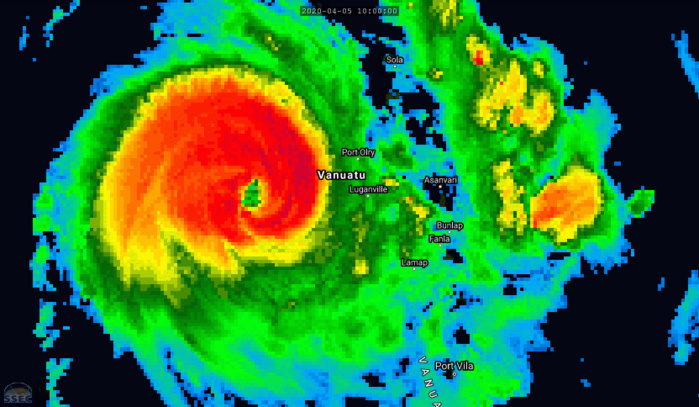 CIRA
TC
#
25P
#
HAROLD
SOUTH PACIFIC
As of 12:00 UTC Apr 05, 2020:
Location: 15.6°S 165.6°E
Maximum Winds: 120 kt ( 220km/h)
Gusts : 145 kt ( 270km/h)
Minimum Central Pressure: 936 mb
CATEGORY US: 4
NEAR PEAK INTENSITY
REMARKS:
051500Z POSITION NEAR 15.6S 165.8E.
05APR20. TROPICAL CYCLONE (TC) 25P (HAROLD), LOCATED APPROXIMATELY 200NM NORTHWEST OF PORT VILA, VANUATU, HAS TRACKED EASTWARD AT 01
KNOTS OVER THE PAST SIX HOURS. ANIMATED ENHANCED INFRARED (EIR)
SATELLITE IMAGERY SHOWS A WOBBLY, YET TIGHTLY WRAPPED EYE. THE
INITIAL POSITION IS BASED ON THE 10NM EYE SEEN IN EIR. THE INITIAL
INTENSITY IS HEDGED BETWEEN THE DVORAK INTENSITY ESTIMATE OF T6.0
(115 KNOTS) FROM PHFO, A T6.5 (127 KNOTS) FROM PGTW AND A 051240Z
ADT ESTIMATE OF 130 KNOTS. INTENSITY GUIDANCE IS IN OVERALL FAIR
AGREEMENT. CURRENTLY, THE ENVIRONMENT REMAINS FAVORABLE WITH STRONG
POLEWARD OUTFLOW, WARM SSTS (29C) AND LOW (05-10 KNOTS) VERTICAL
WIND SHEAR (VWS). TC 25P IS EXPECTED TO CONTINUE ON ITS CURRENT
TRACK ALONG THE SOUTHWEST PERIPHERY OF A DEEP-LAYERED SUBTROPICAL
RIDGE TO THE NORTHEAST. INCREASING VWS, SUBSIDENCE, AND LATER ON,
COOLING SSTS, TEMPERED BY THE POLEWARD OUTFLOW, WILL GRADUALLY
WEAKEN THE SYSTEM DOWN TO 60 KNOTS BY TAU 96. BY TAU 72, THE SYSTEM
WILL BEGIN SUBTROPICAL TRANSITION, BECOMING SUBTROPICAL BY TAU 96.
NUMERICAL MODELS ARE IN GOOD AGREEMENT THROUGH TAU 72, WITH CROSS
TRACK SPREAD INCREASING TO 300NM BY TAU 96, LENDING OVERALL HIGH
CONFIDENCE TO THE JTWC TRACK FORECAST THAT IS LAID CLOSE TO THE
MODEL CONSENSUS. MAXIMUM SIGNIFICANT WAVE HEIGHT AT 051200Z IS 36 FEET.
TC 25P. WARNING 12.
TC 25P: TRACK AND INTENSITY GUIDANCE.
HIMAWARI-8 AT 05/1340UTC.
05/0734UTC