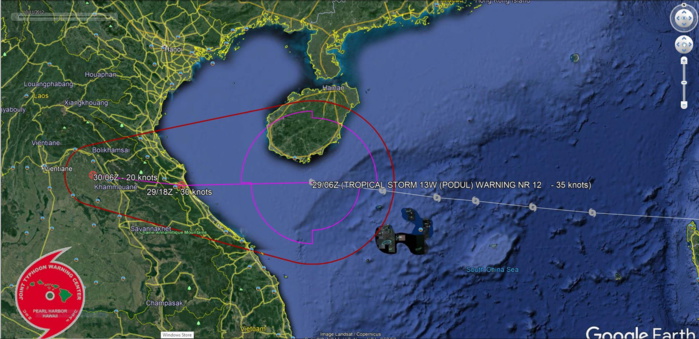 Météo974
WESTERN NORTH PACIFIC
TS PODUL(13W)
Location: 17.7°N 109.8°E
Maximum Winds: 35 kt ( 65km/h)
Gusts: 45 kt ( 85km/h)
Minimum Central Pressure: 997 mb
WDPN31 PGTW 290900
MSGID/GENADMIN/JOINT TYPHOON WRNCEN PEARL HARBOR HI//
SUBJ/PROGNOSTIC REASONING FOR TROPICAL STORM 13W (PODUL) WARNING NR
12//
RMKS/
1. FOR METEOROLOGISTS.
2. 6 HOUR SUMMARY AND ANALYSIS.
TROPICAL STORM (TS) 13W (PODUL), LOCATED APPROXIMATELY 134 NM
NORTHEAST OF DA NANG, VIETNAM, HAS TRACKED WESTWARD AT 17 KNOTS OVER
THE PAST SIX HOURS. ANIMATED MULTISPECTRAL SATELLITE IMAGERY DEPICTS
A BROAD LOW-LEVEL CIRCULATION CENTER (LLCC) WITH DEEP CONVECTION
DISPLACED OVER THE SOUTHWEST QUADRANT. A 290554Z AMSR2 36GHZ
MICROWAVE IMAGE INDICATES LIMITED SHALLOW CONVECTIVE BANDING
WRAPPING FROM THE NORTH QUADRANT INTO THE SOUTH QUADRANT OF A
DEFINED LLCC, WHICH SUPPORTS THE INITIAL POSITION WITH FAIR
CONFIDENCE. SURFACE OBSERVATIONS FROM SANYA (59948), APPROXIMATELY
34NM NORTH-NORTHWEST OF THE CENTER, SHOW EASTERLY WINDS (10-MINUTE
AVERAGE) AT 21 KNOTS AND SLP NEAR 993.8MB. A PARTIAL 29/0233Z ASCAT-
C IMAGE SHOWS A SMALL PATCH OF 35 KNOT WINDS OVER THE EAST QUADRANT,
WHICH, ALONG WITH DVORAK CURRENT INTENSITY ESTIMATES OF 2.5 (35
KNOTS), SUPPORTS THE INITIAL INTENSITY ASSESSMENT OF 35 KNOTS. UPPER-
LEVEL ANALYSIS CONTINUES TO REVEAL A MARGINAL ENVIRONMENT WITH
STRONG (25 TO 30 KNOTS) NORTHEASTERLY VERTICAL WIND SHEAR AND BROAD
DIFFLUENCE. TS 13W IS TRACKING ALONG THE SOUTHERN PERIPHERY OF A
SUBTROPICAL RIDGE (STR).
3. FORECAST REASONING.
A. THERE IS NO CHANGE TO THE FORECAST PHILOSOPHY SINCE THE
PREVIOUS PROGNOSTIC REASONING MESSAGE.
B. TS PODUL WILL CONTINUE TO TRACK WESTWARD UNDER THE STEERING
INFLUENCE OF THE STR AND SHOULD MAKE LANDFALL OVER EASTERN VIETNAM
NEAR TAU 12. THE SYSTEM WILL RAPIDLY DISSIPATE AS IT TRACKS INLAND
OVER MOUNTAINOUS TERRAIN. THE NUMERICAL MODELS ARE IN TIGHT
AGREEMENT LENDING HIGH CONFIDENCE IN THE JTWC TRACK FORECAST WHICH
IS POSITIONED CLOSE TO THE MULTI-MODEL CONSENSUS.//
NNNN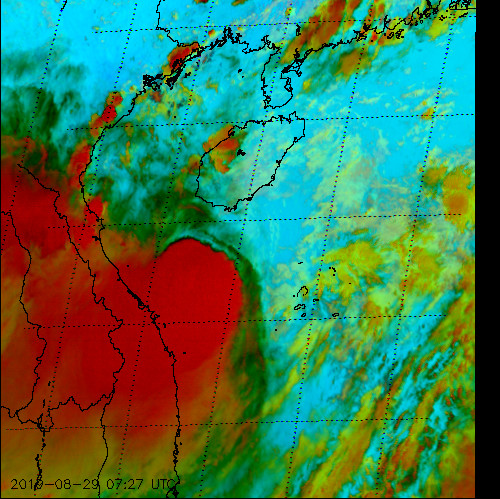 29/0727UTC