NORTH INDIAN OCEAN/ARABIAN SEA: TC 03B(SHAHEEN- GULAB). WARNING 23 ISSUED AT 03/15UTC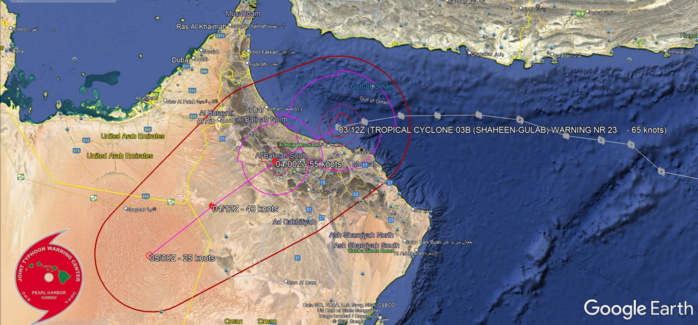 FORECAST REASONING. SIGNIFICANT FORECAST CHANGES: THERE ARE NO SIGNIFICANT CHANGES TO THE FORECAST FROM THE PREVIOUS WARNING. FORECAST DISCUSSION: TC 03B WILL TRACK WEST-SOUTHWESTWARD THROUGH THE DURATION OF THE FORECAST. SOME MESOSCALE VARIATION IN TRACK IS EXPECTED AS THE SYSTEM MOVES AROUND THE HIGHER TERRAIN WEST OF MUSCAT, BUT OTHERWISE THE TRACK SHOULD TAKE THE SYSTEM INTO THE EMPTY QUARTER BY 36H. TC 03B IS EXPECTED TO MAKE LANDFALL WITHIN THE NEXT COUPLE OF HOURS NEAR AL SUWAYQ, OMAN. THE SYSTEM IF FORECAST TO MAINTAIN 65-KNOT/CAT 1 INTENSITY THROUGH LANDFALL, BUT ONCE ASHORE WILL RAPIDLY WEAKEN DUE TO TERRAIN INTERACTION AND ULTIMATELY DISSIPATE OVER THE EMPTY QUARTER BY 36H.
0321092312 175N 947E 15
0321092318 177N 940E 20
0321092400 180N 934E 20
0321092406 185N 921E 35
0321092412 183N 910E 35
0321092418 183N 903E 35
0321092500 182N 897E 35
0321092506 182N 893E 35
0321092512 182N 888E 40
0321092518 183N 882E 40
0321092600 184N 871E 40
0321092606 184N 853E 40
0321092612 184N 843E 40
0321092618 180N 833E 35
0321092700 180N 821E 30
0321092706 182N 811E 25
0321092712 191N 801E 25
0321092718 195N 790E 20
0321092800 198N 779E 20
0321092806 200N 772E 20
0321092812 203N 767E 20
0321092818 208N 755E 20
0321092900 215N 741E 20
0321092906 221N 726E 25
0321092912 226N 714E 25
0321092918 226N 697E 25
0321093000 225N 689E 25
0321093006 227N 682E 25
0321093012 227N 669E 30
0321093018 228N 662E 40
0321100100 229N 653E 45
0321100106 231N 644E 50
0321100112 236N 638E 60
0321100118 237N 632E 60
0321100200 238N 625E 65
0321100206 241N 616E 60
0321100212 242N 608E 65
0321100218 242N 600E 65
0321100300 242N 593E 70
0321100306 241N 586E 70
0321100312 240N 581E 65
NNNN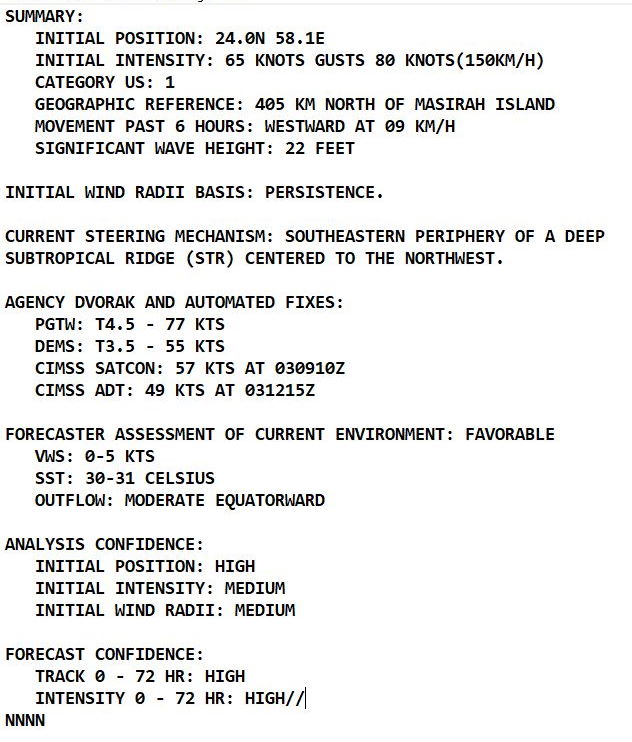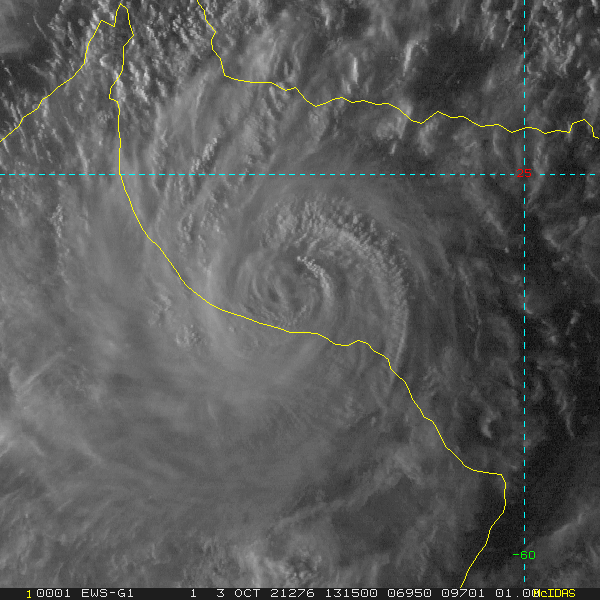 SATELLITE ANALYSIS, INITIAL POSITION AND INTENSITY DISCUSSION: TC 03B BATTED ITS EYE AT US EARLIER IN THE DAY, BUT IT WAS NOT MEANT TO BE. OVER THE PAST FOUR OR FIVE HOURS THE PINHOLE EYE OBSERVED AROUND 0600Z HAS FILLED IN, WITH ONLY A WEAK DIMPLE IN THE MSI AND A SMALL WARM SPOT IN THE ENHANCED INFRARED REMAINING. THE SYMMETRICAL, COMPACT CORE OF DEEP CONVECTION REMAINS FAIRLY WELL DEFINED AND THE CIMSS TC DIURNAL TREND CLOUD TOP TEMPERATURE TREND PRODUCT INDICATES CLOUD TOPS COOLING A FEW DEGREES WITHIN THE COMPACT CORE REGION (WITHIN ABOUT 100-KM OF THE CENTER), INDICATING THE SYSTEM STILL PACKS SOME ENHANCED CONVECTION. THE INITIAL POSITION IS ASSESSED WITH HIGH CONFIDENCE BASED ON POSITIONING OF THE WARM SPOT IN THE 1200Z ENHANCED INFRARED IMAGERY, SUPPORTED BY A WELL-DEFINED MICROWAVE EYE IN A 031222Z SSMIS 89GHZ MICROWAVE IMAGE. THE INITIAL INTENSITY IS LOWERED SLIGHTLY TO 65 KNOTS/CAT 1 WITH MEDIUM CONFIDENCE, WELL ABOVE THE OBJECTIVE ESTIMATES. WHILE THE PGTW CURRENT INTENSITY ESTIMATE IS T4.5 (77 KNOTS), IT IS BEING HELD THERE DUE TO CONSTRAINTS, AND THE INITIAL INTENSITY MORE CLOSELY MATCHES THE DATA-T OF T4.0 (65 KNOTS). THE SYSTEM CONTINUES TO TRACK WEST-SOUTHWESTWARD THROUGH A FAVORABLE ENVIRONMENT OF LOW VWS, MODERATE EQUATORWARD OUTFLOW AND VERY WARM SSTS. THE ONLY CONSTRAINT IS THE TIME REMAINING OVER WATER AND DIURNAL CYCLING.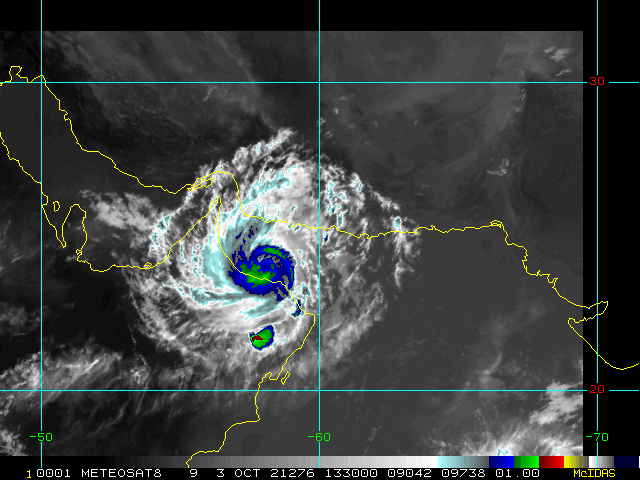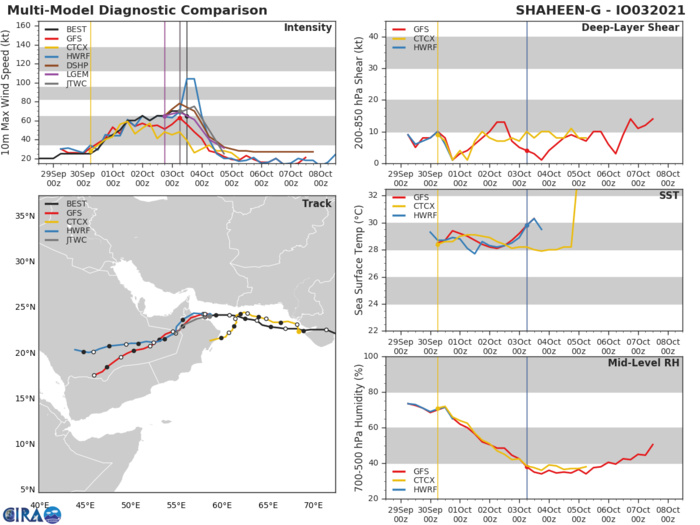 MODEL DISCUSSION: THERE IS LITTLE TO NO DISAGREEMENT IN THE TRACK GUIDANCE THROUGH LANDFALL, WITH INCREASING SPREAD THEREAFTER AS THE VORTEX WEAKENS AND DISSIPATES. NAVGEM IS THE ONLY SIGNIFICANT OUTLIER OF THE GROUP, SHOWING THE REMNANTS OF THE SYSTEM TRACKING ACROSS SOUTHERN UAE. THE REMAINDER OF THE CONSENSUS MEMBERS ARE CLOSELY CLUSTERED ABOUT THE MEAN AND THE JTWC FORECAST LIES CLOSE THE MEAN WITH HIGH CONFIDENCE. INTENSITY GUIDANCE ALL AGREES ON A STEADY INTENSITY THROUGH LANDFALL AND RAPID WEAKENING THEREAFTER. THE JTWC FORECAST CLOSELY FOLLOWS THE CONSENSUS MEAN WITH HIGH CONFIDENCE.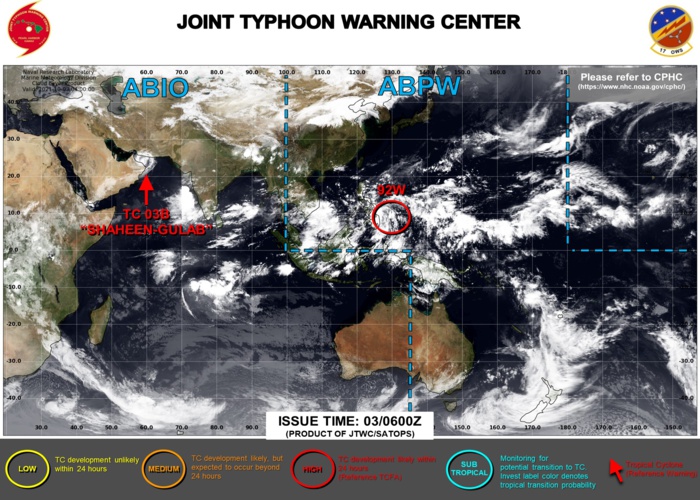 JTWC IS ISSUING 6HOURLY WARNINGS ON TC 03B. 3HOURLY SATELLITE BULLETINS ARE ISSUED ON TC 03B AND INVEST 92W.