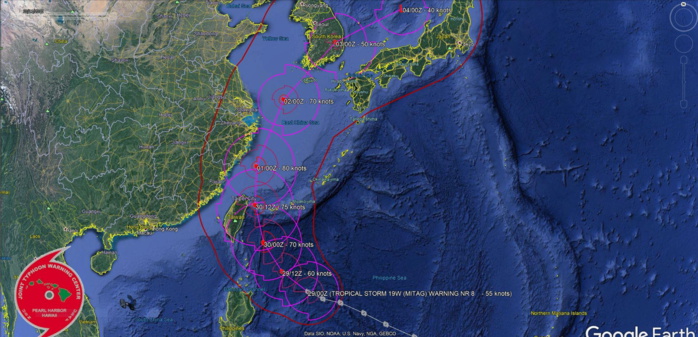 Météo974
WESTERN NORTH PACIFIC
TS
Location: 18.6°N 126.5°E
Maximum Winds: 55 kt ( 100km/h)
Gusts: 70 kt ( 130km/h)
Minimum Central Pressure: 993 mb
WDPN31 PGTW 290300
MSGID/GENADMIN/JOINT TYPHOON WRNCEN PEARL HARBOR HI//
SUBJ/PROGNOSTIC REASONING FOR TROPICAL STORM 19W (MITAG) WARNING NR
008//
RMKS/
1. FOR METEOROLOGISTS.
2. 6 HOUR SUMMARY AND ANALYSIS.
TROPICAL STORM (TS) 19W (MITAG), LOCATED APPROXIMATELY 479 NM
SOUTH OF KADENA AB, OKINAWA, JAPAN, HAS TRACKED WEST-NORTHWESTWARD
AT 12 KNOTS (KTS) OVER THE PAST SIX HOURS. ANIMATED MULTISPECTRAL
IMAGERY (MSI) SHOWS CONVECTIVE BANDING WRAPPING INTO A LOW LEVEL
CIRCULATION CENTER (LLCC) PARTIALLY OBSCURED BY THE CIRRUS SHIELD,
PLACING FAIR CONFIDENCE IN THE INITIAL POSITION. THE INITIAL
INTENSITY IS ASSESSED AT 55 KTS WITH GOOD CONFIDENCE, SUPPORTED BY
MULTI-AGENCY DVORAK INTENSITY ESTIMATES OF T3.0/45KTS (PGTW) AND
T3.5/55KTS (RCTP/RJTD) AS WELL AS A SATCON INTENSITY ESTIMATE OF 55
KTS. THE AFOREMENTIONED MSI DISPLAYED A LARGE AREA OF ASSOCIATED
CONVECTION OFFSET TO THE SOUTH OF THE LLCC. UPPER LEVEL ANALYSIS
REVEALS MODERATE (10-20 KTS) VERTICAL WIND SHEAR (VWS) AND EXCELLENT
EQUATORWARD OUTFLOW. HOWEVER, AN AREA OF UPPER LEVEL CONVERGENCE TO
THE NORTH OF THE LLCC IS LIMITING CONVECTION IN THAT REGION. AT 28-
29 CELSIUS, SEA SURFACE TEMPERATURE (SST) REMAINS FAVORABLE.
OVERALL, THE ENVIRONMENT IS FAVORABLE FOR INTENSIFICATION. TS 19W IS
UNDER THE STEERING INFLUENCE OF A SUBTROPICAL RIDGE (STR) TO THE
NORTHEAST.
3. FORECAST REASONING.
A. THERE IS NO CHANGE TO THE FORECAST PHILOSOPHY SINCE THE
PREVIOUS PROGNOSTIC REASONING MESSAGE.
B. TRANSITING AROUND THE STR AXIS, THE FORECAST TRACK WILL
GRADUALLY TURN NORTH-NORTHEASTWARD THROUGH TAU 72. BY TAU 48, AS THE
SYSTEM CRESTS THE STR AXIS, FORECAST INTENSITY WILL PEAK AROUND 80
KTS. AFTER THAT, FRICTIONAL EFFECTS FROM LAND INTERACTION AND
INCREASING VWS WILL SLOWLY WEAKEN TS 19W AS IT TRACKS ALONG THE
COAST OF CHINA. MODEL GUIDANCE HAS COME INTO BETTER AGREEMENT IN THE
LAST SIX HOURS, DECREASING CROSS-TRACK SPREAD AT TAU 72 TO 100 NM.
JGSM REMAINS THE SOLE OUTLIER TO THE EAST. THE JTWC FORECAST TRACK
IS PLACED NEAR MODEL CONSENSUS, LENDING FAIR CONFIDENCE TO THIS
PORTION OF THE TRACK.
C. AFTER TAU 72, TS 19W TURNS NORTHEASTWARD, BEGINS INTERACTING
WITH THE MID-LATITUDE WESTERLIES, AND STARTS TO UNDERGO
EXTRATROPICAL TRANSITION (ETT). DESPITE CONTINUED FAVORABLE UPPER
LEVEL OUTFLOW, COOL SST, HIGH VWS, AND LAND INTERACTION WILL BEGIN
TO ERODE TS 19W AS IT TRANSITS TOWARD THE KOREAN PENINSULA AND OVER
THE SEA OF JAPAN. ETT IS EXPECTED TO BE COMPLETE BY TAU 120. ALL
NUMERICAL MODELS SHOW A TIGHT ENVELOPE DURING THE RECURVE PORTION OF
THIS FORECAST. HOWEVER, WITH SUFFICIENT DIFFERENCES IN THE TIMING OF
THE RECURVE, CONFIDENCE IN THE JTWC FORECAST TRACK REMAINS FAIR.//
NNNN
.