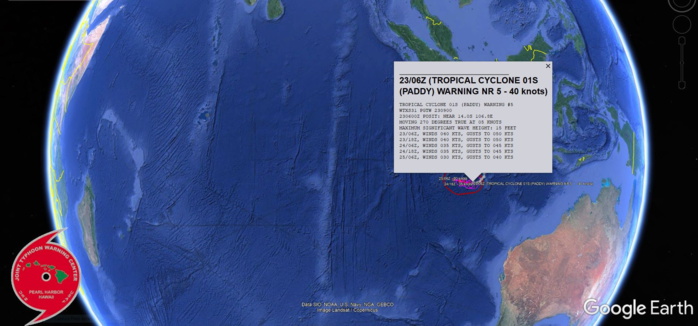 JTWC IS ISSUING 6HOURLY WARNINGS AND 3HOURLY SATELLITE BULLETINS ON TC 01S(PADDY).
0121111818 98S1011E 15
0121111900 99S1021E 15
0121111906 100S1030E 20
0121111912 103S1035E 20
0121111918 104S1040E 20
0121112000 103S1042E 20
0121112006 102S1044E 20
0121112012 102S1047E 20
0121112018 105S1050E 20
0121112100 110S1056E 20
0121112106 115S1065E 20
0121112112 118S1073E 20
0121112118 121S1080E 20
0121112200 127S1082E 30
0121112206 132S1082E 40
0121112212 135S1079E 40
0121112218 138S1077E 40
0121112300 140S1073E 40
0121112306 140S1068E 40
NNNN
Cheers,
Patrick Hoareau
JTWC PH
ILES SOEURS
Joint Typhoon Warning Center
JTWC BIS
SOUTHERN HEMISPHERE/SOUTH INDIAN: TC 01S(PADDY). WARNING 5 ISSUED AT 23/09UTC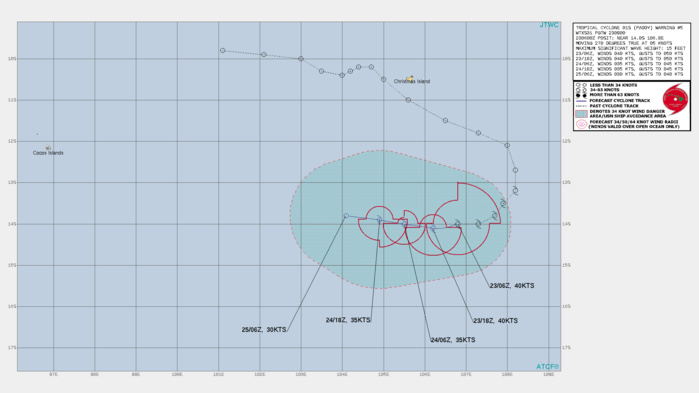 FORECAST REASONING. SIGNIFICANT FORECAST CHANGES: THERE ARE NO SIGNIFICANT CHANGES TO THE FORECAST FROM THE PREVIOUS WARNING. FORECAST DISCUSSION: TC 01S IS FORECAST TO MEANDER SLOWLY WESTWARD ALONG THE NORTHERN PERIPHERY OF THE LOW- TO MID-LEVEL SUBTROPICAL RIDGE(STR) THROUGH THE FORECAST PERIOD. THE SYSTEM HAS STRUGGLED TO CONSOLIDATE DUE, LARGELY, TO THE PRESENCE OF SIGNIFICANT MID-LEVEL DRY AIR BUT HAS MAINTAINED WEAK BANDING OVER THE SOUTHERN SEMICIRCLE. TC 01S SHOULD CONTINUE TO STEADILY WEAKEN DUE TO DRY AIR ENTRAINMENT AS WELL AS WEAK OUTFLOW ALOFT, AND SHOULD DISSIPATE BY 48H.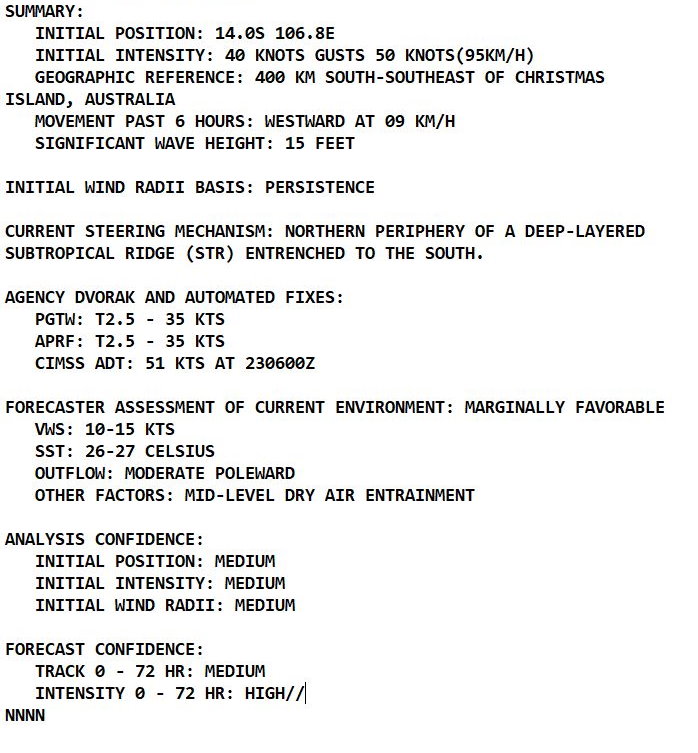 IF NEEDED CLICK TO ANIMATE THE IMAGERY.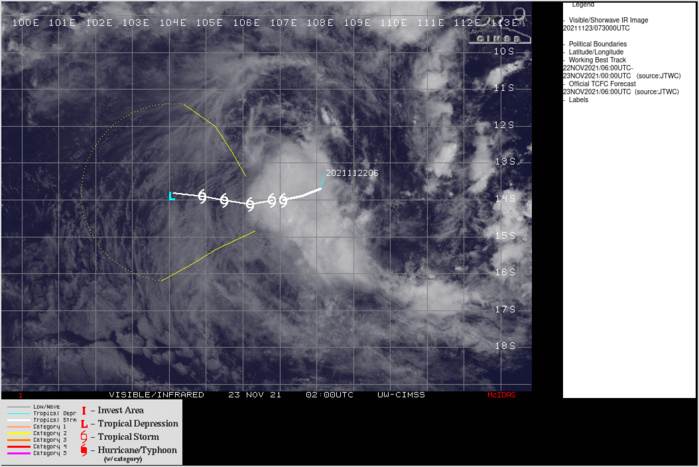 SATELLITE ANALYSIS, INITIAL POSITION AND INTENSITY DISCUSSION: ANIMATED MULTISPECTRAL SATELLITE IMAGERY DEPICTS PERSISTENT DEEP CONVECTION OVER A PARTIALLY-EXPOSED LOW-LEVEL CIRCULATION (LLC). A 230627Z AMSR2 89GHZ COLOR COMPOSITE MICROWAVE IMAGE INDICATES SHALLOW BANDING WRAPPING INTO A BROAD CENTER POSITIONED ON THE NORTHERN EDGE OF A CURVED CONVECTIVE BAND, THEREFORE, THERE IS MEDIUM CONFIDENCE IN THE INITIAL POSITION. THE INITIAL INTENSITY REMAINS ASSESSED AT 40 KNOTS AND IS HEDGED ABOVE THE PGTW AND APRF DVORAK CURRENT INTENSITY ESTIMATES BASED ON THE CIMSS ADT ESTIMATE. ENVIRONMENTAL CONDITIONS REMAIN MARGINALLY FAVORABLE WITH ROBUST POLEWARD OUTFLOW AND LOW VERTICAL WIND SHEAR OFFSET BY MID-LEVEL DRY AIR ENTRAINMENT. SEA SURFACE TEMPERATURES ARE CONDUCIVE AT 26-27C.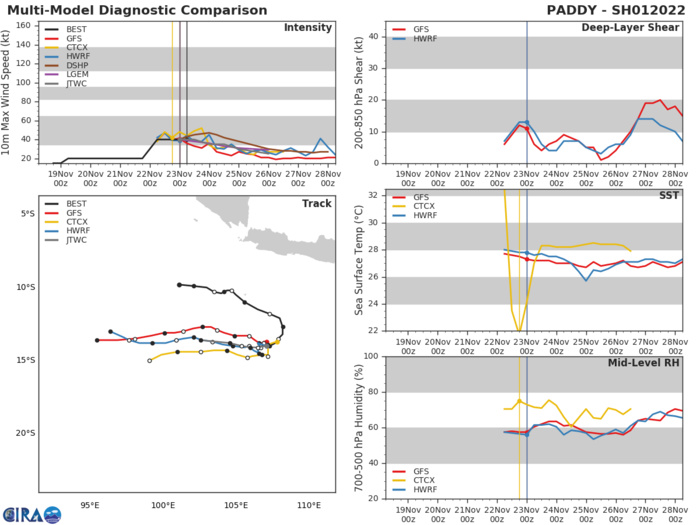 MODEL DISCUSSION: EXCLUDING NAVGEM, WHICH IS TRACKING THE SYSTEM SOUTHWESTWARD INTO A STRONG STR, AND THE GFS ENSEMBLE MEAN (NORTHERN OUTLIER), THE BULK OF THE NUMERICAL MODEL GUIDANCE REMAINS IN FAIR AGREEMENT LENDING MEDIUM CONFIDENCE TO THE JTWC FORECAST TRACK. INTENSITY GUIDANCE SUPPORTS THE STEADY WEAKENING TREND LEADING TO DISSIPATION WITH HWRF AND COAMPS-TC INDICATING DISSIPATION PRIOR TO 48H.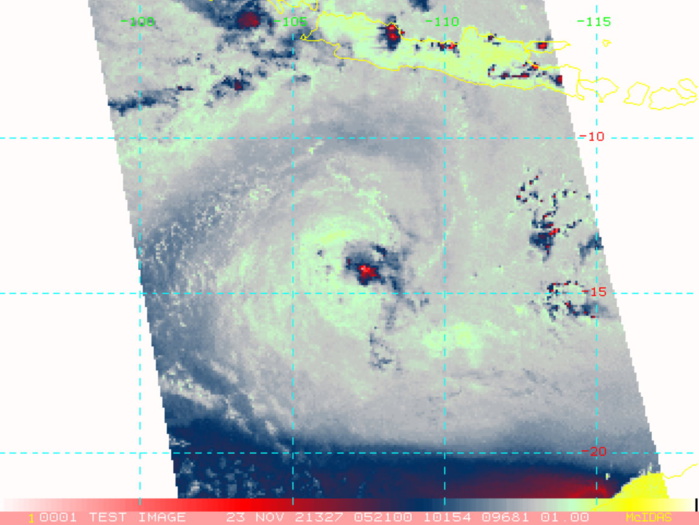 230627Z AMSR2 89GHZ COLOR COMPOSITE MICROWAVE IMAGE INDICATES SHALLOW BANDING WRAPPING INTO A BROAD CENTER POSITIONED ON THE NORTHERN EDGE OF A CURVED CONVECTIVE BAND