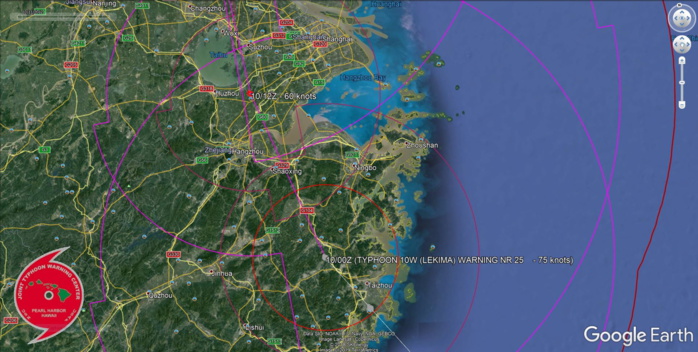 LEKIMA(10W): WARNING 25. OVERLAND AND TRACKING TO THE WEST OF SHANGHAI WITHIN 24H
Météo974
WESTERN NORTH PACIFIC
Location: 29.0°N 121.0°E
Maximum Winds: 75 kt ( 140km/h)
Gusts: 90 kt ( 170km/h)
Minimum Central Pressure: 953 mb
CATEGORY US: 1
WEAKENING
WDPN31 PGTW 100300
MSGID/GENADMIN/JOINT TYPHOON WRNCEN PEARL HARBOR HI//
SUBJ/PROGNOSTIC REASONING FOR TYPHOON 10W (LEKIMA) WARNING NR 25//
RMKS/
1. FOR METEOROLOGISTS.
2. 6 HOUR SUMMARY AND ANALYSIS.
TYPHOON (TY) 10W (LEKIMA), LOCATED APPROXIMATELY 135 NM SOUTH
OF SHANGHAI, CHINA, HAS TRACKED NORTH-NORTHWESTWARD AT 07 KNOTS
OVER THE PAST SIX HOURS. ANIMATED ENHANCED INFRARED SATELLITE
IMAGERY DEPICTS A RAPIDLY WEAKENING SYSTEM WITH LIMITED DEEP
CONVECTION DISPLACED OVER THE NORTHERN PERIPHERY. A 092310Z SSMIS
91GHZ IMAGE AND RADAR IMAGERY INDICATE A DEFINED LOW-LEVEL
CIRCULATION CENTER, THEREFORE, THERE IS GOOD CONFIDENCE IN THE
INITIAL POSITION. UPPER-LEVEL ANALYSIS REVEALS LOW VERTICAL WIND
SHEAR AND ROBUST POLEWARD OUTFLOW ENHANCED BY A SHORTWAVE TROUGH TO
THE NORTHWEST. THEREFORE, INTERACTION WITH LAND / FRICTIONAL EFFECTS
ARE THE PRIMARY WEAKENING MECHANISM. TY 10W IS TRACKING ALONG THE
SOUTHWESTERN PERIPHERY OF A SUBTROPICAL RIDGE (STR) POSITIONED TO
THE NORTHEAST.
3. FORECAST REASONING.
A. THERE IS NO CHANGE TO THE FORECAST PHILOSOPHY SINCE THE
PREVIOUS PROGNOSTIC REASONING MESSAGE.
B. TY 10W IS FORECAST TO TRACK NORTHWARD THROUGH TAU 72 ALONG THE
WESTERN PERIPHERY OF THE STR, WHICH REORIENTS NORTH-SOUTH. THE
SYSTEM IS FORECAST TO RAPIDLY WEAKEN AS IT TRACKS OVER THE EASTERN
COAST OF CHINA. NUMERICAL MODEL GUIDANCE REMAINS IN TIGHT AGREEMENT,
THEREFORE, THERE IS HIGH CONFIDENCE IN THIS PORTION OF THE JTWC
FORECAST TRACK.
C. AFTER TAU 72, TY 10W WILL TRACK UNDER STRONG SOUTHWESTERLY
FLOW ASSOCIATED WITH A DEEP SHORTWAVE TROUGH OVER NORTHEAST CHINA,
WHICH WILL FURTHER WEAKEN THE SYSTEM DUE TO INCREASING VERTICAL WIND
SHEAR AND CONVERGENCE ALOFT. NUMERICAL MODEL GUIDANCE DIVERGES WITH
SEVERAL MODELS JUMPING ERRONEOUSLY TO MIDLATITUDE VORTICITY CENTERS.
THE REMAINDER OF THE GUIDANCE INDICATES A SLOW NORTHEASTWARD TRACK
OVER THE GULF OF POHAI. TY 10W IS FORECAST TO DISSIPATE BY TAU 96 AS
IT TRACKS CLOSE TO THE UPPER-LEVEL JET. OVERALL, TRACK CONFIDENCE
REMAINS HIGH.//
NNNN
--------------------------------------------------------------------------------------
TY KROSA(11W)
Location: 22.7°N 141.5°E
Maximum Winds: 70 kt ( 130km/h)
Gusts: 85 kt (160km/h)
Minimum Central Pressure: 966 mb
CATEGORY US: 1
WEAKENING
WDPN33 PGTW 100300
MSGID/GENADMIN/JOINT TYPHOON WRNCEN PEARL HARBOR HI//
SUBJ/PROGNOSTIC REASONING FOR TYPHOON 11W (KROSA) WARNING NR 018//
RMKS/
1. FOR METEOROLOGISTS.
2. 6 HOUR SUMMARY AND ANALYSIS.
TYPHOON (TY) 11W (KROSA), LOCATED APPROXIMATELY 126 NM SOUTH
OF IWO TO, JAPAN, HAS TRACKED NORTHWARD AT 03 KNOTS OVER THE PAST
SIX HOURS. ANIMATED ENHANCED INFRARED SATELLITE IMAGERY DEPICTS
SLIGHTLY IMPROVED CONVECTIVE BANDING WRAPPING INTO A DEFINED LOW-
LEVEL CIRCULATION CENTER (LLCC). HOWEVER, DEEP CONVECTION OVER THE
CORE AND NORTHWEST QUADRANT REMAIN WEAK DUE TO THE PRESENCE OF
CYCLONIC FLOW AND CONVERGENCE ALOFT WHILE STRONG DIFFLUENCE OVER THE
EASTERN AND SOUTHERN FLANK CONTINUE TO FUEL DEEP CONVECTIVE BANDING.
A 092130Z SSMIS 91GHZ IMAGE INDICATES TIGHTLY-CURVED BANDING
WRAPPING INTO A DEFINED, BROAD LLCC, WHICH SUPPORTS THE INITIAL
POSITION WITH GOOD CONFIDENCE. THE INITIAL INTENSITY IS ASSESSED AT
70 KNOTS, HEDGED SLIGHTLY BELOW DVORAK CURRENT INTENSITY ESTIMATES
OF 4.5 (77 KNOTS), BASED ON A 092054Z SMAP ESTIMATE OF 71 KNOTS (1-
MINUTE AVERAGE). WITH THE EXCEPTION OF THE COMPLEX, MARGINALLY-
FAVORABLE OUTFLOW, VERTICAL WIND SHEAR AND SST VALUES REMAIN
FAVORABLE. TY 11W IS LOCATED WITHIN A WEAK STEERING ENVIRONMENT WITH
A NORTH-SOUTH SUBTROPICAL RIDGE POSITIONED TO THE EAST, A WEAK STR
OVER WESTERN JAPAN AND A BREAK TO THE NORTH. THEREFORE, TY 11W IS
TRACKING SLOWLY POLEWARD (AND ERRATICALLY).
3. FORECAST REASONING.
A. THERE IS NO CHANGE TO THE FORECAST PHILOSOPHY SINCE THE
PREVIOUS PROGNOSTIC REASONING MESSAGE.
B. IN THE NEXT 72 HOURS, THE PRIMARY STEERING FOR TY 11W WILL
GRADUALLY TRANSITION TO THE BUILDING STR TO THE NORTH OF TY 11W AND
THE TRACK WILL SLOWLY SHIFT NORTHWESTWARD TOWARD JAPAN, PASSING
SOUTHWEST OF IWO TO AROUND TAU 24. SLIGHTLY DIMINISHED OUTFLOW, WEAK
SUBSIDENCE AND POSSIBLE UPWELLING COOLER WATER WILL MAKE THE
ENVIRONMENT SOMEWHAT UNFAVORABLE THROUGH TAU 48 WITH GRADUAL
WEAKENING TO ABOUT 60 KNOTS. AFTER TAU 48, AS THE SYSTEM BEGINS TO
ACCELERATE WEST-NORTHWESTWARD TO NORTHWESTWARD OVER WARM SST, SLIGHT
INTENSIFICATION IS EXPECTED.
C. AFTER TAU 72, TY 11W WILL RECURVE POLEWARD ALONG THE SOUTHWEST
PERIPHERY OF THE STR, WHICH IS EXPECTED TO WEAKEN AND REORIENT WITH
THE APPROACH OF A DEEP MIDLATITUDE SHORTWAVE TROUGH. TY 11W SHOULD
RE-INTENSIFY TO A PEAK INTENSITY OF 70 KNOTS AS POLEWARD OUTFLOW
IMPROVES. SST VALUES WILL REMAIN CONDUCIVE (28-29C) DURING THIS
EXTENDED PERIOD. NUMERICAL MODEL GUIDANCE DIVERGES SLIGHTLY BUT
REMAINS IN GOOD AGREEMENT WITH A 95NM SPREAD IN SOLUTIONS AT TAU
120. BASED ON THE ERRATIC SHORT-TERM MOTION AND UNCERTAINTY IN THE
LATER TAUS, THERE IS OVERALL MODERATE CONFIDENCE IN THE JTWC
FORECAST TRACK.//
NNNN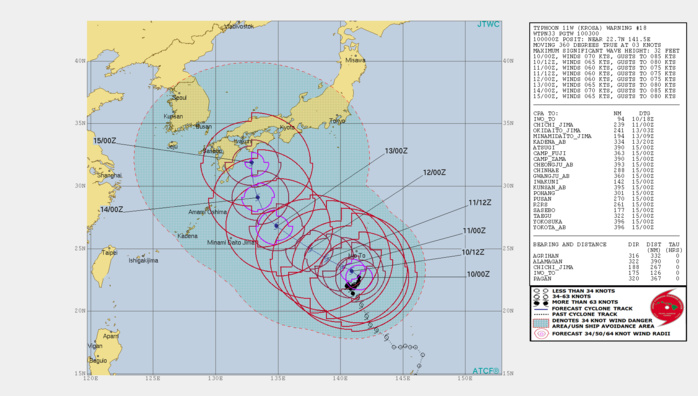 KROSA(11W): WARNING 18. FORECAST TO BE BELOW TYPHOON INTENSITY IN 24H BUT FORECAST TO APPROACH SOUTHERN JAPAN AS A MINIMAL TYPHOON AGAIN