SOUTHERN HEMISPHERE/SOUTH PACIFIC: INVEST 99P. ADVISORY(ABPW) BELOW ISSUED AT 07/06UTC.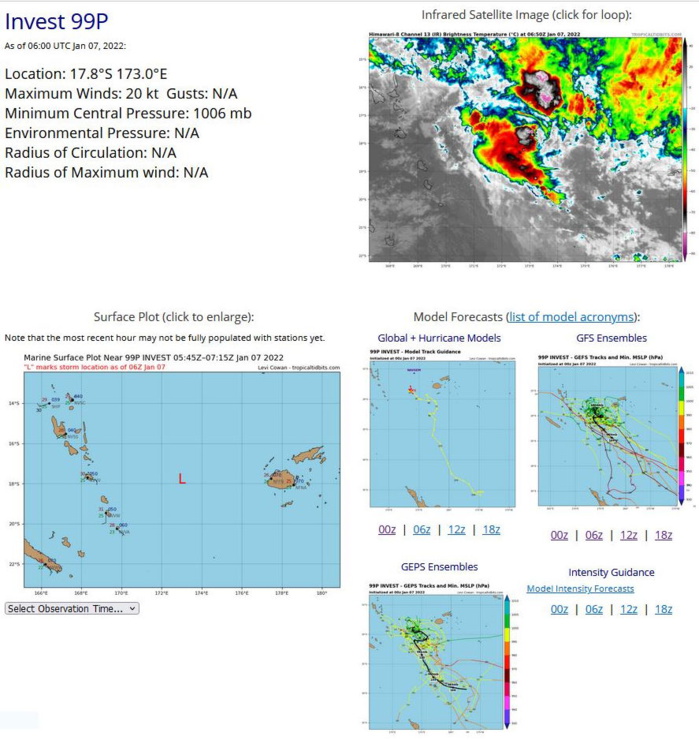 THE AREA OF CONVECTION (INVEST 99P) PREVIOUSLY LOCATED NEAR 15.5S 174.4E IS NOW LOCATED NEAR 17.8S 173.0E, APPROXIMATELY 470 KM WEST OF NADI, FIJI. ANIMATED MULTISPECTRAL SATELLITE IMAGERY (MSI) AND A 070239Z AMSR2 89GHZ MICROWAVE IMAGE DEPICT FLARING CONVECTION WRAPPING INTO A WEAKLY DEFINED LOW LEVEL CIRCULATION. ENVIRONMENTAL ANALYSIS INDICATES FAVORABLE CONDITIONS FOR DEVELOPMENT, WITH RADIAL OUTFLOW ALOFT, LOW (10-15 KTS) VERTICAL WIND SHEAR (VWS), AND WARM (29C) SEA SURFACE TEMPERATURES (SST). NUMERICAL MODELS INDICATE 99P WILL DEEPEN AS IT LOITERS NEAR ITS CURRENT LOCATION BUT REMAIN BELOW WARNING CRITERIA. MAXIMUM SUSTAINED SURFACE WINDS ARE ESTIMATED AT 15 TO 20 KNOTS. MINIMUM SEA LEVEL PRESSURE IS ESTIMATED TO BE NEAR 1006 MB. THE POTENTIAL FOR THE DEVELOPMENT OF A SIGNIFICANT TROPICAL CYCLONE WITHIN THE NEXT 24 HOURS REMAINS LOW.
GFS ENSEMBLE.
ECMWF ENSEMBLE.
SOUTHERN HEMISPHERE/CORAL SEA: INVEST 90P. THIS SYSTEM REMAINS VERY WEAK AND IS STILL NOT OVER THE JTWC MAP AT THE MOMENT. KEEPING TABS ON IT.
GFS ENSEMBLE: THE BULK OF THE MEMBERS SHOW A POSSIBLE TRACK OVER THE SOUTH PACIFIC BUT SOME HINT NOW AT A POSSIBLE TRACK TOWARDS THE GULF OF CARPENTARIA COMING INTO BETTER AGREEMENT WTIH ECMWF.
ECMWF ENSEMBLE. THE MEMBERS ARE SPLIT EVEN THOUGH THE POSSIBLE TRACK OVER THE GULF REMAINS THE MORE LIKELY OPTION.
07/00UTC. THE ECMWF ENSEMBLE MAP OF POSSIBLE CYCLONE DEVELOPMENT NEXT 240HOURS IS SLOWLY BECOMING BUSIER. KEEPING TABS ON IT.