CLICK ON THE IMAGERIES BELOW TO GET THEM ENLARGED
WESTERN NORTH PACIFIC: INVEST 97W. ADVISORY(ABPW) ISSUED AT 07/06UTC.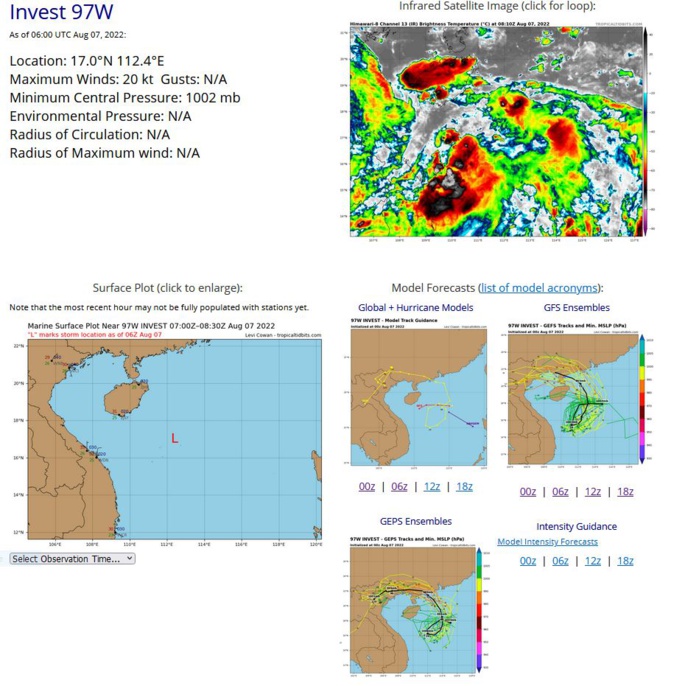 THE AREA OF CONVECTION (INVEST 97W) PREVIOUSLY LOCATED NEAR 16.8N 118.4E IS NOW LOCATED NEAR 17.5N 114.2E, APPROXIMATELY 426 NM WEST-NORTHWEST OF MANILA, PHILIPPINES. ANIMATED MULTISPECTRAL SATELLITE IMAGERY DEPICTS A BROAD, DISORGANIZED CIRCULATION IN THE SOUTH CHINA SEA. A 070245Z ASCAT METOP-B PARTIAL PASS CAUGHT THE WESTERN SIDE OF THE CIRCULATION WHILE A 070000Z SCATTEROMETER BULLSEYE SHOWED A BETTER ORGANIZED LOW LEVEL CIRCULATION CENTER (LLCC) IN THE NORTH CENTRAL SCS. THE TWO TOGETHER CONTINUE TO SHOW TWO DISTINCT VORTICES, ONE ASSOCIATED WITH 97W AND ANOTHER FURTHER TO THE SOUTHWEST. THE SCATTEROMETER PASSES REVEALED A BROAD WIND FIELD OF 15- 20 KTS WITH SOME ISOLATED POCKETS OF ENHANCED WINDS ASSOCIATED WITH AREAS OF FLARING CONVECTION, AND SOME ELEVATED WINDS UP TO 25-30KT TO THE SOUTH IN THE SOUTHWEST MONSOONAL FLOW. ENVIRONMENTAL ANALYSIS SHOWS MORE OF AN EQUATORWARD OUTFLOW. ANIMATED TOTAL PRECIPITABLE WATER DATA INDICATES AN ABUNDANCE OF DEEP MOISTURE IN THE CENTRALIZED REGION OF 97W BUT SOMEWHAT DRIER CONDITIONS TO THE NORTH, AND BROAD TURNING IN THE WIND FIELDS WITH AN INCREASE IN CONVECTIVE ACTIVITY. A STEADY DECREASE IN SHEAR, LOW VERTICAL WIND SHEAR (5-10KT), SEASONAL LOW LEVEL SOUTHWESTERLIES, AND WARM (29-30C) SEA SURFACE TEMPERATURES ADD TO THE LIKELIHOOD OF FURTHER DEVELOPMENT. GLOBAL MODELS AGREE THAT 97W IS LIKELY TO DEVELOP A LARGE WIND FIELD AND EXPECTED TO BE MORE ASYMMETRICAL AND REMINISCENT OF A MONSOON DEPRESSION WITH HIGHER WINDS ON THE OUTSKIRTS OF THE SYSTEM RATHER THAN WRAPPING TOWARDS THE CENTER. MODELS SUGGEST THE LLCC ASSOCIATED WITH 97W WILL TRACK WESTWARD INITIALLY, FOLLOWED BY A COUNTER-CLOCKWISE LOOP IN THE CENTRAL SCS, BEFORE ULTIMATELY MOVING NORTHWARD AFTER TAU 48. UNFORTUNATELY BEYOND TAU 48, THE MONSOON DEPRESSION IS EXPECTED TO CONSOLIDATE DOWN TO A MORE DEFINED CENTER AND MAY SQUEEZE OUT SOME TROPICAL DEPRESSION OR TROPICAL STORM CRITERIA WINDS AS IT TRACKS NORTHWARD TOWARDS THE COAST OF SOUTHERN CHINA BY TAU 60. MAXIMUM SUSTAINED SURFACE WINDS ARE ESTIMATED AT 18 TO 23 KNOTS. MINIMUM SEA LEVEL PRESSURE IS ESTIMATED TO BE NEAR 1005 MB. THE POTENTIAL FOR THE DEVELOPMENT OF A SIGNIFICANT TROPICAL CYCLONE WITHIN THE NEXT 24 HOURS IS MEDIUM.
WP, 97, 2022080506,149N, 1222E, 15,1009
WP, 97, 2022080512,154N, 1208E, 15,1008
WP, 97, 2022080518,159N, 1194E, 15,1008
WP, 97, 2022080600,165N, 1182E, 20,1005
WP, 97, 2022080606,169N, 1174E, 20,1004
WP, 97, 2022080612,172N, 1166E, 20,1004
WP, 97, 2022080618,175N, 1156E, 20,1004
WP, 97, 2022080700,174N, 1140E, 20,1005
WP, 97, 2022080706,170N, 1124E, 20,1002
NORTH INDIAN OCEAN: INVEST 97B.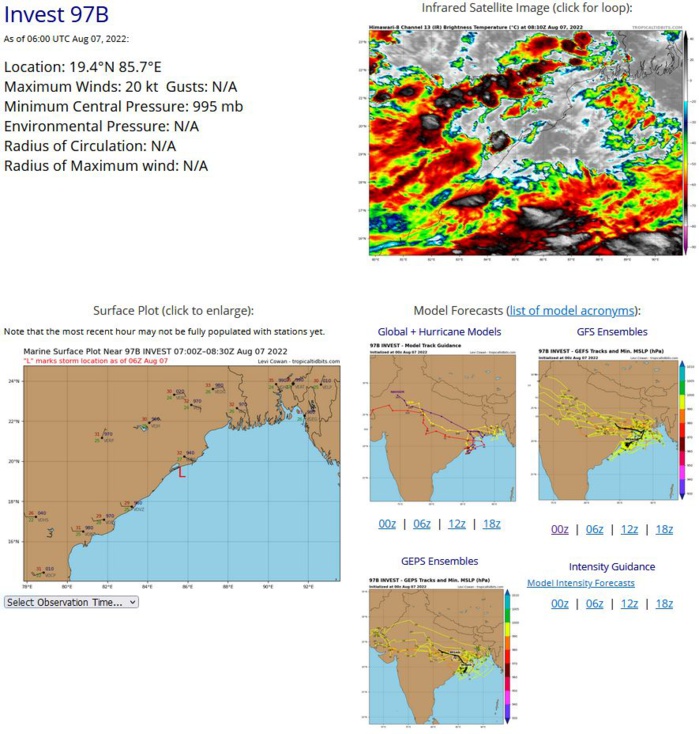 IO, 97, 2022080512,183N, 886E, 15, 998
IO, 97, 2022080518,188N, 885E, 15, 998
IO, 97, 2022080600,190N, 882E, 20, 997
IO, 97, 2022080606,192N, 877E, 20, 998
IO, 97, 2022080612,193N, 873E, 20, 995
IO, 97, 2022080618,194N, 868E, 20, 995
IO, 97, 2022080700,194N, 863E, 15, 995
IO, 97, 2022080706,194N, 857E, 20, 995
EASTERN NORTH PACIFIC: TD 09E. ESTIMATED LOCATION AND INTENSITY AT 07/06UTC.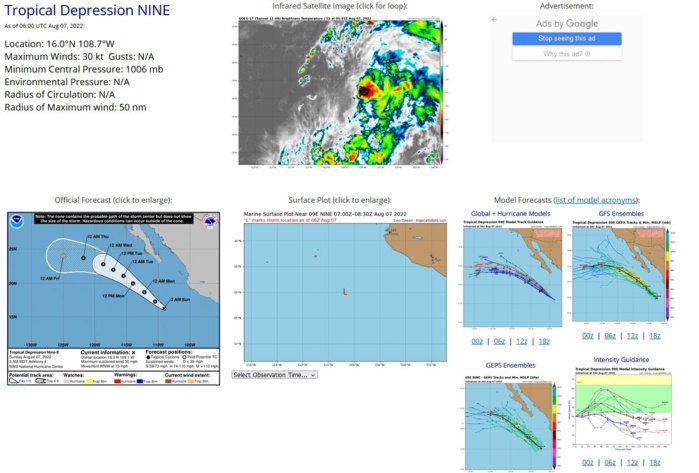 EP, 09, 2022080500,111N, 968W, 30,1007
EP, 09, 2022080506,118N, 987W, 30,1007
EP, 09, 2022080512,122N, 1004W, 30,1007
EP, 09, 2022080518,123N, 1026W, 30,1007
EP, 09, 2022080600,125N, 1034W, 30,1007
EP, 09, 2022080606,132N, 1044W, 30,1007
EP, 09, 2022080612,140N, 1053W, 30,1006
EP, 09, 2022080618,147N, 1063W, 30,1006
EP, 09, 2022080700,154N, 1074W, 30,1006
WARNING 3 ISSUED AT 07/04UTC. NHC COMMENTS.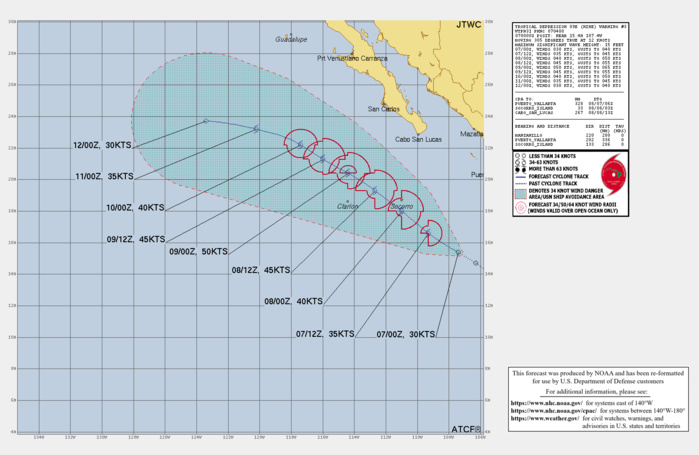 000 WTPZ44 KNHC 070834 TCDEP4 Tropical Depression Nine-E Discussion Number 4 NWS National Hurricane Center Miami FL EP092022 300 AM MDT Sun Aug 07 2022 The combination of moderate vertical wind shear and dry air appear to be limiting the current potential for intensification of the tropical depression. The low-level center is once again exposed to the west of a burst of deep convection. Subjective Dvorak intensity estimates from TAFB and SAB both suggest the system is still at 30 kt and the initial intensity remains unchanged. The predicted decrease in vertical wind shear has yet to occur. However, global models are insistent the shear should relax soon. If this does happen, the tropical depression could gradually strengthen during a brief window of conducive atmospheric and oceanic environmental conditions over the next 48 hours. The cyclone is then expected to weaken after that time when it encounters sea surface temperatures of 26 degree C and a more stable and drier airmass. The peak intensity of the official forecast has been decreased slightly and it now shows the depression becoming a remnant low by day 5. The system is moving west-northwest at 300/13 kt. A mid-level ridge to the northeast is expected to steer the depression northwestward at a slightly decreased forward speed for the next few days. The depression is then expected to turn westward as it weakens and follows the low-level flow. The updated NHC track forecast is very similar to the previous official forecast and the model consensus aids. FORECAST POSITIONS AND MAX WINDS INIT 07/0900Z 16.3N 109.1W 30 KT 35 MPH 12H 07/1800Z 17.3N 110.5W 35 KT 40 MPH 24H 08/0600Z 18.7N 112.2W 40 KT 45 MPH 36H 08/1800Z 20.0N 114.0W 45 KT 50 MPH 48H 09/0600Z 21.1N 115.5W 45 KT 50 MPH 60H 09/1800Z 22.0N 117.1W 40 KT 45 MPH 72H 10/0600Z 22.8N 118.7W 35 KT 40 MPH 96H 11/0600Z 23.7N 121.8W 30 KT 35 MPH 120H 12/0600Z 24.0N 125.0W 30 KT 35 MPH...POST-TROP/REMNT LOW $$ Forecaster Bucci/Brown