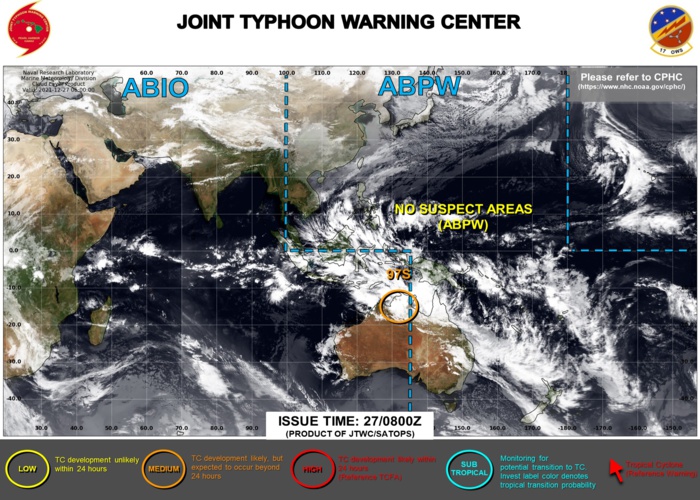 JTWC IS ISSUING 3HOURLY SATELLITE BULLETINS ON INVEST 97S.
SOUTHERN HEMISPHERE/NORTHERN AUSTRALIA: INVEST 97S. UP-GRADED TO MEDIUM AT 27/08UTC.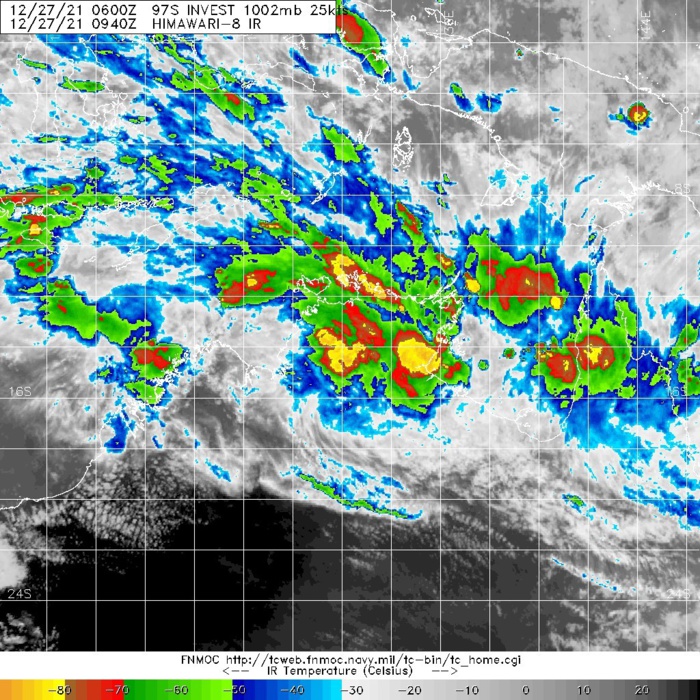 THE AREA OF CONVECTION (INVEST 97S) PREVIOUSLY LOCATED NEAR 14.6S 131.2E IS NOW LOCATED NEAR 13.9S 132.5E, APPROXIMATELY 240 KM SOUTHEAST OF DARWIN. ANIMATED MULTISPECTRAL SATELLITE IMAGERY AND A 270438Z AMSR2 89GHZ COMPOSITE MICROWAVE IMAGE DEPICT A BROAD LOW-LEVEL CIRCULATION CENTER (LLCC) WITH FORMATIVE CONVECTIVE BANDING OVER THE NORTHERN AND SOUTHERN SEMICIRCLES. ANIMATED RADAR IMAGERY FROM THE WARRUWI RADAR INDICATES MULTIPLE CONVECTIVE BANDS OVER THE NORTHERN SEMICIRCLE WRAPPING INTO THE LLCC. THESE BANDS ARE ASSOCIATED WITH VIGOROUS, CONVERGENT WESTERLY TO WEST-NORTHWESTERLY FLOW AT 20 TO 25 KNOTS. SURFACE OBSERVATIONS FROM TINDAL (14.52S 132.38E), NEAR THE CENTER, REVEAL SOUTHEASTERLY GUSTS OF 20-25 KNOTS WITH SLP NEAR 999MB. UPPER-LEVEL CONDITIONS ARE FAVORABLE WITH ROBUST POLEWARD OUTFLOW AND LOW TO MODERATE VERTICAL WIND SHEAR. FRICTIONAL EFFECTS OVER LAND ARE THE PRIMARY HINDRANCE, HOWEVER, THE SYSTEM IS EXPECTED TO TRACK EASTWARD OVER THE GULF OF CARPENTARIA WITHIN THE NEXT 24 TO 36 HOURS WITH POTENTIAL FOR DEVELOPMENT OF A TROPICAL CYCLONE POSSIBLE BEFORE THE SYSTEM TRACKS OVER THE CAPE YORK PENINSULA NEAR TAU 48 (29/06Z). REINTENSIFICATION IS LIKELY AGAIN AFTER TAU 72 WHEN INVEST 97S TRACKS OVER THE CORAL SEA WITH UPPER-LEVEL SUBTROPICAL WESTERLIES AIDING IN THE GRADUAL STRENGTHENING TREND. MAXIMUM SUSTAINED SURFACE WINDS ARE ESTIMATED AT 20 TO 25 KNOTS. MINIMUM SEA LEVEL PRESSURE IS ESTIMATED TO BE NEAR 999 MB. THE POTENTIAL FOR THE DEVELOPMENT OF A SIGNIFICANT TROPICAL CYCLONE WITHIN THE NEXT 24 HOURS IS UPGRADED TO MEDIUM.
GFS ENSEMBLE.
ECMWF ENSEMBLE.
SOUTHERN HEMISPHERE/SOUTH INDIAN OCEAN: INVEST 98S. THIS SYSTEM REMAINS VERY WEAK AND IS NOT OVER THE JTWC MAP YET. KEEPING TABS ON IT.
GFS ENSEMBLE.