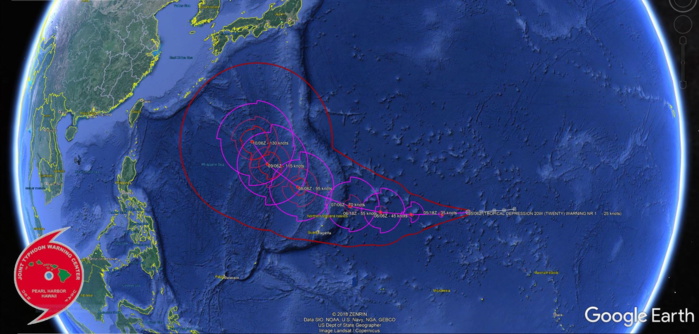 Météo974
WESTERN NORTH PACIFIC
Location: 15.3°N 161.1°E
Maximum Winds: 25 kt
Minimum Central Pressure: 1005 mb
WDPN33 PGTW 050900
1. FOR METEOROLOGISTS.
2. 6 HOUR SUMMARY AND ANALYSIS.
TROPICAL DEPRESSION (TD) 20W (TWENTY), LOCATED APPROXIMATELY 946
NM EAST OF ANDERSEN AFB, GUAM, HAS TRACKED WESTWARD AT 15 KNOTS KNOTS
OVER THE PAST SIX HOURS. ANIMATED MULTISPECTRAL SATELLITE IMAGERY
(MSI) SHOWS A FAST DEVELOPING SYSTEM WITH FORMATIVE BANDS, MOSTLY
FROM THE SOUTH, WRAPPING INTO AN OBSCURED LOW LEVEL CIRCULATION
(LLC). OVERSHOOTING CONVECTIVE TOPS ARE ALSO PROMINENT NEAR THE
CENTER. THE INITIAL POSITION IS PLACED WITH FAIR CONFIDENCE BASED ON
THE MSI LOOP AND ON A FAINT BUT DISCERNIBLE LLC FEATURE IN THE
050553Z SSMIS 37GHZ COLORIZED IMAGE. THE INITIAL INTENSITY OF 25KTS
IS BASED ON THE CONGRUENT DVORAK ESTIMATES OF T1.5/25KTS FROM PGTW,
KNES, AND RJTD AND CONSISTENT WITH THE ENHANCED INFRARED SATELLITE
SIGNATURE. UPPER LEVEL ANALYSIS INDICATES THE SYSTEM IS IN AN AREA OF
LIGHT (05-10KT) NORTHEASTERLY VERTICAL WIND SHEAR AND EXCELLENT
RADIAL OUTFLOW WITH A ROBUST EQUATORWARD BIAS. ADDITIONALLY,
ALONG-TRACK SSTS ARE HIGHLY CONDUCIVE AT 30C. THE CYCLONE IS TRACKING
ALONG THE SOUTHERN PERIPHERY OF A DEEP-LAYERED SUBTROPICAL RIDGE
(STR) TO THE NORTH.
3. FORECAST REASONING.
A. THIS IS THE INITIAL PROGNOSTIC REASONING MESSAGE AND SETS THE
FORECAST PHILOSOPHY ON THIS SYSTEM.
B. STEERED BY THE STR THROUGHOUT THE FORECAST, TD 20W WILL
CONTINUE TRACKING WESTWARD THEN WEST-NORTHWESTWARD AFTER TAU 48. THE
AFOREMENTIONED FAVORABLE CONDITIONS WILL PERSIST AND PROMOTE STEADY
INTENSIFICATION, REACHING 95KTS BY TAU 72.
B. AFTER TAU 72, TD 20W WILL TRACK MORE NORTHWESTWARD AS THE STR
WEAKENS IN RESPONSE TO A MIDLATITUDE TROUGH APPROACHING FROM
MONGOLIA. THE INCREASED POLEWARD OUTFLOW AHEAD OF THE TROUGH, IN
ADDITION TO THE SUSTAINED FAVORABLE ENVIRONMENTAL CONDITIONS, WILL
INITIATE RAPID INTENSIFICATION POTENTIALLY REACHING SUPER TYPHOON
INTENSITY OF 130KTS BY TAU 120. THE INITIAL SET OF NUMERICAL MODELS
IS IN UNUSUALLY GOOD AGREEMENT FOR A DEVELOPING SYSTEM WITH A MINIMAL
SPREAD TO 200NM BY END OF FORECAST. HOWEVER, IN VIEW OF THE FORMATIVE
NATURE OF THE SYSTEM AND THE UNCERTAINTY IN THE INITIAL STORM TRACK,
THERE IS OVERALL LOW CONFIDENCE IN THE JTWC TRACK FORECAST.//
NNNN