WESTERN NORTH PACIFIC: INVEST 92W. TROPICAL CYCLONE FORMATION ALERT ISSUED AT 04/1430UTC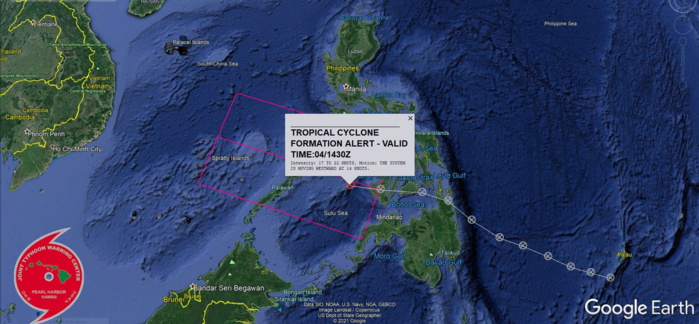 FORMATION OF A SIGNIFICANT TROPICAL CYCLONE IS POSSIBLE WITHIN 230 KM EITHER SIDE OF A LINE FROM 9.8N 121.5E TO 13.4N 116.9E WITHIN THE NEXT 12 TO 24 HOURS. AVAILABLE DATA DOES NOT JUSTIFY ISSUANCE OF NUMBERED TROPICAL CYCLONE WARNINGS AT THIS TIME. WINDS IN THE AREA ARE ESTIMATED TO BE 17 TO 22 KNOTS. METSAT IMAGERY AT 041200Z INDICATES THAT A CIRCULATION CENTER IS LOCATED NEAR 9.8N 121.5E. THE SYSTEM IS MOVING WESTWARD AT 26 KM/H. 2. REMARKS:: THE AREA OF CONVECTION (INVEST 92W) PREVIOUSLY LOCATED NEAR 7.78N 128.6E IS NOW LOCATED NEAR 9.8N 121.5E, APPROXIMATELY 295 KM EAST OF PUERTO PRINCESA. ANIMATED MULTISPECTRAL IMAGERY AND A 041021Z SSMIS 91GHZ MICROWAVE PASS DEPICT FLARING CONVECTION AROUND A BROAD LLC. 92W WILL CONTINUE TO TRACK WEST-NORTHWESTWARD INTO AN ENVIRONMENT OF ROBUST EQUATORWARD OUTFLOW, LOW (5-10KTS) VERTICAL WIND SHEAR (VWS), AND VERY WARM (30-31C) SEA SURFACE TEMPERATURES (SST).MAXIMUM SUSTAINED SURFACE WINDS ARE ESTIMATED AT 17 TO 22 KNOTS. MINIMUM SEA LEVEL PRESSURE IS ESTIMATED TO BE NEAR 1006 MB. THE POTENTIAL FOR THE DEVELOPMENT OF A SIGNIFICANT TROPICAL CYCLONE WITHIN THE NEXT 24 HOURS IS UPGRADED TO HIGH.
9221100200 64N1338E 15
9221100206 66N1328E 15
9221100212 68N1318E 20
9221100218 72N1307E 20
9221100300 76N1295E 20
9221100306 79N1284E 20
9221100312 86N1271E 20
9221100318 94N1260E 20
9221100400 97N1248E 20
9221100406 97N1229E 20
9221100412 98N1215E 20
NNNN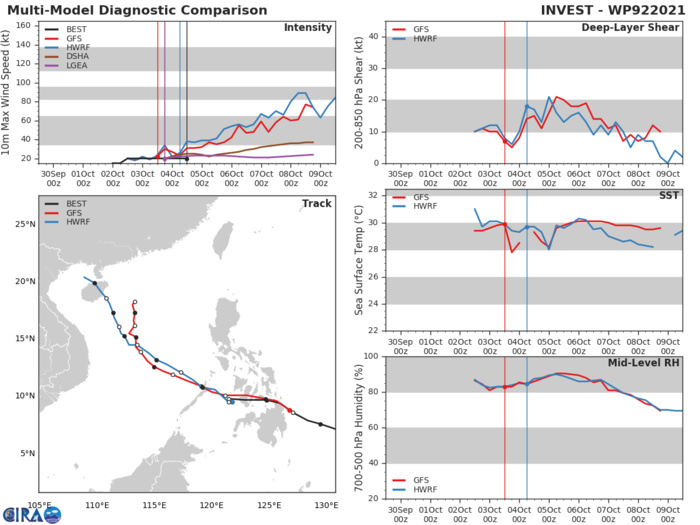 GLOBAL DETERMINISTIC AND ENSEMBLE MODELS AGREE INVEST 92W WILL STRENGTH TO WARNING CRITERIA AS IT TRACKS INTO THE SOUTH CHINA SEA.