CLICK TO ANIMATE.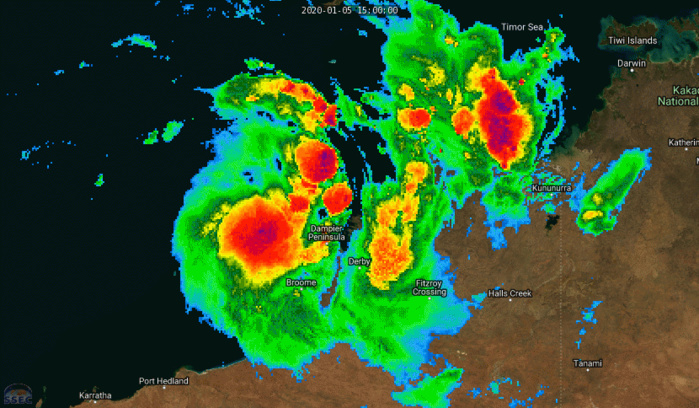 TC 06S SOUTH INDIAN
As of 18:00 UTC Jan 05, 2020:
Location: 16.0°S 121.3°E
Maximum Winds: 35 kt ( 65km/h)
Gusts: 45 kt ( 85km/h)
Minimum Central Pressure: 1003 mb
REMARKS:
052100Z POSITION NEAR 16.2S 121.3E.
05JAN20. TROPICAL CYCLONE (TC) 06S (SIX), LOCATED APPROXIMATELY 125
NM NORTH-NORTHWEST OF BROOME, AUSTRALIA, HAS TRACKED SOUTHWARD AT 06
KNOTS (KTS) OVER THE PAST SIX HOURS. A BROAD, ILL-DEFINED LOW LEVEL
CIRCULATION (LLC) IS EVIDENT IN ANIMATED ENHANCED INFRARED SATELLITE
IMAGERY. WITH DEEP CONVECTION LOCATED OVER AND TO THE NORTHEAST OF
THE LLC, THERE IS POOR CONFIDENCE IN THE INITIAL POSITION. THE 35 KT
INITIAL INTENSITY IS HEDGED ON THE HIGH SIDE OF THE DVORAK INTENSITY
FIXES OF T1.5-T2.0 (25-30 KTS) DUE TO A 051322Z METOP-A ASCAT PASS
WHICH SHOWED A LARGE AREA OF 35 KT WINDS TO THE WEST. WITH ROBUST
POLEWARD OUTFLOW, MODERATE (15-20 KT) VERTICAL WIND SHEAR (VWS), AND
WARM (30-31 CELSIUS) SEA SURFACE TEMPERATURE, THE ENVIRONMENT IS
SUPPORTIVE. FOR THE DURATION OF THE FORECAST, TC 06S WILL TRACK ALONG
THE PERIPHERY OF A SUBTROPICAL RIDGE (STR) TO THE SOUTHEAST. IN
RESPONSE TO CHANGES IN THE ORIENTATION OF THE RIDGE, THE TRACK WILL
BECOME MORE SOUTHWESTWARD AFTER TAU 12. AS IT MAKES LANDFALL AROUND
TAU 48, THE TRACK WILL BECOME MORE SOUTHWARD AS TC 06S STARTS
ROUNDING THE STR AXIS. THE ENVIRONMENT WILL REMAIN SUPPORTIVE AND
ALLOW SOME INTENSIFICATION BEFORE LANDFALL. AFTER LANDFALL, THE
SYSTEM WILL MOVE INLAND AND DISSIPATE BY TAU 72 DUE TO LAND
INTERACTION. DESPITE DISSIPATING BELOW WARNING THRESHOLD AT TAU 72, A
REMNANT CIRCULATION IS LIKELY TO LINGER BEYOND TAU 72 AS TC 06S MOVES
SOUTHEASTWARD ACROSS CENTRAL AUSTRALIA. ALTHOUGH THE SPREAD IN MODEL
GUIDANCE IS ONLY 100 NM AT TAU 72, CONFIDENCE IN THE JTWC TRACK
FORECAST IS FAIR DUE TO UNCERTAINTY IN THE INITIAL POSITION. MAXIMUM
SIGNIFICANT WAVE HEIGHT AT 051800Z IS 12 FEET. NEXT WARNINGS AT
060300Z, 060900Z, 061500Z AND 062100Z.
2. THIS CANCELS AND SUPERSEDES REF A (WTXS21 PGTW 050330).//
NNNN
WARNING 1: PEAK INTENSITY OF 45KTS FORECAST IN 24H
TRACK AND INTENSITY GUIDANCE
MODIS 05/1720UTC. COLD CLOUD-TOPS.