INVEST 91B IS NOW TC 04B. WARNING 1 ISSUED AT 11/09UTC. CENTER LOCATED APPRX 70KM EAST SOUTHEAST OF CHENNAI AT 09/06UTC.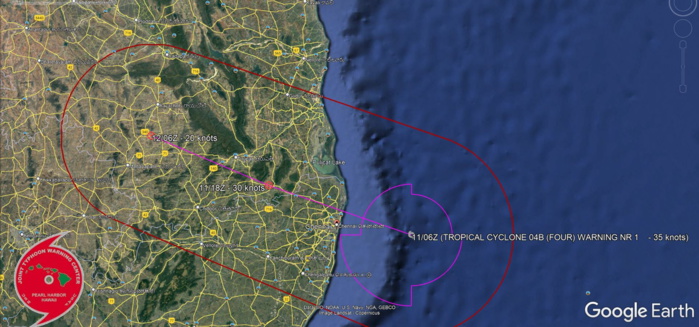 FORECAST REASONING. SIGNIFICANT FORECAST CHANGES: THIS INITIAL PROGNOSTIC REASONING MESSAGE ESTABLISHES THE FORECAST PHILOSOPHY. FORECAST DISCUSSION: TC 04B IS EXPECTED TO CONTINUE ON A WEST-NORTHWEST TRACK TOWARDS THE COAST OF INDIA AND MAKE LANDFALL NEAR CHENNAI, INDIA WITHIN THE NEXT 6 HOURS. TC 04B IS EXPECTED TO MAINTAIN CURRENT INTENSITY UNTIL IT REACHES LAND WHERE IT WILL BEGIN TO WEAKEN AND ERODE AS IT INTERACTS WITH THE TERRAIN THROUGH 12H. AFTER 12H, TC 04B WILL TRACK WESTERLY ACROSS THE INDIAN PENINSULA, RAPIDLY DISSIPATE OVER THE ROUGHER TERRAIN IN CENTRAL INDIA NEAR 24H. THE REMNANTS OF TC 04B WILL CONTINUE TRACKING OVER INDIA AND MAY MOVE OVER THE ARABIAN SEA, HOWEVER, THERE IS LOW PROBABILITY OF REGENERATION.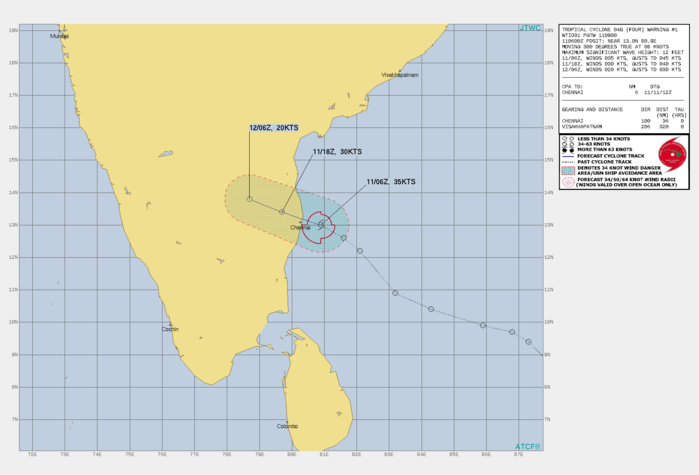 0421110800 52N 923E 20
0421110806 61N 914E 20
0421110812 72N 901E 20
0421110818 76N 896E 20
0421110900 79N 890E 20
0421110906 86N 881E 20
0421110912 94N 873E 20
0421110918 97N 868E 20
0421111000 99N 859E 20
0421111006 104N 843E 25
0421111012 109N 832E 25
0421111018 122N 821E 30
0421111100 126N 816E 30
0421111106 130N 809E 35
NNNN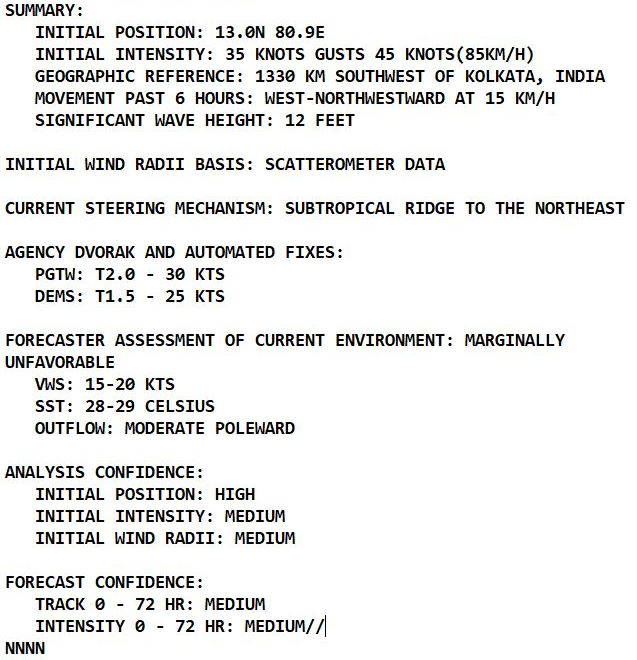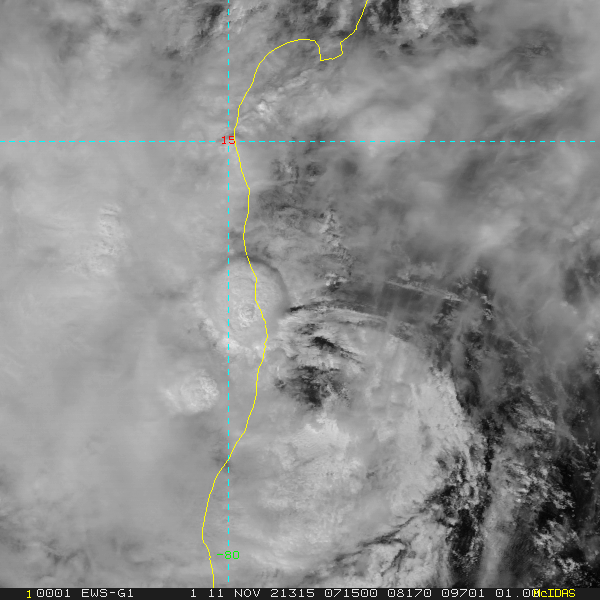 SATELLITE ANALYSIS, INITIAL POSITION AND INTENSITY DISCUSSION: MULTISPECTRAL SATELLITE IMAGERY (MSI) DEPICTS A LARGE AREA OF DEEP CONVECTION EAST AND NORTHEAST OF A FULLY EXPOSED LOW LEVEL CIRCULATION CENTER (LLCC). THE INITIAL POSITION IS PLACED WITH HIGH CONFIDENCE BASED ON THE MSI LOOP AND A 110550Z GMI 89GHZ IMAGE. THE INITIAL INTENSITY OF 35 KTS IS ASSESSED WITH MEDIUM CONFIDENCE BASED AND AN EARLIER 110355Z BULLSEYE METOP-B ASCAT PASS AND MULTIPLE AGENCY DVORAK ESTIMATES BETWEEN A T1.5 (25KTS) AND T2.0 (30KTS). THE ENVIRONMENT IS OVERALL MARGINALLY FAVORABLE WITH MODERATE POLEWARD OUTFLOW, WARM (28-29 CELCIUS) SEA SURFACE TEMPERATURES, ALL BEING OFFSET BY MODERATE TO STRONG VERTICAL WIND SHEAR.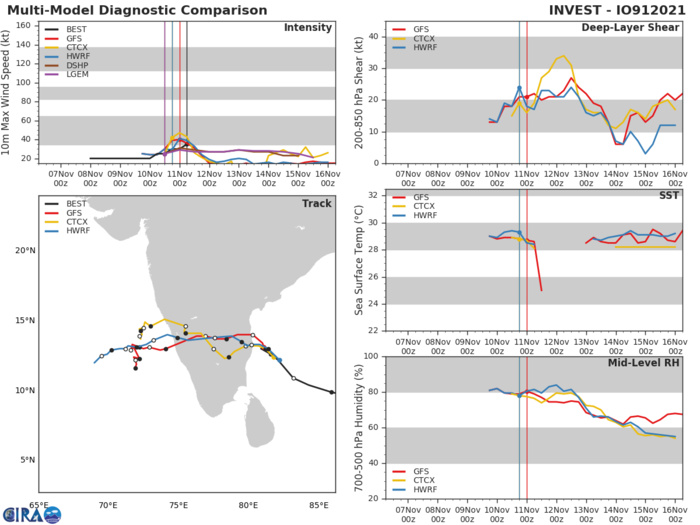 MODEL DISCUSSION: GUIDANCE FOR THE SHORT TRACK IS IN GENERALLY FAIR AGREEMENT, EXCEPT FOR NAVGEM AND AFUM MODEL GUIDANCE, WHICH ARE THE FAR LEFT OUTLIERS AND TURN THE TC TO THE WEST-SOUTHWEST PRIOR TO LANDFALL. THE JTWC FORECAST LIES WITHIN THE TIGHTEST GROUPING OF MODELS OF ECMWF, GFS, AND UKMET LYING JUST TO THE RIGHT OF THE CONSENSUS MEAN WITH MEDIUM CONFIDENCE. THE INTENSITY GUIDANCE IS ALSO IN FAIR AGREEMENT WITH A STEADY WEAKENING AFTER LANDFALL.