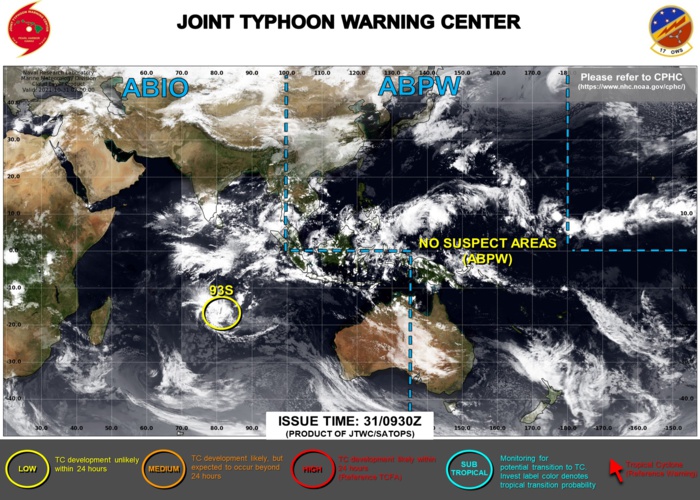 JTWC IS ISSUING 3HOURLY SATELLITE BULLETINS ON 93S.
SOUTHERN HEMISPHERE/SOUTH INDIAN OCEAN: INVEST 93S. DOWN-GRADED TO LOW AT 31/0930UTC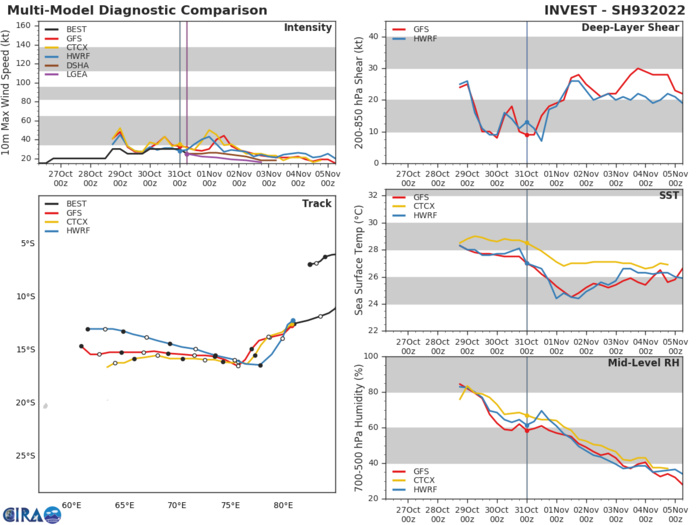 THE AREA OF CONVECTION (INVEST 93S) PREVIOUSLY LOCATED NEAR 12.1S 82.6E IS NOW LOCATED NEAR 13.1S 80.2E, APPROXIMATELY 1065 KM SOUTHEAST OF DIEGO GARCIA. ANIMATED ENHANCED INFRARED (EIR) SATELLITE IMAGERY AND A 310802Z AMSR2 89GHZ IMAGE REVEAL A BROAD LOW LEVEL CIRCULATION CENTER (LLCC) DEFINED BY WELL-DEFINED, BUT SHALLOW BANDING WITH VERY WEAK CONVECTION SHEARED TO THE SOUTHWEST. ENVIRONMENTAL ANALYSIS INDICATES AN UNFAVORABLE ENVIRONMENT FOR DEVELOPMENT WITH HIGH (25-30 KNOTS) NORTHEAST VERTICAL WIND SHEAR AND MARGINAL SEA SURFACE TEMPERATURES (26C) OFFSET BY GOOD POLEWARD OUTFLOW. ADDITIONALLY, THERE IS SIGNIFICANT DRY AIR ENTRAINMENT THROUGHOUT THE MID-LEVELS THAT IS HINDERING CONVECTIVE DEVELOPMENT. GLOBAL MODELS ARE IN GOOD AGREEMENT THAT THE CIRCULATION ASSOCIATED WITH INVEST 93S WILL CONTINUE TO TRACK WESTWARD, BUT IT IS NOT EXPECTED TO DEVELOP AT THIS TIME. MAXIMUM SUSTAINED SURFACE WINDS ARE ESTIMATED AT 20 TO 25 KNOTS. MINIMUM SEA LEVEL PRESSURE IS ESTIMATED TO BE NEAR 1004 MB. THE POTENTIAL FOR THE DEVELOPMENT OF A SIGNIFICANT TROPICAL CYCLONE WITHIN THE NEXT 24 HOURS IS DOWNGRADED TO LOW.
INVEST 93S. GFS DEPICTING THE AREA LOSING ORGANIZATION AND GRADUALLY URAVALLING NEXT 24HOURS
ATLANTIC: SUBTROPICAL STORM 21L(WANDA). WARNING 2 ISSUED AT 31/09UTC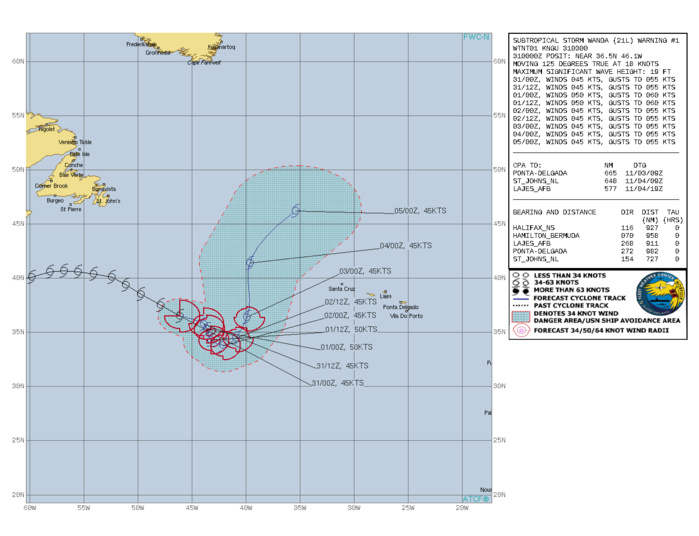 2121102500 313N 828W 15
2121102506 315N 815W 20
2121102512 320N 795W 25
2121102518 320N 760W 35
2121102600 342N 738W 45
2121102606 361N 711W 50
2121102612 375N 690W 50
2121102618 395N 681W 55
2121102700 408N 676W 55
2121102706 415N 693W 55
2121102712 400N 701W 55
2121102718 386N 686W 55
2121102800 390N 658W 50
2121102806 393N 638W 45
2121102812 397N 618W 45
2121102818 401N 598W 45
2121102900 406N 581W 45
2121102906 407N 568W 45
2121102912 406N 555W 45
2121102918 404N 541W 45
2121103000 401N 524W 45
2121103006 394N 511W 40
2121103012 385N 497W 40
2121103018 375N 479W 40
2121103100 365N 461W 45
2121103106 366N 442W 45