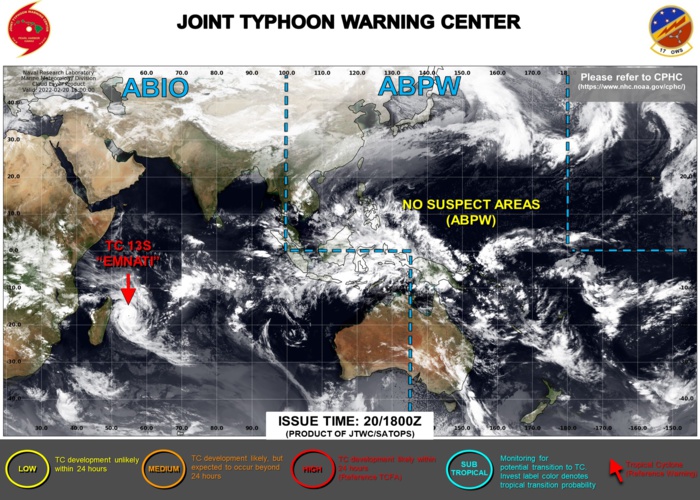 JTWC IS ISSUING 12HOURLY WARNINGS AND 3HOURLY SATELLITE BULLETINS ON TC 13S(EMNATI).
CLICK ON THE IMAGERY BELOW TO ENLARGE IT.
SOUTHERN HEMISPHERE/SOUTH INDIAN OCEAN: TC 13S(EMNATI). WARNING 10 ISSUED AT 20/21UTC. 21/00UTC LOCATION INDICATED ON THE MAP. CLICK ON THE IMAGERY BELOW TO ENLARGE IT.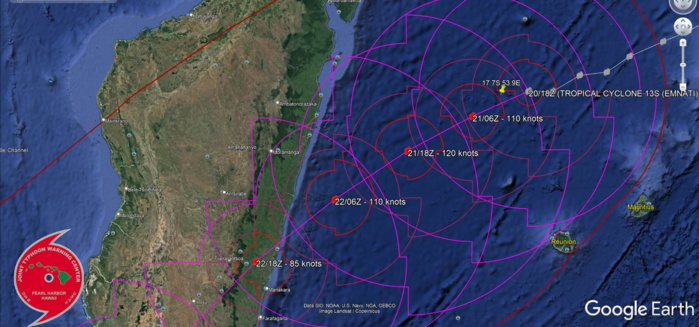 FORECAST REASONING. SIGNIFICANT FORECAST CHANGES: THERE ARE NO SIGNIFICANT CHANGES TO THE FORECAST FROM THE PREVIOUS WARNING. FORECAST DISCUSSION: THE JTWC FORECAST TRACK REMAINS HIGHLY CONSISTENT WITH THE PREVIOUS FORECAST TRACKS. TC 13S IS TRACKING ALONG THE NORTHWEST PERIPHERY OF A SUBTROPICAL RIDGE (STR) POSITIONED TO THE SOUTHEAST AND EAST, AND IS FORECAST TO TRACK WEST-SOUTHWESTWARD TO SOUTHWESTWARD THROUGH 48H. THERE IS SIGNIFICANT UNCERTAINTY IN THE INTENSITY FORECAST OVER THE NEXT 12 HOURS CONSIDERING THE ONGOING ERC EVENT AND POSSIBLE UPWELLING OF COOLER WATER WITH SLIGHT WEAKENING POSSIBLE WITHIN THE NEXT 12 HOURS. AFTER THE ERC COMPLETES NEAR 12H, STRONG OUTFLOW AND LOW VERTICAL WIND SHEAR (VWS) SHOULD ALLOW THE SYSTEM TO REINTENSIFY QUICKLY TO A PEAK OF 120 KNOTS/CAT 4 BY 24H. AFTER 24H, TC 13S WILL STEADILY WEAKEN WITH INCREASING INTERACTION WITH LAND AS THE SYSTEM APPROACHES MADAGASCAR. AFTER MAKING LANDFALL NEAR 48H, THE SYSTEM WILL TURN SOUTHWESTWARD TOWARD A WEAKNESS IN THE STR PRODUCED BY AN APPROACHING DEEP MIDLATITUDE UPPER-LEVEL TROUGH AND WEAKEN RAPIDLY AS IT TRACKS OVER THE MOUNTAINOUS TERRAIN OF MADAGASCAR. AFTER TRACKING BACK OVER WATER NEAR 72H, SOUTHWEST OF MADAGASCAR, TC 13S WILL COMMENCE SUBTROPICAL TRANSITION AS THE SYSTEM INTERACTS WITH AN UPPER-LEVEL SUBTROPICAL TROUGH. BY TAU 120, TC 13S WILL COMPLETE SUBTROPICAL TRANSITION AS IT IS BECOMES EMBEDDED IN THE UPPER LEVEL TROUGH WITH STRONG VWS (30-40 KNOTS) AND COOL SST (24C).
1322021918 167S 572E 90
1322021918 167S 572E 90
1322021918 167S 572E 90
1322022000 171S 566E 105
1322022006 172S 559E 105
1322022012 176S 552E 115
1322022018 176S 546E 110
1322022100 177S 540E 105
CIMSS ANALYSIS AT 21/00UTC: NEUTRAL OVER 24HOURS. CLICK ON THE IMAGERY BELOW TO ENLARGE IT.
UP-DATED ESTIMATED LOCATION AND INTENSITY AT 21/00UTC. CLICK ON THE IMAGERY BELOW TO ENLARGE IT.
CLICK ON THE IMAGERY BELOW TO ANIMATE AND ENLARGE IT.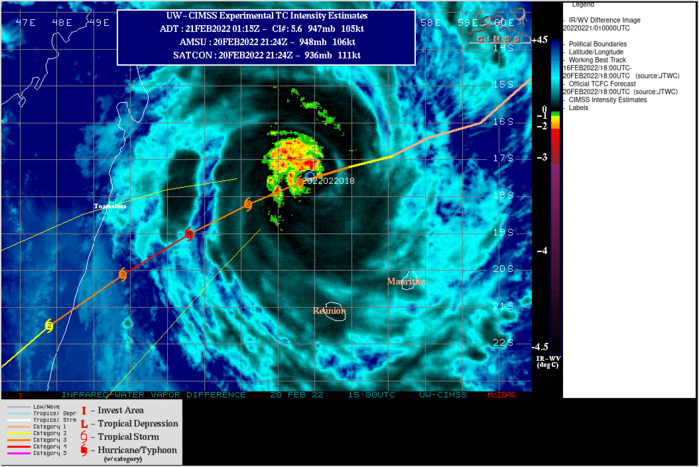 SATELLITE ANALYSIS, INITIAL POSITION AND INTENSITY DISCUSSION: WHILE UNDERGOING AN EYEWALL REPLACEMENT CYCLE (ERC), ANIMATED ENHANCED INFRARED (EIR) SATELLITE IMAGERY INDICATES THE SYSTEM HAS TRACKED ERRATICALLY WESTWARD WITH A TROCHOIDAL MOTION CLEARLY EVIDENT OVER THE PAST NINE HOURS. AFTER COMPLETING A QUICK LOOP EARLIER, TC 13S HAS STARTED ANOTHER LOOP AROUND 202000Z. THE CORE CONVECTIVE STRUCTURE CONTINUES TO FLUCTUATE RAPIDLY WITH A SLIGHT WEAKENING TREND AND WARMING CLOUD TOP TEMPERATURES EVIDENT IN EIR IMAGERY THROUGH ABOUT 201700Z. AFTER 201700Z, THE EYEWALL BEGAN TO RESTRENGTHEN WITH COOLING CLOUD TOP TEMPERATURES AND IMPROVED STRUCTURE EVIDENT. CONCENTRIC EYEWALLS ARE BEST SEEN IN A 201434Z SSMIS 91GHZ COLOR COMPOSITE MICROWAVE IMAGE SHOWING A VERY SMALL INNER EYE WALL SURROUNDED BY A MOAT AND OUTER EYEWALL. THE INITIAL POSITION IS PLACED WITH HIGH CONFIDENCE BASED ON A 30KM EYE IN EIR IMAGERY. A FORTUITOUS 201440Z RADARSAT2 SAR IMAGE WAS USED TO REFINE THE INITIAL 34-, 50- AND 64-KNOT WIND RADIUSES BUT SHOWED MAXIMUM SUSTAINED WINDS (3KM) OF ONLY 90-92 KNOTS IN THE NORTHWESTERN SECTOR. THIS APPEARS TO BE TOO LOW SINCE ERC TYPICALLY BEGINS WITH INTENSITIES NEAR 120 KNOTS. THUS, THE INITIAL INTENSITY OF 110 KTS IS ASSESSED WITH MEDIUM CONFIDENCE BASED ON THE DVORAK CURRENT INTENSITY ESTIMATES RANGING FROM 102-115 KNOTS.
TC 13S HAS BEEN UNDER-GOING AN EYEWALL REPLACEMENT CYCLE (ERC). CLICK ON THE IMAGERY BELOW TO ENLARGE IT.
CLICK ON THE IMAGERY BELOW TO ENLARGE IT.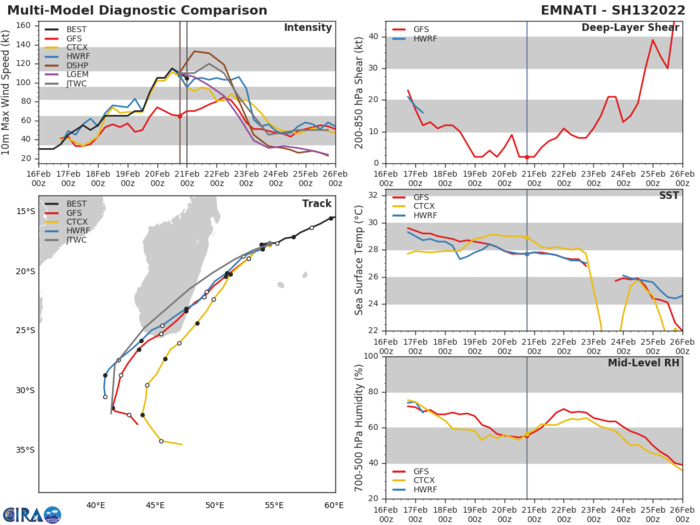 MODEL DISCUSSION: NUMERICAL MODEL GUIDANCE SUPPORTS THE JTWC FORECAST TRACK WITH HIGH CONFIDENCE THROUGH 72H. AFTER 72H, THE TRACK GUIDANCE DIVERGES WITH A SPREAD IN SOLUTIONS RANGING FROM 390KM AT 72H TO 740KM AT 120H THUS MEDIUM TRACK CONFIDENCE. THERE IS SIGNIFICANT UNCERTAINTY IN THE INITIAL INTENSITY AND THE JTWC INTENSITY FORECAST THROUGH 48H. HWRF INTENSITY GUIDANCE INDICATES REINTENSIFICATION TO A PEAK OF 113 KNOTS WHILE THE MAJORITY OF GUIDANCE INDICATES A GRADUAL WEAKENING TREND. AFTER THE PERIOD OF RAPID WEAKENING OVER LAND, INTENSITY GUIDANCE INDICATES A LARGE SPREAD OF INTENSITY FORECASTS RANGING FROM 20 KNOTS TO 57 KNOTS. ENSEMBLE INTENSITY GUIDANCE SHOWS NO POTENTIAL FOR RAPID INTENSIFICATION OVER THE NEXT 48 HOURS, HOWEVER, THE GFS ENSEMBLE (201200Z) INDICATES MODERATE INTENSIFICATION IS LIKELY WITHIN THE NEXT 24 HOURS. ADDITIONALLY, NONE OF THE RAPID INTENSIFICATION GUIDANCE HAS TRIGGERED.
HWRF AT 20/18UTC: 106 KNOTS AT +48H. CLICK ON THE IMAGERY BELOW TO ENLARGE IT.
20/18UTC: GFS ENSEMBLE.
20/18UTC: ECMWF ENSEMBLE.