TC 25P . CLICK TO ANIMATE IF NECESSARY.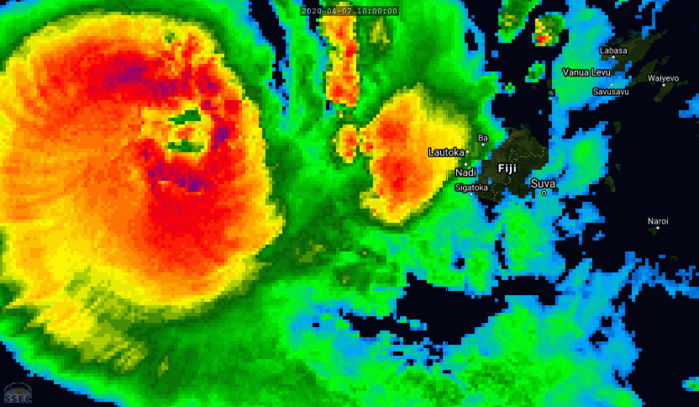 SSEC
TC
#
25P
#
HAROLD
SOUTH PACIFIC
As of 12:00 UTC Apr 07, 2020:
Location: 17.4°S 174.0°E
Maximum Winds: 110 kt ( 205km/h)
Gusts : 135 kt ( 250km/h)
Minimum Central Pressure: 948 mb
CATEGORY US: 3
REMARKS:
071500Z POSITION NEAR 17.7S 174.9E.
07APR20. TROPICAL CYCLONE (TC) 25P (HAROLD), LOCATED APPROXIMATELY
255 NM WEST OF SUVA, FIJI, HAS TRACKED EAST-SOUTHEASTWARD AT 14
KNOTS (KTS) OVER THE PAST SIX HOURS. ANIMATED ENHANCED INFRARED
SATELLITE IMAGERY SHOWS DEEP CONVECTION SURROUNDING AND OBSCURING
THE LOW LEVEL CIRCULATION CENTER, POSSIBLY INDICATING AN EYE MAY BE
TRYING TO FORM. THE INITIAL POSITION IS PLACED IN THE CENTER OF THAT
DEEP CONVECTION WITH GOOD CONFIDENCE. THE 110 KT INITIAL INTENSITY
FALLS NEAR THE AVERAGE OF PGTW/PHFO DVORAK CURRENT INTENSITY
ESTIMATES OF T5.5-6.5 (102-127 KTS) WITH LOW CONFIDENCE. WITH LOW
(10-15 KT) VERTICAL WIND SHEAR (VWS), ROBUST POLEWARD OUTFLOW, AND
WARM (28-29 CELSIUS) SEA SURFACE TEMPERATURE (SST), THE ENVIRONMENT
IS SUPPORTIVE. FOR THE DURATION OF THE FORECAST, TC 25P WILL TRACK
ALONG THE SOUTHWESTERN PERIPHERY OF A NORTHWEST-TO-SOUTHEAST
ORIENTED SUBTROPICAL RIDGE (STR). THROUGHOUT THE FORECAST PERIOD,
THE ALONG TRACK SPEED WILL ACCELERATE AS THE SYSTEM MOVES INTO THE
MIDLATITUDE WESTERLIES. THROUGH TAU 24, THE INTENSITY SHOULD REMAIN
AROUND 105-110 KTS, ALTHOUGH THE TC MAY GET STRONGER IF AN EYE WERE
TO FORM. AROUND TAU 36, HIGH VWS WILL BEGIN WEAKENING THE INTENSITY.
AT THAT TIME, INTERACTION WITH COOL SST AND THE MIDLATITUDE
BAROCLINIC ZONE SHOULD BEGIN EXTRATROPICAL TRANSITION. BETWEEN TAU
48 AND TAU 72, TC 25P WILL HAVE TRANSFORMED INTO A COLD CORE
EXTRATROPICAL CYCLONE. NUMERICAL MODEL GUIDANCE IS IN EXCELLENT
AGREEMENT THROUGH TAU 24. AFTERWARD, SPREAD INCREASES PRIMARILY DUE
TO DIFFERENCES IN ALONG TRACK SPEED AND, FOR THAT REASON, THERE IS
FAIR CONFIDENCE IN THE JTWC TRACK FORECAST. MAXIMUM SIGNIFICANT WAVE
HEIGHT AT 071200Z IS 42 FEET.
TC 25P. WARNING 20.
WARNING 20. FORECAST TRACK NEAR FIJI.
WARNING 20. FORECAST TRACK NEAR FIJI.
TC 25P: TRACK AND INTENSITY GUIDANCE.
AMSR2 AT 07/1331UTC
07/12UTC
AMSU AT 07/1259UTC