CLICK TO ANIMATE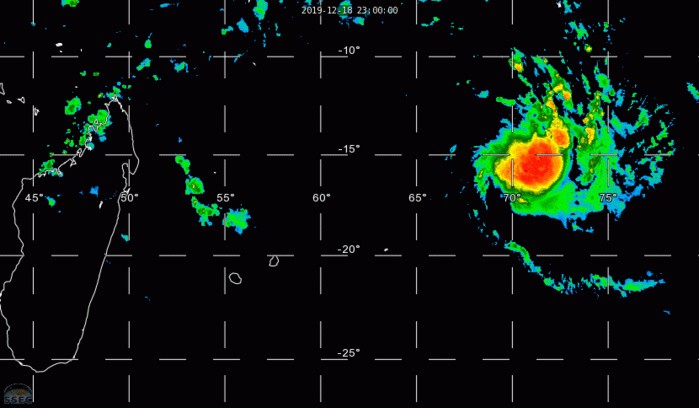 Location: 15.2°S 70.4°E
Maximum Winds: 30 kt ( 55km/h)
Gusts: 40 kt ( 75km/h)
Minimum Central Pressure: 1002 mb
WTXS21 PGTW 190300
MSGID/GENADMIN/JOINT TYPHOON WRNCEN PEARL HARBOR HI//
SUBJ/TROPICAL CYCLONE FORMATION ALERT (INVEST 96S)//
RMKS/
1. FORMATION OF A SIGNIFICANT TROPICAL CYCLONE IS POSSIBLE WITHIN
140 NM EITHER SIDE OF A LINE FROM 15.6S 71.6E TO 15.6S 67.4E
WITHIN THE NEXT 12 TO 24 HOURS. AVAILABLE DATA DOES NOT JUSTIFY
ISSUANCE OF NUMBERED TROPICAL CYCLONE WARNINGS AT THIS TIME.
WINDS IN THE AREA ARE ESTIMATED TO BE 27 TO 32 KNOTS. METSAT
IMAGERY AT 190230Z INDICATES THAT A CIRCULATION CENTER IS LOCATED
NEAR 15.2S 70.4E. THE SYSTEM IS MOVING SOUTH-SOUTHEASTWARD AT 07
KNOTS.
2. REMARKS: THE AREA OF CONVECTION (INVEST 96S) PREVIOUSLY LOCATED
NEAR 14.5N 70.0E IS NOW LOCATED NEAR 15.2N 70.4E, APPROXIMATELY 792
NM EAST-NORTHEAST OF MAURITIUS. ANIMATED ENHANCED INFRARED SATELLITE
IMAGERY DEPICTS A CONSOLIDATING SYSTEM WITH LOW LEVEL CLOUDS
WRAPPING INTO A LOW LEVEL CIRCULATION CENTER (LLCC) OBSCURED BY
SIGNIFICANT CENTRAL CONVECTION. A 182049Z AMSR2 89GHZ IMAGE FURTHER
DEPICTS LOW LEVEL BANDING WITH DEEP CONVECTION NEAR THE LLCC. A
181731Z ASCAT-B IMAGE DEPICTS A WIDE SWATH OF 25 KNOT WINDS SOUTH OF
THE LLCC, WHICH ARE A RESULT FROM THE TIGHT PRESSURE GRADIENT
BETWEEN 96S AND THE STRONG HIGH PRESSURE SYSTEM LOCATED TO THE
SOUTH. INVEST 96S IS IN A MARGINAL ENVIRONMENT FOR DEVELOPMENT WITH
MODERATE (15-20 KTS) VERTICAL WIND SHEAR OFFSET BY WARM (28-29C) SEA
SURFACE TEMPERATURES AND ROBUST POLEWARD OUTFLOW ALOFT. DYNAMIC
MODELS ARE IN GOOD AGREEMENT THAT 96S WILL FURTHER CONSOLIDATE AS IT
TRACKS INITIALLY POLEWARD THROUGH TAU 12 THEN WESTWARD TOWARDS
MADAGASCAR. MAXIMUM SUSTAINED SURFACE WINDS ARE ESTIMATED AT 27 TO
32 KNOTS. MINIMUM SEA LEVEL PRESSURE IS ESTIMATED TO BE NEAR 1002
MB. THE POTENTIAL FOR THE DEVELOPMENT OF A SIGNIFICANT TROPICAL
CYCLONE WITHIN THE NEXT 24 HOURS IS HIGH.
3. THIS ALERT WILL BE REISSUED, UPGRADED TO WARNING OR CANCELLED BY
200300Z.
//
NNNN
TCFA
TRACK AND INTENSITY GUIDANCE