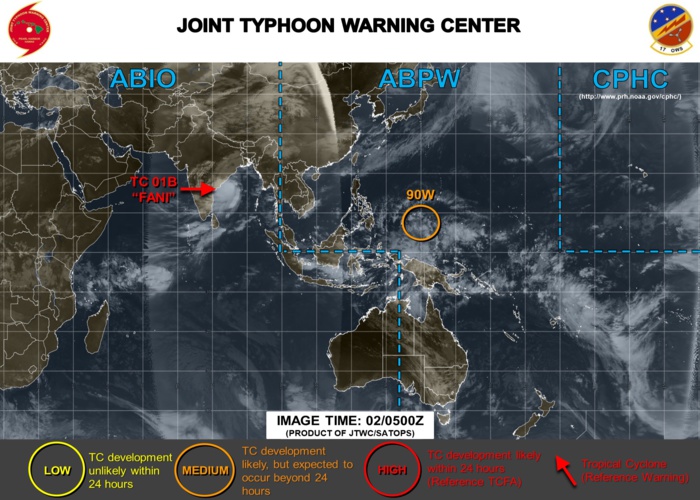 https://www.meteo974.re/M974World_r7.html
https://www.meteo974.re/
Location: 4.1°N 138.3°E
Maximum Winds: 15 kt
Minimum Central Pressure: 1006 mb
ABPW10 PGTW 0206001.
WESTERN NORTH PACIFIC AREA (180 TO MALAY PENINSULA):
A. TROPICAL CYCLONE SUMMARY: NONE.
B. TROPICAL DISTURBANCE SUMMARY:
(1) THE AREA OF CONVECTION (INVEST 90W) PREVIOUSLY LOCATED
NEAR 4.1N 138.3E, IS NOW LOCATED NEAR 6.2N 140.7E, APPROXIMATELY 247
NM SOUTHEAST OF YAP. ANIMATED MULTISPECTRAL SATELLITE IMAGERY SHOWS
DIMINISHING CONVECTION OBSCURING THE LOW LEVEL CIRCULATION CENTER
(LLCC). A 012335Z MHS METOP-A 89GHZ MICROWAVE IMAGE REFLECTS THE
LACK OF DEEP CONVECTION, BUT SUGGESTS WEAK LOW-LEVEL BANDING MAY BE
PRESENT TO THE NORTH. THE ENVIRONMENT IS VERY FAVORABLE, WITH GOOD
POLEWARD OUTFLOW, LOW (10-15KT) VERTICAL WIND SHEAR, AND VERY WARM
(33-35 C) SEA SURFACE TEMPERATURES. GLOBAL MODELS ARE IN POOR
AGREEMENT, WITH GFS THE MOST AGGRESSIVE, SHOWING A NORTHWARD TRACK
AND DEVELOPMENT INTO A TROPICAL STORM WITHIN 48 HOURS. ALL OTHERS
SHOW A WEAK CIRCULATION ON A MEANDERING NORTH-NORTHWEST TO EAST-
SOUTHEASTWARD TRACK AND NO DEVELOPMENT. DESPITE POOR MODEL
CONSENSUS, 90W IS ASSESSED AS A MEDIUM BASED ON THE CURRENT STATE OF
THE SYSTEM AND AN ACTIVE MADDEN-JULIAN OSCILLATION SIGNATURE.
MAXIMUM SUSTAINED SURFACE WINDS ARE ESTIMATED AT 15 TO 20 KNOTS.
MINIMUM SEA LEVEL PRESSURE IS ESTIMATED TO BE NEAR 1006 MB. THE
POTENTIAL FOR THE DEVELOPMENT OF A SIGNIFICANT TROPICAL CYCLONE
WITHIN THE NEXT 24 HOURS REMAINS MEDIUM.