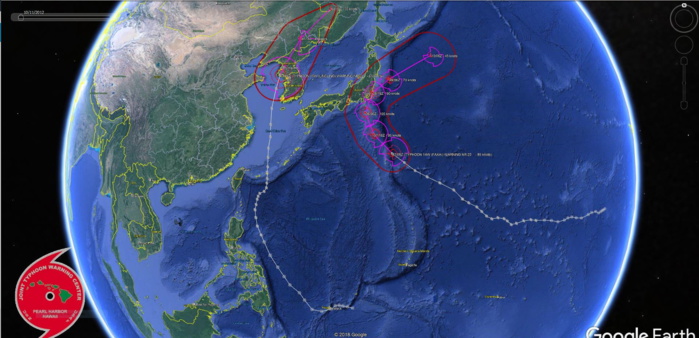 Météo974
WESTERN NORTH PACIFIC
TY LINGLING ( 15W)
Location: 35.9°N 127.3°E
Maximum Winds: 65 kt ( 120km/h)
Gusts: 80 kt ( 150km/h)
Minimum Central Pressure: 969 mb
CATEGORY US: 1
REMARKS:
070900Z POSITION NEAR 39.3N 125.9E.
07SEP19. TYPHOON (TY) 15W (LINGLING), LOCATED APPROXIMATELY 84 NM
WEST-NORTHWEST OF YONGSAN AIN, SOUTH KOREA, HAS TRACKED NORTHWARD AT
19 KNOTS OVER THE PAST SIX HOURS. ANIMATED ENHANCED INFRARED
SATELLITE IMAGERY DEPICTS A PARTIALLY-EXPOSED LOW-LEVEL CIRCULATION
CENTER (LLCC) WITH DEEP CONVECTION SHEARED OVER THE NORTHERN
SEMICIRCLE. A 070521Z GMI 89GHZ COLOR COMPOSITE MICROWAVE IMAGE
INDICATES TIGHTLY-CURVED BANDING (TCB) WRAPPING INTO A WELL-DEFINED
LLCC, WHICH SUPPORTS THE INITIAL POSITION OVER LAND WITH HIGH
CONFIDENCE. THE INITIAL INTENSITY IS ASSESSED AT 65 KNOTS BASED ON
AN UNOFFICIAL PGTW DVORAK ESTIMATE OF T3.5/4.0 (55/65 KNOTS), WHICH
IS CONSISTENT WITH THE TCB STRUCTURE. TY 15W IS FORECAST TO
ACCELERATE NORTH-NORTHEASTWARD THROUGH THE FORECAST PERIOD WHILE
UNDERGOING EXTRA-TROPICAL TRANSITION (ETT). THE SYSTEM IS EXPECTED
TO COMPLETE ETT BY TAU 12 AS IT TRACKS UNDER THE MIDLATITUDE JET.
DYNAMIC MODEL GUIDANCE REMAINS IN EXCELLENT AGREEMENT, THEREFORE,
THERE IS HIGH CONFIDENCE IN THE JTWC FORECAST TRACK. THIS IS THE
FINAL WARNING ON THIS SYSTEM BY THE JOINT TYPHOON WRNCEN PEARL
HARBOR HI. THE SYSTEM WILL BE CLOSELY MONITORED FOR SIGNS OF
REGENERATION. REFER TO TYPHOON 14W (FAXAI) WARNINGS (WTPN31 PGTW)
FOR SIX-HOURLY UPDATES.//
NNNN
JMV FILE/JTWC
1519082912 75N1377E 15
1519082918 77N1370E 15
1519083000 78N1364E 15
1519083006 79N1359E 15
1519083012 78N1354E 15
1519083018 73N1348E 15
1519083100 69N1336E 15
1519083106 71N1323E 15
1519083112 84N1313E 20
1519083118 94N1306E 20
1519090100 104N1293E 20
1519090106 115N1285E 20
1519090112 127N1276E 20
1519090118 142N1265E 25
1519090200 159N1256E 30
1519090206 168N1251E 35
1519090212 179N1245E 35
1519090218 190N1242E 45
1519090300 200N1240E 50
1519090306 207N1241E 65
1519090312 214N1242E 65
1519090318 218N1243E 65
1519090400 222N1245E 75
1519090406 225N1251E 75
1519090412 230N1254E 80
1519090418 236N1254E 100
1519090500 242N1254E 115
1519090506 250N1253E 115
1519090512 257N1253E 115
1519090518 269N1252E 120
1519090600 281N1251E 115
1519090606 296N1252E 110
1519090612 312N1250E 100
1519090618 333N1248E 90
1519090700 360N1250E 75
1519090706 379N1253E 65
NNNN
-----------------------------------------------------------------------------------------------
TY FAXAI (14W)
Location: 27.9°N 143.2°E
Maximum Winds: 85 kt ( 160km/h)
Gusts : 105kt ( 195km/h)
Minimum Central Pressure: 967 mb
CATEGORY US: 2
WDPN31 PGTW 070900
MSGID/GENADMIN/JOINT TYPHOON WRNCEN PEARL HARBOR HI//
SUBJ/PROGNOSTIC REASONING FOR TYPHOON 14W (FAXAI) WARNING NR 023//
RMKS/
1. FOR METEOROLOGISTS.
2. 6 HOUR SUMMARY AND ANALYSIS.
TYPHOON (TY) 14W (FAXAI), LOCATED APPROXIMATELY 479 NM SOUTH-
SOUTHEAST OF YOKOSUKA, JAPAN, HAS TRACKED NORTHWESTWARD AT 19 KNOTS
(KTS) OVER THE PAST SIX HOURS. TY 14W HAS RAPIDLY INTENSIFIED (40
KNOTS) OVER THE PAST 24 HOURS FROM 45 KTS TO 85 KTS. ANIMATED
ENHANCED INFRARED SATELLITE IMAGERY SHOWS SYMMETRIC EYEWALL
SURROUNDING A CLOUD-FILLED 15 NM EYE FEATURE, SUPPORTING THE HIGH
CONFIDENCE OF THE INITIAL POSITION. THE INITIAL INTENSITY OF 85 KTS
IS ASSESSED WITH HIGH CONFIDENCE BASED ON MULTI-AGENCY DVORAK
CURRENT INTENSITY ESTIMATES OF T5.0/90KTS FROM PGTW AND T4.5/77KTS
FROM RJTD. ENVIRONMENTAL ANALYSIS DEPICTS FAVORABLE CONDITIONS OF
LOW (5-15 KT) VERTICAL WIND SHEAR (VWS) AND WARM (29-30 CELSIUS) SEA
SURFACE TEMPERATURE (SST) VALUES. HOWEVER, THESE ARE OFFSET SLIGHTLY
BY FAIR POLEWARD OUTFLOW WHICH IS BEING LIMITED BY THE DEVELOPMENT
OF A TRANSIENT UPPER-LEVEL ANTICYCLONE TO THE NORTHWEST. TY 14W IS
TRACKING ALONG THE SOUTHWESTERN PERIPHERY OF A DEEP-LAYER
SUBTROPICAL RIDGE (STR) CENTERED TO THE NORTHEAST.
3. FORECAST REASONING.
A. THERE IS NO CHANGE TO THE FORECAST PHILOSOPHY SINCE THE
PREVIOUS PROGNOSTIC REASONING MESSAGE.
B. THROUGH TAU 12, TY 14W WILL MAINTAIN ITS NORTHWESTWARD TRACK
AROUND THE PERIPHERY OF THE AFOREMENTIONED DEEP-LAYER STR. BETWEEN
TAUS 24 AND 36, THE SYSTEM WILL SLOW AS IT TURNS NORTHWARD AND
ROUNDS THE STR AXIS PRIOR TO LANDFALL SOUTHEAST OF TOKYO AROUND TAU
30. FOLLOWING THIS, TY 14W WILL SHIFT TO A NORTHEASTWARD TRACK,
ACCELERATING AFTER TRANSITING BACK OVER WATER. THE ENVIRONMENT WILL
REMAIN FAVORABLE FOR THE NEXT 24 HOURS WITH LOW VWS AND WARM SST.
MODELS MAINTAIN DEVELOPMENT OF THE ANTICYCLONE TO THE NORTHWEST OF
THE SYSTEM WHICH WILL INDUCE A BRIEF BREAK IN THE POLEWARD OUTFLOW
AND RESULT IN A SLOWING OF THE SYSTEM'S INTENSIFICATION. OUTFLOW
WILL REESTABLISH AFTER THIS ANTICYCLONE TRANSITS TO THE NORTHEAST BY
TAU 12, ALLOWING FOR ANOTHER PERIOD OF ENHANCED INTENSIFICATION JUST
PRIOR TO LANDFALL. THERE IS SIGNIFICANT UNCERTAINTY IN THE PEAK
INTENSITY WITH THE HIGH POTENTIAL FOR A PROLONGED PERIOD OF RAPID
INTENSIFICATION THROUGH TAU 24. AFTER LANDFALL, THE SYSTEM EXITS
BACK OVER THE PACIFIC WHERE IT WILL ENCOUNTER COOLER SSTS AND
INCREASING VWS, WHICH WILL GRADUALLY WEAKEN THE SYSTEM AS IT BEGINS
EXTRATROPICAL TRANSITION (ETT) AT TAU 48. TY 14W WILL BECOME
EMBEDDED IN THE WESTERLY FLOW BY TAU 72 AND COMPLETE ETT. MODEL
GUIDANCE REMAINS IN TIGHT AGREEMENT THROUGH THE DURATION OF THE
FORECAST, WITH NAVGEM AS A NORTHERLY OUTLIER AND GFS AS A SOUTHERLY
OUTLIER, LENDING HIGH CONFIDENCE TO THE JTWC TRACK FORECAST.//
NNNN
----------------------------------------------------------------------
Location: 12.7°N 149.8°E
Maximum Winds: 15 kt
Minimum Central Pressure: 1007 mb
ABPW10 PGTW 070600
1. WESTERN NORTH PACIFIC AREA (180 TO MALAY PENINSULA):
B. TROPICAL DISTURBANCE SUMMARY:
(1) THE AREA OF CONVECTION (INVEST 95W) PREVIOUSLY LOCATED
NEAR 13.0N 153.0E, IS NOW LOCATED NEAR 12.7N 149.8E, APPROXIMATELY
300 NM EAST OF GUAM. ANIMATED ENHANCED INFRARED SATELLITE IMAGERY
DEPICTS A BROAD AREA OF DEEP CONVECTION WITH A WEAK LOW LEVEL
CIRCULATION. A 062359Z ASCAT PASS FURTHER ELUCIDATES A BROAD
CIRCULATION WITH GENERALLY WEAK WINDS. 95W IS CURRENTLY IN A
FAVORABLE ENVIRONMENT WITH EXCELLENT EQUATORWARD OUTFLOW, WARM (29
TO 30 CELSIUS) SEA SURFACE TEMPERATURES AND LOW (<15 KNOT) VERTICAL
WIND SHEAR. GLOBAL MODELS ARE IN GOOD AGREEMENT THAT 95W WILL TRACK
GENERALLY WESTWARD AND INTENSIFY WHILE REMAINING VERY BROAD. THERE
IS DISAGREEMENT IN THE MODELS REGARDING THE TIMING OF THE
INTENSIFICATION. MAXIMUM SUSTAINED SURFACE WINDS ARE ESTIMATED AT 10
TO 15 KNOTS. MINIMUM SEA LEVEL PRESSURE IS ESTIMATED TO BE NEAR 1007
MB. THE POTENTIAL FOR THE DEVELOPMENT OF A SIGNIFICANT TROPICAL
CYCLONE WITHIN THE NEXT 24 HOURS REMAINS LOW.
------------------------------------------------------------------------------------------------------------------
Location: 25.4°N 123.5°E
Maximum Winds: 15 kt
Minimum Central Pressure: 1010 mb
(2) AN AREA OF CONVECTION (INVEST 96W) HAS PERSISTED NEAR
25.4N 123.5E, APPROXIMATELY 106 NM EAST-NORTHEAST OF TAIPEI, TAIWAN.
ANIMATED ENHANCED INFRARED SATELLITE IMAGERY ALONG WITH A 070136Z
MHS 89GHZ PASS DEPICT A BROAD AREA OF DISORGANIZED CONVECTION. 96W
IS CURRENTLY IN A FAVORABLE ENVIRONMENT FOR DEVELOPMENT WITH WARM
(29 TO 30 CELSIUS) SEA SURFACE TEMPERATURES AND LOW (<15 KNOT)
VERTICAL WIND SHEAR, BUT THIS IS OFFSET BY A LACK OF UPPER LEVEL
SUPPORT. GLOBAL MODELS GENERALLY AGREE THAT THE SYSTEM WILL ORGANIZE
AND TRACK NORTHWARD OVER THE NEXT 48 HOURS. MAXIMUM SUSTAINED
SURFACE WINDS ARE ESTIMATED AT 10 TO 15 KNOTS. MINIMUM SEA LEVEL
PRESSURE IS ESTIMATED TO BE NEAR 1003 MB. THE POTENTIAL FOR THE
DEVELOPMENT OF A SIGNIFICANT TROPICAL CYCLONE WITHIN THE NEXT 24
HOURS IS LOW.