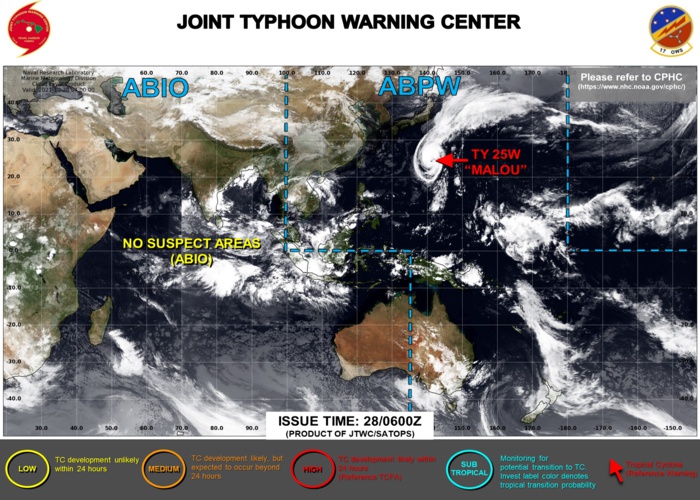 JTWC IS ISSUING 6HOURLY WARNINGS AND 3HOURLY SATELLITE BULLETINS ON TY 25W.
WESTERN NORTH PACIFIC: TY 25W(MALOU). WARNING 17 ISSUED AT 28/03UTC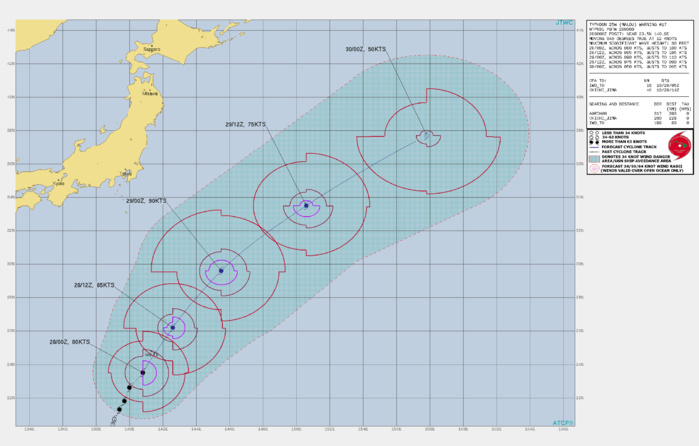 FORECAST REASONING. SIGNIFICANT FORECAST CHANGES: THERE ARE NO SIGNIFICANT CHANGES TO THE FORECAST FROM THE PREVIOUS WARNING. FORECAST DISCUSSION: TYPHOON 25W (MALOU) WILL CONTINUE TRACKING NORTHEASTWARD, ACCELERATING DRAMATICALLY DURING THE FORECAST PERIOD AS IT MOVES BENEATH A MID-LATITUDE JET STREAK EAST OF JAPAN. THIS SAME JET STREAK IS CURRENTLY INTERACTING CONSTRUCTIVELY WITH MALOU'S UPPER-LEVEL OUTFLOW, WHICH HAS LIKELY CONTRIBUTED TO THE OBSERVED INTENSIFICATION OF THE TYPHOON OVER THE PAST 24 HOURS. SOME FURTHER INTENSIFICATION IS POSSIBLE DURING THE NEXT 12-24 HOURS WHILE MALOU TRACKS OVER WARM WATER AND VERTICAL SHEAR REMAINS MODERATE. THE FORECAST PEAK INTENSITY IS 90 KNOTS/CAT 2 AT 24H, STAYING BELOW THE AGGRESSIVE HWRF MODEL, WHICH THINKS THE INNER CONVECTIVE CORE IS MORE COMPLETE AND ROBUST THAN IN REALITY. AFTER 24 HOURS, OCEAN TEMPERATURES BENEATH THE TYPHOON WILL RAPIDLY DECREASE, COINCIDENT WITH AN INCREASE IN VERTICAL SHEAR AS MALOU NEARS THE MID-LATITUDE JET, LEADING TO A RAPID TRANSITION TO AN EXTRATROPICAL CYCLONE BY 48 HOURS WITH MAXIMUM WINDS OF AROUND 50 KNOTS.
2521102200 79N1455E 15
2521102206 87N1446E 15
2521102212 96N1438E 15
2521102218 105N1431E 15
2521102300 108N1424E 20
2521102306 110N1416E 20
2521102312 114N1410E 20
2521102318 118N1404E 20
2521102400 122N1400E 30
2521102406 128N1397E 30
2521102412 134N1397E 30
2521102418 148N1392E 35
2521102500 167N1385E 35
2521102506 178N1382E 40
2521102512 184N1380E 35
2521102518 189N1381E 40
2521102600 191N1383E 45
2521102606 195N1387E 50
2521102612 200N1390E 55
2521102618 204N1390E 55
2521102700 207N1391E 60
2521102706 213N1394E 65
2521102712 218N1397E 70
2521102718 226N1400E 80
2521102800 235N1408E 80
NNNN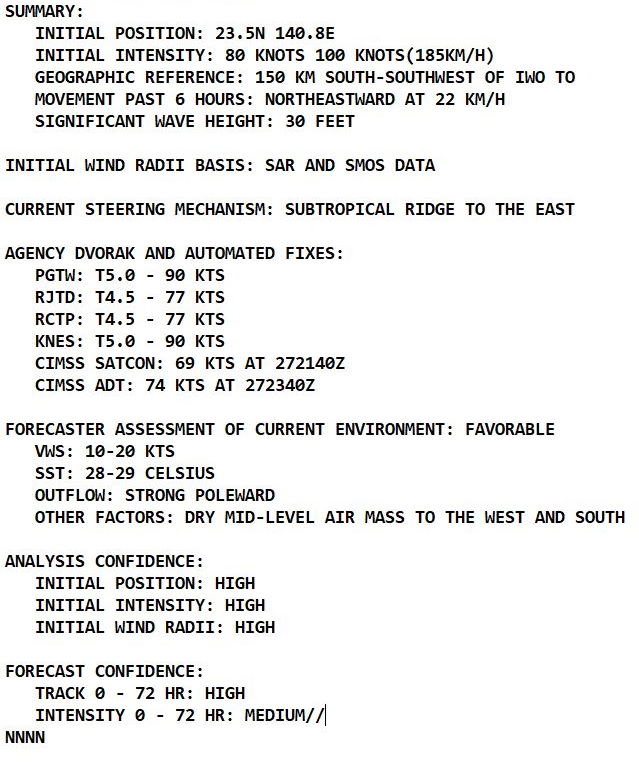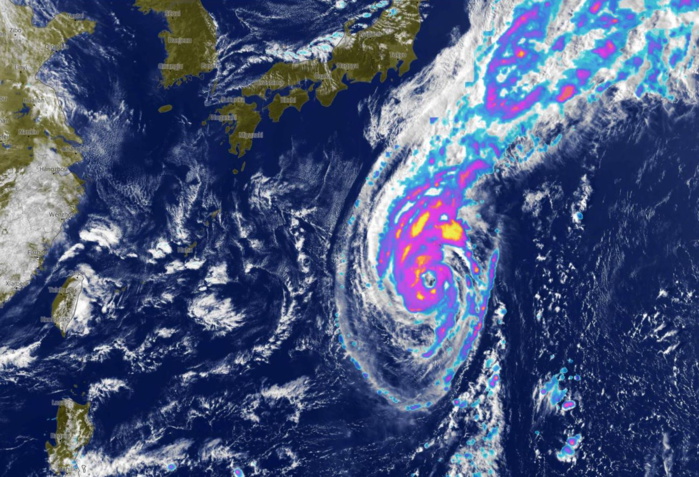 SATELLITE ANALYSIS, INITIAL POSITION AND INTENSITY DISCUSSION: ANIMATED MULTISPECTRAL SATELLITE IMAGERY SHOWS A LARGE EYE 150/165 KM IN DIAMETER WITH MULTIPLE EMBEDDED MESOVORTICES. THE RING OF DEEP CONVECTION ENCIRCLING THE EYE HAS ERODED ON THE SOUTHERN SIDE DURING THE PAST SIX HOURS, AND THE INNER CORE MAINTAINS A GENERALLY RAGGED APPEARANCE. GFS MODEL DIAGNOSTICS SHOW THAT THE STRONGEST VERTICAL SHEAR IS IN THE 850-450 MB LAYER, COLOCATED WITH A MID-LEVEL DRY AIR LAYER TO THE WEST OF THE TYPHOON. THE RESULTING INWARD TRANSPORT OF DRY MID-LEVEL AIR INTO THE CORE OF THE CYCLONE MAY BE CONTRIBUTING TO THE RAGGED CONVECTIVE STRUCTURE. THE INITIAL INTENSITY IS HELD STEADY AT 80 KNOTS/CAT 1 BASED ON A 272030Z SENTINNEL-1B SAR PASS SHOWING A BAND OF 75-80 KNOT WINDS IN THE SOUTHEAST QUADRANT, BROADLY SUPPORTED BY SUBJECTIVE DVORAK ESTIMATES OF T4.5 (77 KT) AND T5.0 (90 KT) FROM VARIOUS AGENCIES.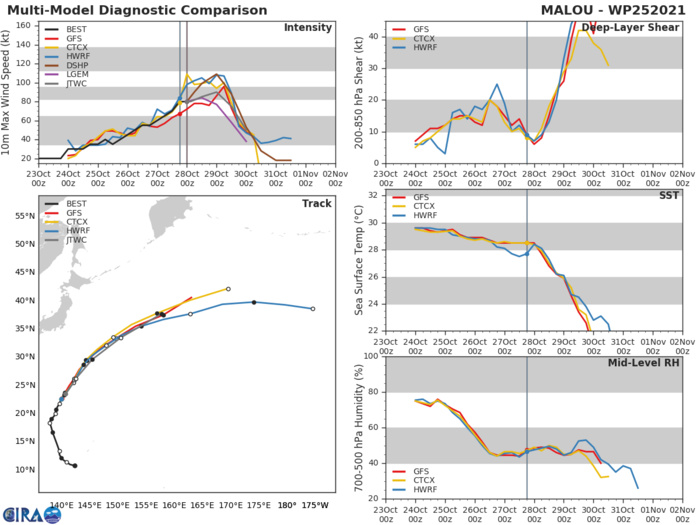 MODEL DISCUSSION: MODEL GUIDANCE IS TIGHTLY CLUSTERED THROUGH 48 HOURS, WITH MODERATE ALONG-TRACK SPREAD AT 24-48 HOURS. THE JTWC TRACK FORECAST IS SIMILAR TO THE PREVIOUS ONE. THE JTWC INTENSITY FORECAST IS CLOSE TO THE MULTI-MODEL CONSENSUS, STAYING BELOW THE AGGRESSIVE HWRF AND COAMPS-TC MODELS BUT STRONGER THAN THE GFS.
TY 25W. CYCLONIC CIRCULATION WITH WINDS/PRESSURE DEPICTION. GFS.