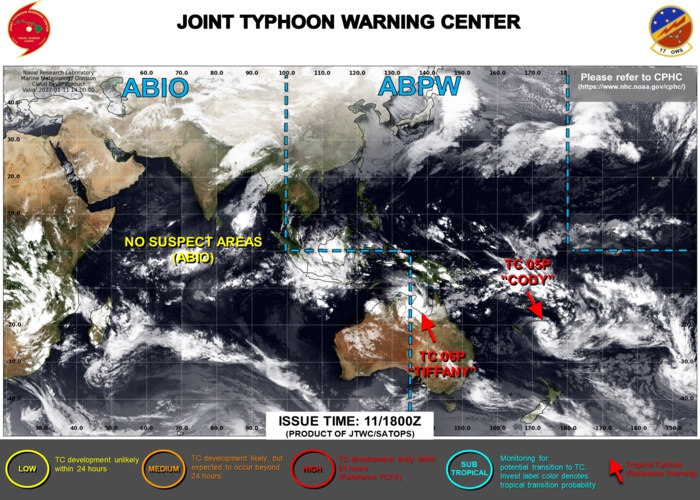 JTWC IS ISSUING 6HOURLY WARNINGS ON TC 05P(CODY). WARNING 12/FINAL ON TC 06P(TIFFANY) IS ISSUED AT 12/03UTC.THE OVER-LAND SYSTEM WILL BE CLOSELY MONITORED. 3HOURLY SATELLITE BULLETINS ARE STILL ISSUED ON BOTH SYSTEMS.
SOUTHERN HEMISPHERE/GULF OF CARPENTARIA: TC 06P(TIFFANY). WARNING 12/FINAL ISSUED AT 12/03UTC.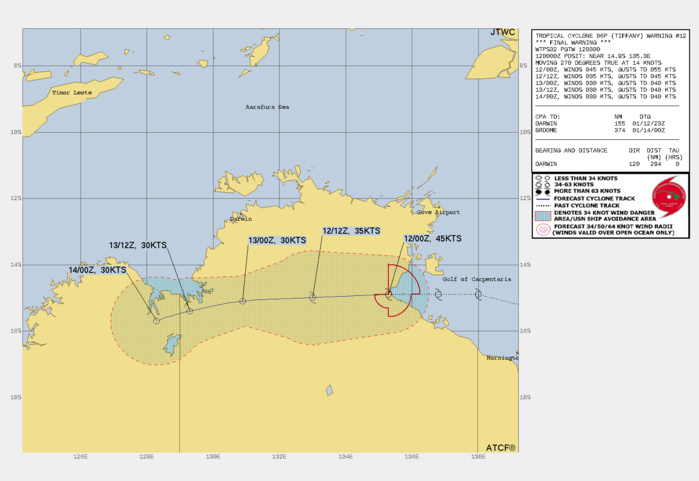 TROPICAL CYCLONE (TC) 06P (TIFFANY), LOCATED APPROXIMATELY 294 NM EAST-SOUTHEAST OF DARWIN, AUSTRALIA, HAS TRACKED WESTWARD AT 14 KNOTS OVER THE PAST SIX HOURS. ANIMATED MULTISPECTRAL SATELLITE IMAGERY AND A COMPOSITE RADAR LOOP FROM ABOM INDICATE THE SYSTEM HAS MADE LANDFALL OVER ARNHEM LAND, NORTHERN AUSTRALIA. THE INITIAL POSITION IS PLACED WITH HIGH CONFIDENCE BASED ON TRIANGULATION FROM MULTIPLE NEARBY SURFACE OBSERVATIONS. THE INITIAL INTENSITY IS PLACED WITH MEDIUM CONFIDENCE BASED ON EXTRAPOLATION FROM THE 112330Z PGTW DVORAK ESTIMATE JUST BEFORE LANDFALL AND FROM THE NEARBY SURFACE OBSERVATIONS. TC 06P IS EXPECTED TO RAPIDLY DECAY DUE TO FRICTIONAL EFFECTS AND INCREASING VWS AND DISSIPATE BY TAU 24. THE REMNANTS ARE EXPECTED TO CONTINUE WESTWARD THEN WEST- SOUTHWESTWARD JUST SOUTH OF BONAPARTE GULF AND BY 48H WILL BE NEXT TO WYNDHAM. NUMERICAL MODELS ARE IN GOOD AGREEMENT WITH THIS FORECAST TRACK THAT IS LAID CLOSE TO CONSENSUS WITH MEDIUM CONFIDENCE. NVGM AND ECMF ARE ON THE RIGHT MARGIN OF THE MODEL ENVELOPE TRACKING THE VORTEX JUST OFFSHORE INTO THE GULF AROUND 30H BEFORE DRIVING IT BACK INLAND BY 48H. THIS IS THE FINAL WARNING ON THIS SYSTEM BY THE JOINT TYPHOON WRNCEN PEARL HARBOR HI. THE SYSTEM WILL BE CLOSELY MONITORED FOR SIGNS OF REGENERATION OR RETURN INTO WATER.
ESTIMATED PEAK INTENSITY WAS 65KNOTS/CAT 1 US.
0622010500 111S1397E 15
0622010506 111S1404E 15
0622010512 111S1411E 15
0622010518 111S1423E 15
0622010600 111S1432E 15
0622010606 111S1435E 15
0622010612 111S1439E 15
0622010618 112S1443E 15
0622010700 114S1450E 15
0622010706 116S1457E 15
0622010712 119S1466E 15
0622010718 122S1472E 15
0622010800 127S1477E 15
0622010806 130S1480E 15
0622010812 134S1480E 25
0622010818 137S1478E 30
0622010900 138S1473E 30
0622010906 140S1467E 40
0622010912 141S1458E 55
0622010918 141S1449E 65
0622011000 142S1443E 65
0622011006 146S1438E 45
0622011012 147S1428E 30
0622011018 146S1414E 35
0622011100 146S1408E 40
0622011106 153S1396E 50
0622011112 149S1380E 50
0622011118 149S1368E 55
0622011200 149S1353E 45
NNNN
CLICK ON THE IMAGERY BELOW TO ANIMATE AND ENLARGE IT.
SOUTHERN HEMISPHERE/SOUTH PACIFIC: TC 05P(CODY) WARNING 14 ISSUED AT 12/03UTC.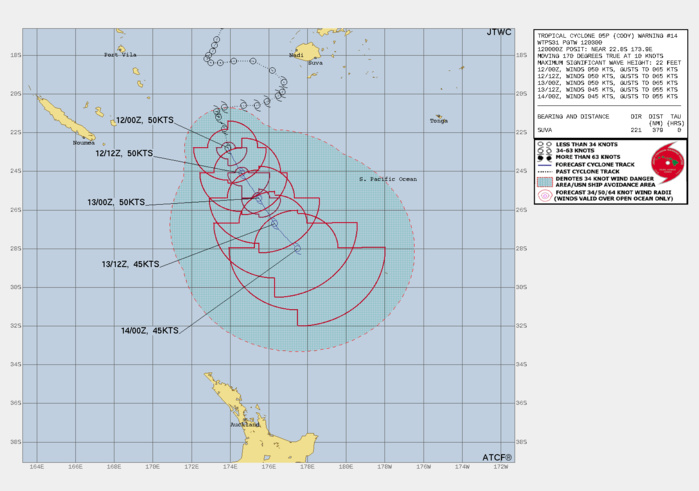 FORECAST REASONING. SIGNIFICANT FORECAST CHANGES: THERE ARE NO SIGNIFICANT CHANGES TO THE FORECAST FROM THE PREVIOUS WARNING. FORECAST DISCUSSION: TC CODY WILL TRACK MORE SOUTHEASTWARD UNDER THE STR FOR THE WHOLE DURATION OF THE FORECAST. AS THE SYSTEM MOVES MORE POLEWARD, VWS WILL INCREASE AND SSTS WILL DECREASE. HOWEVER, POLEWARD OUTFLOW WILL ALSO INCREASE, SUSTAINING THE CONVECTION UP TO 24H. BY 36H, THE SYSTEM WILL COMMENCE EXTRA-TROPICAL TRANSITION AS IT ENTERS THE COLD BAROCLINIC ZONE AND BY 48H WILL TRANSFORM INTO A STRONG GALE-FORCE COLD CORE LOW WITH AN EXPANDING WIND FIELD.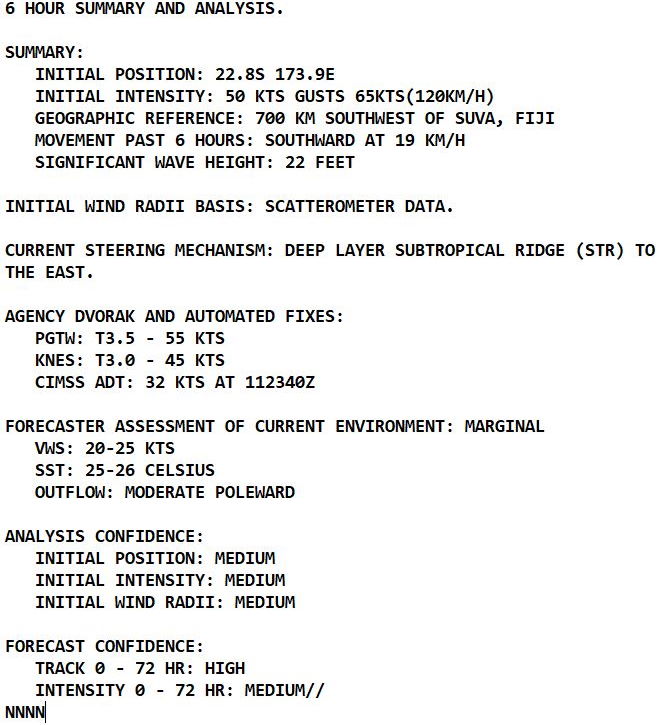 CLICK ON THE IMAGERY BELOW TO ANIMATE AND ENLARGE IT.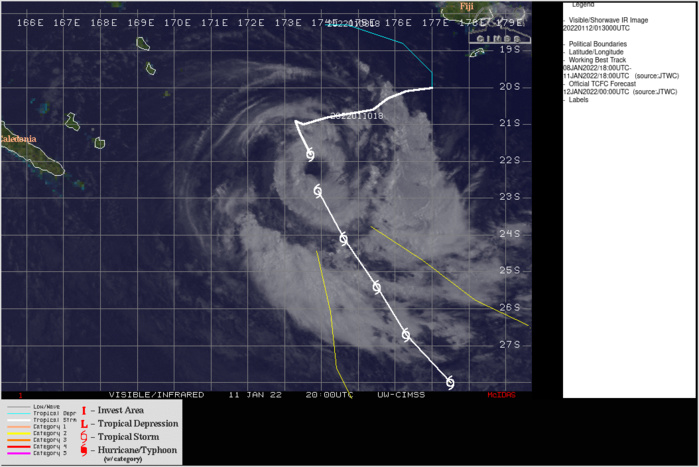 SATELLITE ANALYSIS, INITIAL POSITION AND INTENSITY DISCUSSION: ANIMATED MULTISPECTRAL SATELLITE IMAGERY (MSI) DEPICTS SHOWS THE SYSTEM HAS MAINTAINED DEGREE OF WRAP AND DEEP CONVECTION AND A LARGE, RAGGED 75-KM BANDING EYE. THE INITIAL POSITION IS PLACED WITH HIGH CONFIDENCE BASED ON THE EYE FEATURE IN MSI. THE INITIAL INTENSITY OF 50KTS IS HELD HIGHER THAN THE PGTW AND ADT DVORAK ESTIMATES AND MORE IN LINE WITH THE SATCON ESTIMATE OF 50KTS IS AVERAGED FROM AGENCY AND AUTOMATED DVORAK ESTIMATES AND REFLECTS THE SUSTAINED CONVECTIVE SIGNATURE. ANALYSIS INDICATES A MARGINAL ENVIRONMENT WITH MEDIUM TO STRONG VERTICAL WIND SHEAR, COOL SSTS, LOW LEVEL DRY AIR INTRUSION FROM THE WEST, AND IMPROVING POLEWARD OUTFLOW. THE CYCLONE IS TRACKING ALONG THE WESTERN PERIPHERY OF THE STR TO THE EAST.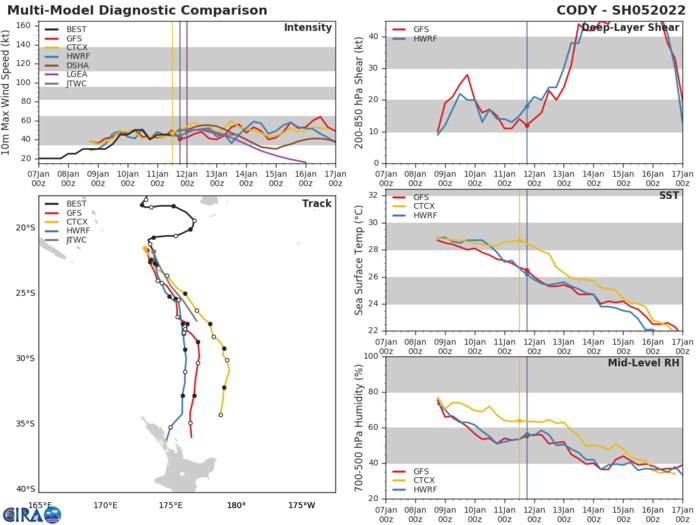 MODEL DISCUSSION: NUMERICAL MODELS ARE IN VERY TIGHT AGREEMENT WITH THE SOLE EXCEPTION OF NAVGEM THAT DRASTICALLY SHOOTS THE VORTEX WESTWARD AFTER 24H. REGARDLESS, THERE IS HIGH MEDIUM CONFIDENCE IN THE JTWC TRACK FORECAST THAT IS LAID JUST TO THE EAST OF THE MODEL CONSENSUS AFTER 24H TO OFFSET NAVGEM.
11/18UTC. ECWMF AT +240H.
11/18UTC. ECWMF AT +240H.