2021 MAY 25 1445UTC #NORTHINDIAN #GULFOFBENGAL
TC #02B #YAAS
WARNING 7
As of 12:00 UTC May 25, 2021:
Location: 19.8°N 88.3°E
Maximum Winds: 65 kt ( 120km/h)
Gusts: 80 kt ( 150km/h)
Minimum Central Pressure: 975 mb
CATEGORY US: 1
LOCATED AT 25/12UTC APPROXIMATELY 235KM SOUTHEAST OF BALASORE/ODISHA, INDIA, HAS TRACKED NORTHWARD AT 17 KM/H OVER THE PAST SIX HOURS.
Satellite bulletins are to be found in the comments of this post on
JTWC BIS
Cheers,
Patrick Hoareau
M974World
ILES SOEURS
Cyclone Class 4
Cheers,PH.
Joint Typhoon Warning Center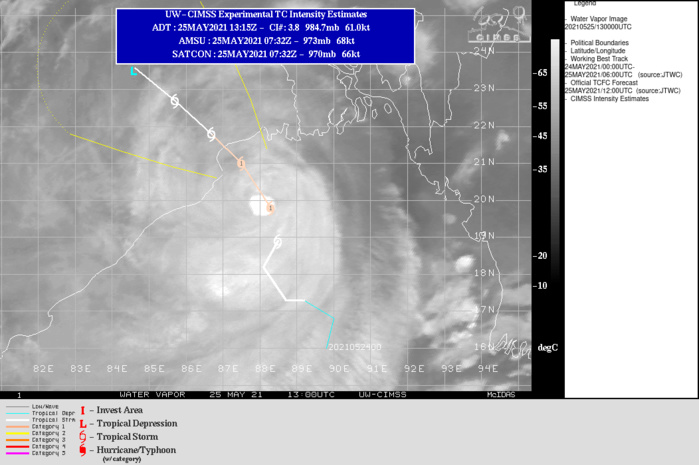 TC 02B(YAAS). WARNING 7 ISSUED AT 25/15UTC.TC 02B RESIDES IN A MARGINALLY FAVORABLE ENVIRONMENT WITH ROBUST RADIAL OUTFLOW ALOFT AND WARM (30-31 C) SEA SURFACE TEMPERATURES OFFSET BY LOW TO MODERATE RELATIVE VERTICAL WIND SHEAR (15-20KTS). THE SYSTEM IS FORECAST TO REMAIN IN THE MARGINALLY FAVORABLE ENVIRONMENT FOR THE NEXT 12 HOURS UP TO LANDFALL JUST BEFORE 26/12UTC. TC 02B WILL REMAIN AT ITS PEAK INTENSITY OF 65KNOTS/US CAT 1 AS IT TRACKS NORTH-NORTHWEST ALONG THE WESTERN PERIPHERY OF A SUBTROPICAL RIDGE TO THE NORTHEAST. SHORTLY AFTER 12H, TC 02B IS EXPECTED TO MAKE LANDFALL NEAR THE MOUTH OF THE ESTUARY OF BUDHABALANGA RIVER, INDIA. AFTER MAKING LANDFALL, THE SYSTEM WILL BEGIN DECAYING DUE TO LAND INTERACTION AND FULLY DISSIPATE BY 48H, IF NOT SHORTLY AFTER.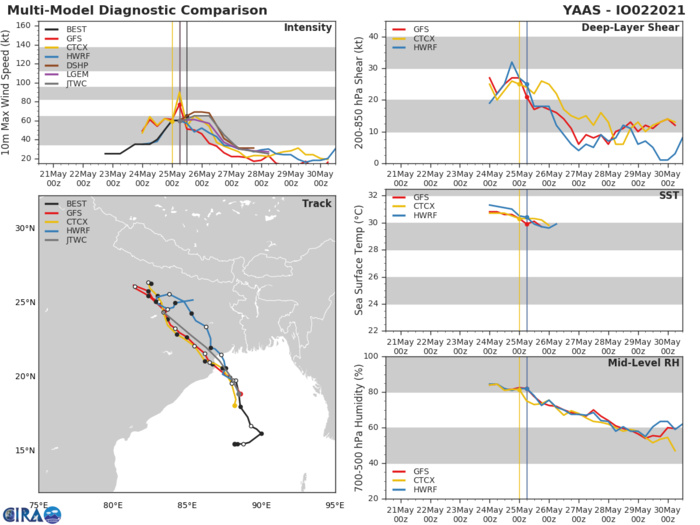 TC 02B(YAAS). NUMERICAL MODELS ARE IN FAIR AGREEMENT WITH A CROSS-TRACK SPREAD OF 85KM AT 24H, LENDING HIGH CONFIDENCE TO THE JTWC FORECAST TRACK THAT IS PLACED NEAR THE MULTI-MODEL CONSENSUS.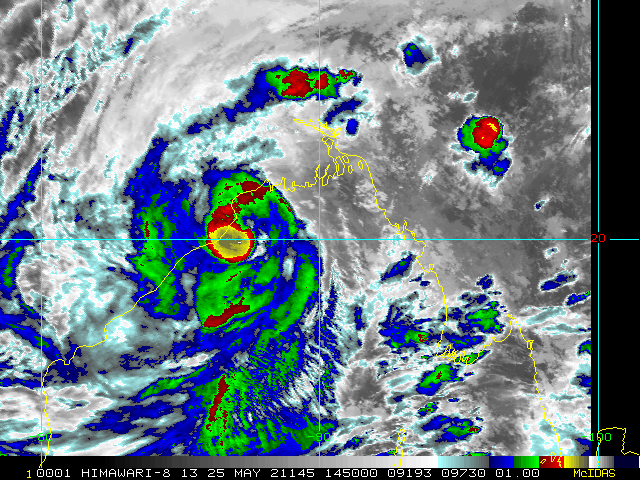 TC 02B. 25/1450UTC. ENHANCED INFRARED SATELLITE IMAGERY (EIR) DEPICT THE DEEP CONVECTIVE BANDING CONSOLIDATING AROUND A WELL-DEFINED LOW LEVEL CIRCULATION CENTER.