CLICK TO ANIMATE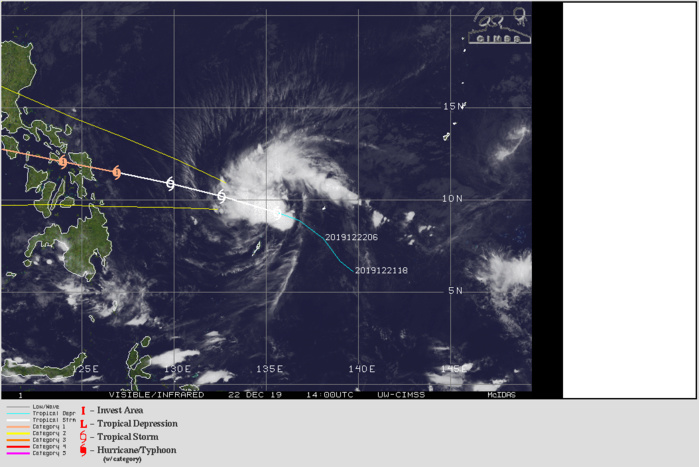 Location: 9.3°N 135.6°E
Maximum Winds: 35 kt ( 65km/h)
Gusts: 45 kt ( 85km/h)
Minimum Central Pressure: 1004 mb
WDPN31 PGTW 222100
MSGID/GENADMIN/JOINT TYPHOON WRNCEN PEARL HARBOR HI//
SUBJ/PROGNOSTIC REASONING FOR TROPICAL STORM 30W (PHANFONE) WARNING
NR 005//
RMKS/
1. FOR METEOROLOGISTS.
2. 6 HOUR SUMMARY AND ANALYSIS.
TROPICAL STORM (TS) 30W (PHANFONE), LOCATED APPROXIMATELY 914 NM
EAST-SOUTHEAST OF MANILA, PHILIPPINES, HAS TRACKED WEST-
NORTHWESTWARD AT 13 KNOTS (KTS) OVER THE PAST SIX HOURS. ANIMATED
ENHANCED INFRARED (EIR) SATELLITE IMAGERY SHOWS THE SYSTEM HAS
BECOME MORE COMPACT WHILE MAINTAINING DEEP FLARING CENTRAL
CONVECTION THAT REMAINS OFFSET NORTHWESTWARD OF THE LOW LEVEL
CIRCULATION (LLC). THE INITIAL POSITION IS PLACED WITH FAIR
CONFIDENCE BASED ON THE PARTIALLY EXPOSED LLC IN THE EIR LOOP. THE
INITIAL INTENSITY OF 35KTS IS BASED ON THE DVORAK ESTIMATES OF
T2.5/35KTS FROM PGTW AND RJTD. ANALYSES INDICATE AN OVERALL
FAVORABLE ENVIRONMENT WITH MODERATE (20KT) RELATIVE VERTICAL WIND
SHEAR (VWS) THAT IS OFFSET BY ROBUST GOOD WESTWARD AND POLEWARD
OUTFLOW AND VERY WARM (>30C) SST IN THE PHILIPPINE SEA. THE CYCLONE
IS TRACKING ALONG THE SOUTHERN PERIPHERY OF A DEEP-LAYERED
SUBTROPICAL RIDGE (STR) TO THE NORTH.
3. FORECAST REASONING.
A. THERE IS NO SIGNIFICANT CHANGE TO THE FORECAST PHILOSOPHY
FROM THE LAST PROGNOSTIC REASONING MESSAGE.
B. TS 30W WILL CONTINUE ON ITS CURRENT TRACK FOR THE DURATION OF
THE FORECAST. THE FAVORABLE ENVIRONMENT WILL FUEL STEADY
INTENSIFICATION REACHING TYPHOON STRENGTH BY TAU 36 BEFORE MAKING
LANDFALL OVER THE ISLAND OF SAMAR, PHILIPPINES, AND DRAG ACROSS THE
VISAYAN ISLANDS BEFORE EXITING INTO THE SOUTH CHINA SEA (SCS) PRIOR
TO TAU 72. THE SYSTEM WILL CONTINUE TO GRADUALLY INTENSIFY, IMPEDED
ONLY BY ISLAND INTERACTION, REACHING 70KTS BY TAU 72.
C. AFTER TAU 72, TS PHANFONE WILL SLOW DOWN AND WEAKEN AS IT
ENCOUNTERS INCREASING VWS AND RELATIVELY COOLER NORTHERLY DRY AIR IN
THE SCS. BY TAU 120, THE SYSTEM WILL BE REDUCED TO 45KTS, ALBEIT
WITH AN EXPANDING WIND FIELD ALONG THE NORTHERN FLANK DUE TO THE
INCREASED GRADIENT WINDS. THE NUMERICAL MODELS REMAIN IN TIGHT
AGREEMENT WITH MINIMAL SPREADING TO 200 NM BY TAU 120, LENDING HIGH
CONFIDENCE IN THE JTWC TRACK FORECAST.//
NNNN
TRACK AND INTENSITY GUIDANCE