CLICK TO ANIMATE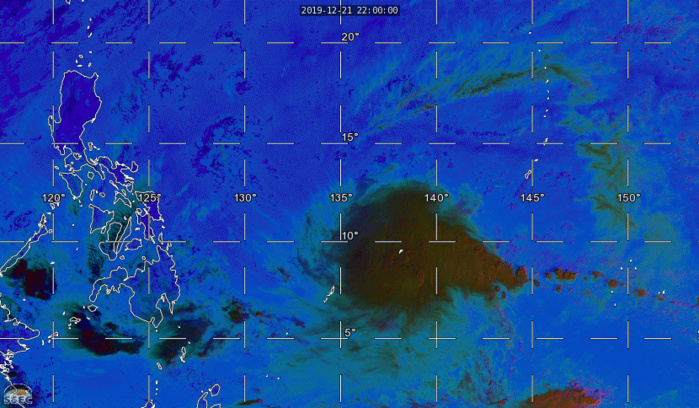 Location: 6.7°N 139.0°E
Maximum Winds: 30 kt ( 55km/h)
Gusts: 40 kt ( 75km/h)
Minimum Central Pressure: 1001 mb
WDPN31 PGTW 220300
MSGID/GENADMIN/JOINT TYPHOON WRNCEN PEARL HARBOR HI//
SUBJ/PROGNOSTIC REASONING FOR TROPICAL DEPRESSION 30W (PHANFONE)
WARNING NR 002//
RMKS/
1. FOR METEOROLOGISTS.
2. 6 HOUR SUMMARY AND ANALYSIS.
TROPICAL DEPRESSION (TD) 30W (PHANFONE), LOCATED APPROXIMATELY
276 NM EAST OF KOROR, PALAU, HAS TRACKED WEST-NORTHWESTWARD AT 10
KNOTS OVER THE PAST SIX HOURS. ANIMATED MULTISPECTRAL SATELLITE
IMAGERY (MSI) SHOWS A MEDIUM-SIZED SYSTEM WITH DEEP FLARING CENTRAL
CONVECTION OFFSET NORTHWESTWARD OF THE LOW LEVEL CIRCULATION (LLC).
THE INITIAL POSITION IS PLACED WITH FAIR CONFIDENCE BASED ON THE MSI
LOOP. THE INITIAL INTENSITY OF 30KTS IS BASED ON THE DVORAK
ESTIMATES OF T2.0/30KTS FROM PGTW, RJTD, AND KNES. ANALYSES INDICATE
AN OVERALL FAVORABLE ENVIRONMENT WITH MODERATE (20KT) RELATIVE
VERTICAL WIND SHEAR, MOSTLY ALONG THE NORTHERN HALF, THAT IS OFFSET
BY ROBUST RADIAL OUTFLOW WITH A STRONG POLEWARD BIAS AND VERY WARM
(>30C) SST IN THE PHILIPPINE SEA. THE CYCLONE IS TRACKING ALONG THE
SOUTHERN PERIPHERY OF A DEEP-LAYERED SUBTROPICAL RIDGE (STR) TO THE
NORTH WITH A WEST-EAST ORIENTED AXIS OVER 20N LATITUDE.
3. FORECAST REASONING.
A. THERE IS NO SIGNIFICANT CHANGE TO THE FORECAST PHILOSOPHY
FROM THE LAST PROGNOSTIC REASONING MESSAGE.
B. TD 30W WILL CONTINUE ON ITS CURRENT TRACK FOR THE DURATION OF
THE FORECAST. THE FAVORABLE ENVIRONMENT WILL FUEL STEADY
INTENSIFICATION REACHING TYPHOON STRENGTH BY TAU 48 BEFORE MAKING
LANDFALL OVER THE ISLAND OF LEYTE, PHILIPPINES, THEN DRAG ACROSS THE
VISAYAN ISLANDS.
C. AFTER TAU 72, TD 30W WILL CROSS THE SULU SEA AND EXIT INTO THE
SOUTH CHINA SEA AROUND TAU 90. THE SYSTEM WILL CONTINUE TO GRADUALLY
INTENSIFY, IMPEDED ONLY BY ISLAND INTERACTION, REACHING 80KTS BY TAU
96 BEFORE WEAKENING TO 65KTS BY TAU 120 DUE TO INCREASING VWS AND
THE ENTRAINMENT OF COOL DRY AIR IN THE SOUTH CHINA SEA. THE
NUMERICAL MODELS REMAIN IN GOOD AGREEMENT WITH MINIMAL SPREADING TO
JUST OVER 200 NM BY TAU 120, LENDING FAIR CONFIDENCE IN THE JTWC
TRACK FORECAST.//
NNNN
TRACK AND INTENSITY GUIDANCE