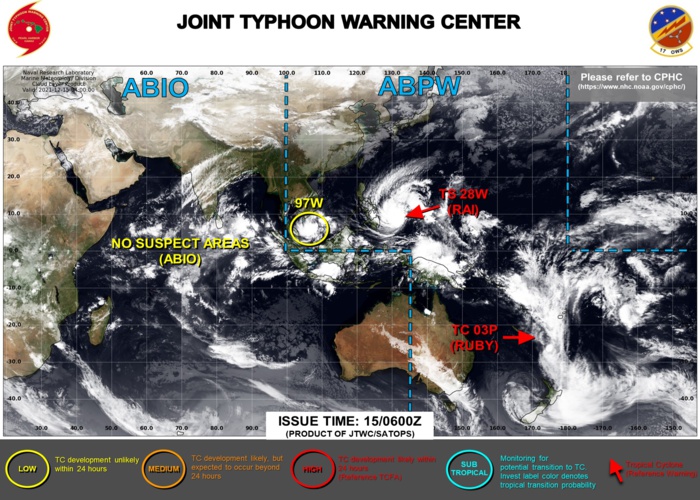 JTWC IS ISSUING 6HOURLY WARNINGS ON 28W(RAI). 6HOURLY WARNINGS WERE TERMINATED ON 03P(RUBY) AT 14/21UTC. 3HOURLY SATELLITE BULLETINS ARE ISSUED ON BOTH SYSTEMS. INVEST 97W IS NOW THE MAP. SEE DETAILS DOWN BELOW.
WESTERN NORTH PACIFIC/PHILIPPINE SEA: TY 28W(RAI). WARNING 9 ISSUED AT 15/03UTC. FORECAST TO REACH CAT 2(US) JUST PRIOR TO CROSSING THE PHILIPPINES. FORECAST TO PEAK AT CAT 3 OVER THE SOUTH CHINA SEA.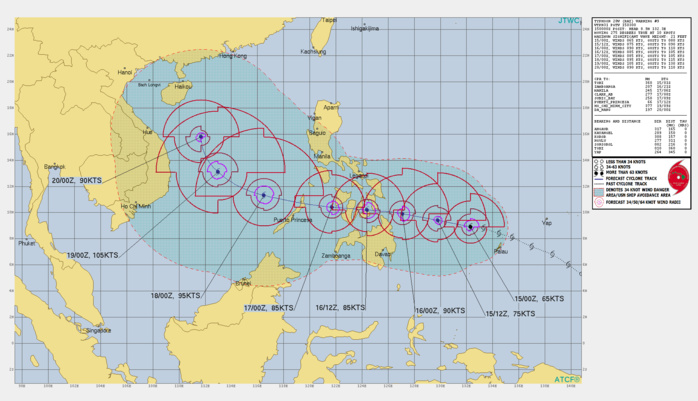 FORECAST REASONING. SIGNIFICANT FORECAST CHANGES: THERE ARE NO SIGNIFICANT CHANGES TO THE FORECAST FROM THE PREVIOUS WARNING. FORECAST DISCUSSION: TY RAI WILL CONTINUE ON ITS CURRENT TRACK, MAKING LANDFALL OVER SURIGAO, PHILIPPINES, JUST AFTER 24H, TRACK ACROSS THE ARCHIPELAGO, AND EXIT INTO THE SOUTH CHINA SEA (SCS) SHORTLY AFTER 48H. THE POSSIBILITY OF RAPID INTENSIFICATION REMAINS BEFORE LANDFALL WITH A PEAK INTENSITY SET AT 90 KTS/CAT 2 BY 24H. AFTERWARD, INTERACTION WITH THE PHILIPPINE ISLANDS WILL SLIGHTLY ERODE THE SYSTEM TO 85 KTS/CAT 2 AS IT EXITS INTO THE SCS. THE WARM SST IN THE SCS AND CONTINUED LOW VERTICAL WIND SHEAR (VWS), AND GOOD POLEWARD OUTFLOW WILL PROMOTE A PEAK OF 105 KTS/CAT 3 BY 96h. AFTERWARD, THE INFLUX OF COLD DRY AIR ASSOCIATED WITH A NORTHEASTERLY WIND SURGE IN THE SCS WILL BEGIN TO WEAKEN THE SYSTEM DOWN TO 90 KTS BY 120H.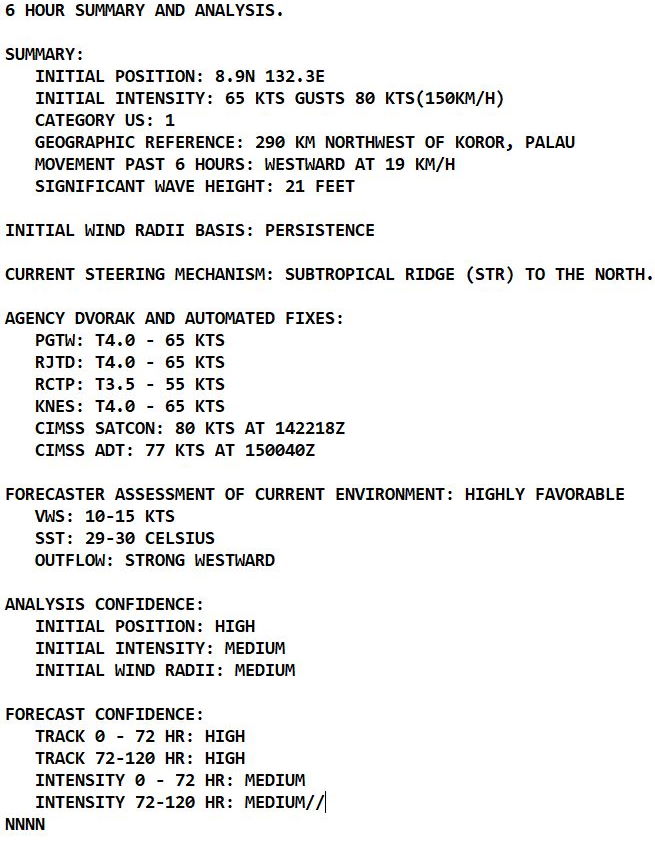 CLICK ON THE IMAGERY BELOW TO GET IT ANIMATED AND ENLARGED.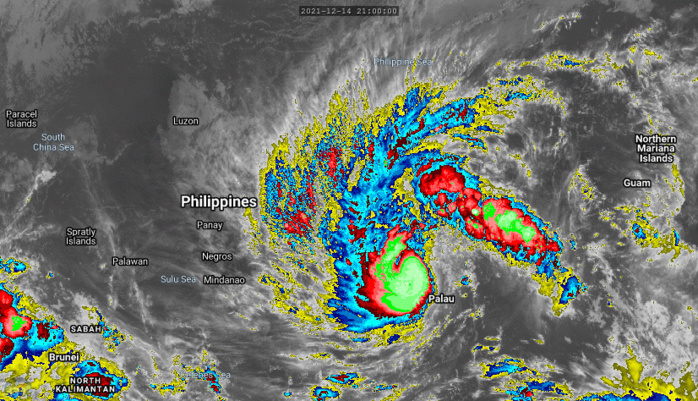 SATELLITE ANALYSIS, INITIAL POSITION AND INTENSITY DISCUSSION: ANIMATED MULTISPECTRAL SATELLITE IMAGERY (MSI) DEPICTS A WELL ORGANIZED SYSTEM WITH SPRIAL BANDING WRAPPING INTO AN ASSESSED LOW LEVEL CIRCULATION CENTER. THE INITIAL POSITION IS PLACED WITH HIGH CONFIDENCE BASED ON EXTRAPOLATION FROM A MICROWAVE EYE FEATURE IN THE A 142217Z SSMIS PASS, AS WELL AS MULTI AGENCY FIXES. THE INITIAL INTENSITY OF 65 KTS/CAT 1 IS PLACED WITH MEDIUM CONFIDENCE BASED ON AGENCY AND AUTOMATED DVORAK ESTIMATES AND CONSISTENT WITH THE MICROWAVE EYE FEATURE. ANALYSIS INDICATES A FAVORABLE ENVIRONMENT WITH STRONG WESTWARD OUTFLOW, LOW (10-15 KTS) VERTICAL WIND SHEAR AND WARM (29-30 C) SEA SURFACE TEMPERATURES. TS 28W IS TRACKING ALONG THE SOUTHERN PERIPHERY OF THE SUBTROPICAL RIDGE (STR) TO THE NORTH.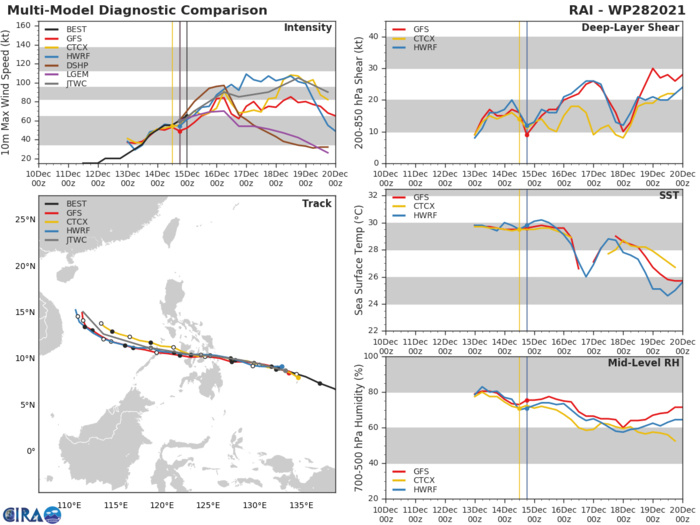 MODEL DISCUSSION: NUMERICAL MODELS CONTINUE TO BE IN VERY TIGHT AGREEMENT ON TRACK PROGRESSION THROUGHOUT THE ENTIRE FORECAST PERIOD, LENDING HIGH CONFIDENCE IN THE JTWC TRACK FORECAST UP TO 120H. THE JTWC INTENSITY FORECAST IS SET WITH MEDIUM CONFIDENCE AND HIGHER THAN MODEL CONSENSUS (ICNW). THE POSSIBILITY OF RAPID INTENSIFICATION BEFORE LANDFALL MAY STILL OCCUR CONSIDERING THE FAVORABLE ENVIRONMENT.
CLICK ON THE IMAGERY BELOW TO GET IT ANIMATED AND ENLARGED.
HWRF AT 14/18UTC. 109KNOTS AT +54H.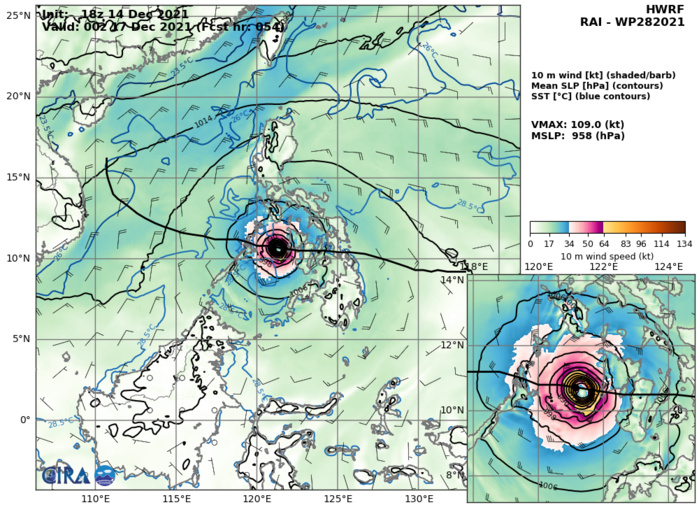 THE POSSIBILITY OF RAPID INTENSIFICATION BEFORE LANDFALL(PHILIPPINES) MAY STILL OCCUR CONSIDERING THE FAVORABLE ENVIRONMENT.
RELIABLE MODELS(BELOW IS THE ECMWF ENSEMBLE) SUGGEST TY 28W(RAI) WILL PEAK OVER THE SOUTH CHINA SEA.
UPPER-LEVEL CONDITIONS ARE GOOD. RAPID INTENSIFICATION IS STILL POSSIBLE NEXT 24H.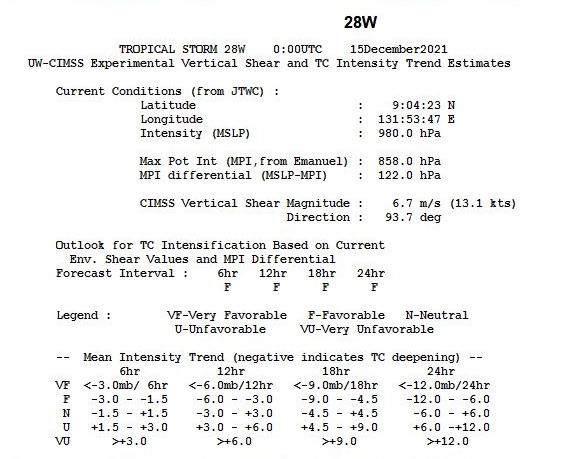 SOUTHERN HEMISPHERE/SOUTH PACIFIC OCEAN: TC 03P(RUBY). WARNING 13/FINAL ISSUED AT 14/21UTC.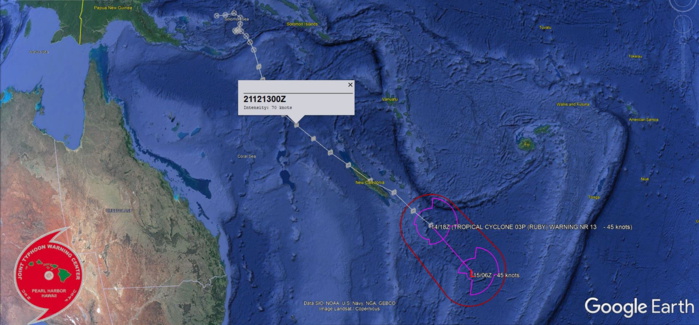 PEAK INTENSITY WAS 70KNOTS/CAT 1 US.
0321120812 86S1535E 15
0321120818 86S1542E 15
0321120900 85S1549E 20
0321120906 89S1554E 20
0321120912 94S1554E 20
0321120918 98S1553E 25
0321121000 99S1552E 25
0321121006 100S1551E 25
0321121012 99S1550E 25
0321121018 100S1555E 30
0321121100 104S1559E 30
0321121106 109S1562E 30
0321121112 115S1565E 30
0321121118 128S1569E 35
0321121200 138S1572E 40
0321121206 148S1577E 45
0321121212 157S1581E 55
0321121218 164S1588E 65
0321121300 172S1598E 70
0321121306 182S1611E 65
0321121312 192S1624E 60
0321121318 201S1638E 60
0321121400 212S1655E 55
0321121406 220S1674E 45
0321121412 233S1690E 45
0321121418 243S1705E 45
NNNN
WESTERN NORTH PACIFIC/SOUTH CHINA SEA: INVEST 97W. THIS SYSTEM HAS BEEN ADDED TO THE JTWC MAP AT 15/06UTC.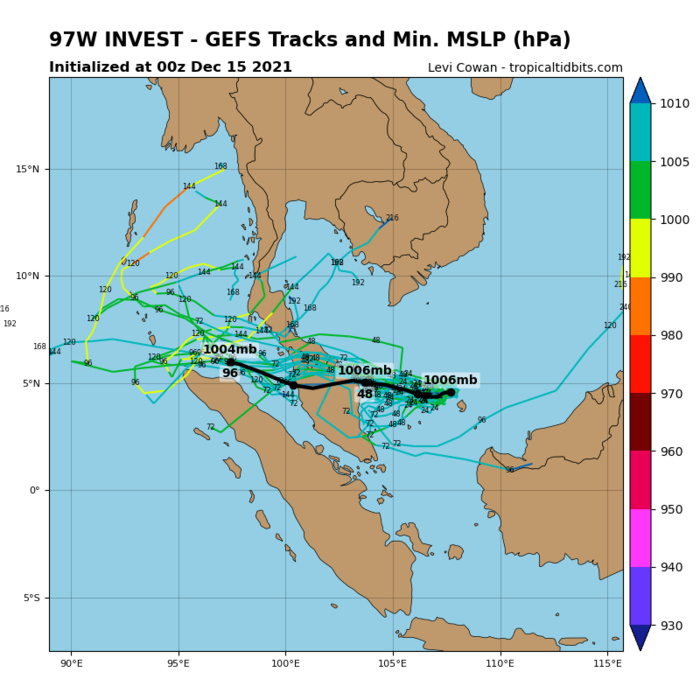 AN AREA OF CONVECTION (INVEST 97W) HAS PERSISTED NEAR 5.9N 106.9E, APPROXIMATELY 540 KM NORTH OF HO CHI MINH, VIETNAM. ANIMATED ENHANCED MULTISPECTRAL SATELLITE IMAGERY (MSI) AND A PARTIAL, 150000Z SSMIS 91GHZ MICROWAVE IMAGE DEPICT FLARING CONVECTIVE BANDS WRAPPING INTO A CONSOLIDATED LOW LEVEL CIRCULATION CENTER (LLC). ENVIRONMENTAL ANALYSIS INDICATES A MARGINALLY FAVORABLE ENVIRONMENT WITH GOOD POLEWARD OUTFLOW, WARM (27-28C) SEA SURFACE TEMPURATURES, OFFSET BY LOW-MODERATE (10-20KT) VERTICAL WIND SHEAR. GLOBAL MODELS ARE IN AGREEMENT THAT INVEST 97W WILL PERSIST AND SLOWLY TRACK WESTWARD OVER THE 72 HOURS. MAXIMUM SUSTAINED SURFACE WINDS ARE ESTIMATED AT 10 TO 15 KNOTS. MINIMUM SEA LEVEL PRESSURE IS ESTIMATED TO BE NEAR 1010 MB. THE POTENTIAL FOR THE DEVELOPMENT OF A SIGNIFICANT TROPICAL CYCLONE WITHIN THE NEXT 24 HOURS IS LOW.
SOUTHERN HEMISPHERE/NORTHERN AUSTRALIA. INVEST 95P. THIS SYSTEM IS STILL VERY WEAK AT THE MOMENT HENCE IS NOT ON THE JTWC MAP YET. KEEPING TABS ON IT.