WESTERN NORTH PACIFIC: TS 25W(MALOU). WARNING 5 ISSUED AT 25/03UTC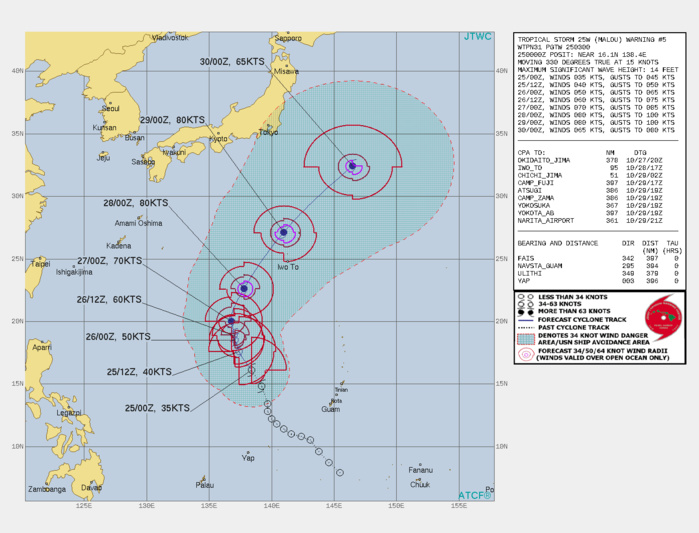 2521102200 79N1455E 15
2521102206 87N1446E 15
2521102212 96N1438E 15
2521102218 105N1431E 15
2521102300 108N1424E 20
2521102306 110N1416E 20
2521102312 114N1410E 20
2521102318 118N1404E 20
2521102400 122N1400E 30
2521102406 128N1397E 30
2521102412 134N1397E 30
2521102418 148N1392E 35
2521102500 161N1384E 35
NNNN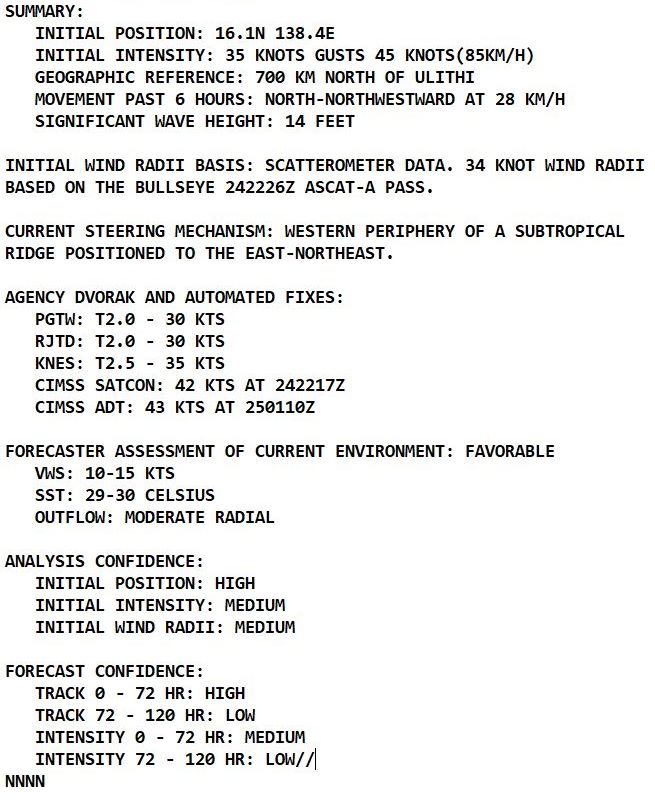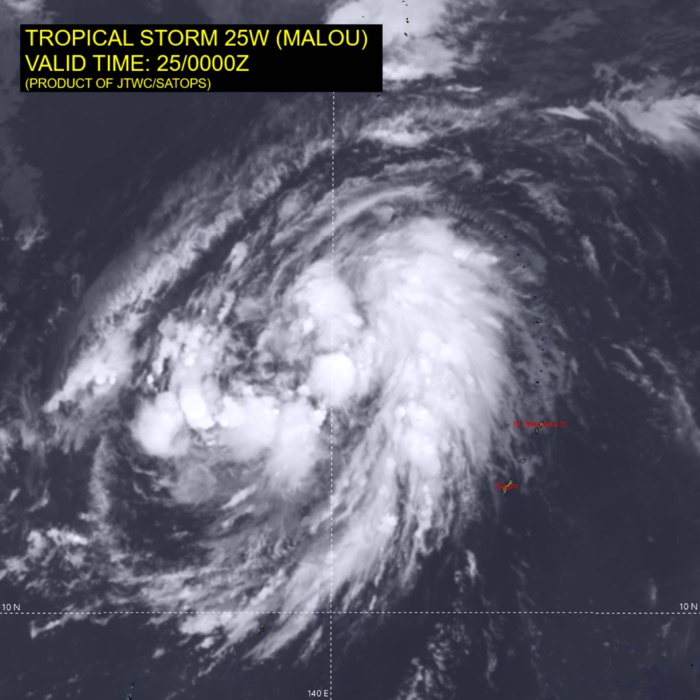 SATELLITE ANALYSIS, INITIAL POSITION AND INTENSITY DISCUSSION: ANIMATED MULTISPECTRAL SATELLITE IMAGERY (MSI) DEPICTS FORMATIVE BANDING WITH LARGE AREAS OF DEEP SUSTAINED CONVECTION REMAINING WEST AND NORTHEAST OF THE PARTIALLY EXPOSED LOW LEVEL CIRCULATION CENTER. THE INITIAL POSITION IS PLACED WITH HIGH CONFIDENCE BASED UPON MULTIPLE AGENCY FIXES AND EXTRAPOLATION FROM A BULLSEYE 242226Z ASCAT-A PASS INDICATING MAXIMUM WINDS OF 25-30 KNOTS. THE INITIAL INTENSITY IS HEDGED SLIGHTLY HIGHER THAN MULTIPLE AGENCY DVORAK ESTIMATES AND SLIGHTLY LOWER THAN THE ADVANCED DVORAK TECHNIQUE. ENVIRONMENTAL CONDITIONS REMAIN FAVORABLE WITH MODERATE POLEWARD AND EQUATORWARD OUTFLOW, LOW VERTICAL WIND SHEAR, AND WARM (29-30C) SEA SURFACE TEMPERATURES.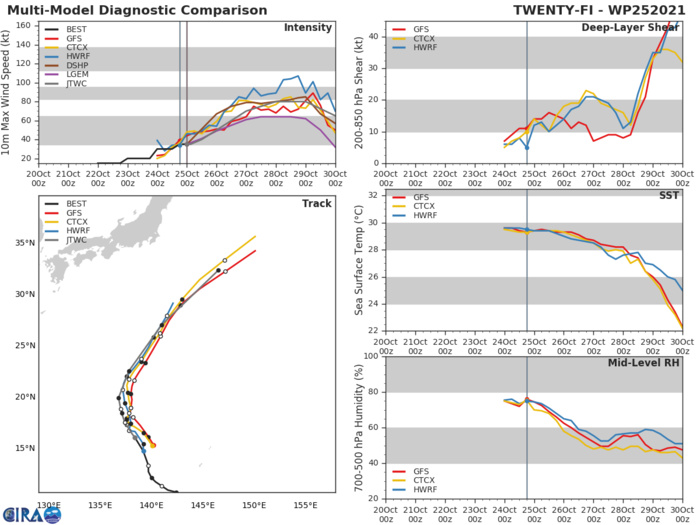 MODEL DISCUSSION: NUMERICAL MODEL GUIDANCE IS IN GOOD AGREEMENT IN REGARDS TO THE FORECAST TRACK FOR TS 25W, WITH ALMOST ALL MODELS CONTINUING TO SHOW A GENERALLY NORTH-NORTHWESTWARD TRACK FOLLOWED BY A RECURVE TO THE NORTHEAST STARTING AT 48H. NVGM IS STILL THE MAJOR OUTLIER OF THE MULTIPLE MODEL CONSENSUS. EXCLUDING NVGM, CROSS-TRACK MODEL SPREAD IS LESS THAN 220 KM ALL THE WAY UP TO 72H. NUMERICAL MODEL GUIDANCE IS IN MODERATE AGREEMENT IN REGARDS TO THE INTENSITY FORECAST, WITH MOST MODELS INDICATING A STEADY INTENSIFICATION WITH A PEAK INTENSITY BETWEEN 72H AND 96H. THEREAFTER, A WEAKENING TREND IS EXPECTED THROUGH THE REMAINDER OF THE FORECAST. THE MODELS CURRENTLY DO NOT AGREE ON THE PEAK INTENSITY WITH HWRF PEAKING AT 100 KNOTS AND GFS PEAKING AT 70 KNOTS, WITH MOST OTHERS AROUND 70-90 KNOTS. TO OFFSET HWRF, THE FORECAST INTENSITY IS PLACED SLIGHTLY LOWER THAN CONSENSUS.
WESTERN NORTH PACIFIC: INVEST 99W. TROPICAL CYCLONE FORMATION ALERT ISSUED AT 25/0530UTC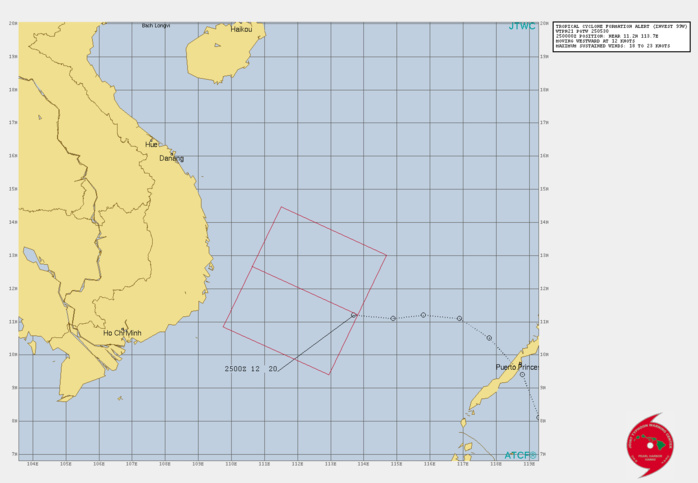 THE AREA OF CONVECTION (INVEST 99W) PREVIOUSLY LOCATED NEAR 10.5N 117.8E IS NOW LOCATED NEAR 11.2N 113.7E, APPROXIMATELY 575 KM WEST-NORTHWEST OF PUERTO PRINCESA, PHILIPPINES. ANIMATED MULTISPECTRAL SATELLITE IMAGERY (MSI) DEPICTS CURVED DEEP CONVECTIVE BANDING THAT APPEARS TO BE WRAPPING INTO A PARTIALLY-EXPOSED LLC. THIS BANDING CAN ALSO BE SEEN IN A 242334Z 91GHZ SSMIS IMAGE, BUT A 250008Z ASCAT-A IMAGE INDICATES THAT THE BROAD AREA OF 20-25 KT WINDS UNDER THE BANDING IS PART OF THE COLD SURGE EVENT TO THE NORTH AND NOT ASSOCIATED WITH THE BROAD CIRCULATION. ENVIRONMENTAL ANALYSIS INDICATES FAVORABLE CONDITIONS FOR DEVELOPMENT, WITH MODERATE EQUATORWARD OUTFLOW, LOW (10-15 KTS) VERTICAL WIND SHEAR (VWS) AND WARM (29-30 C) SEA SURFACE TEMPERATURES (SST). MAXIMUM SUSTAINED SURFACE WINDS ARE ESTIMATED AT 18 TO 23 KNOTS. MINIMUM SEA LEVEL PRESSURE IS ESTIMATED TO BE NEAR 1009 MB. THE POTENTIAL FOR THE DEVELOPMENT OF A SIGNIFICANT TROPICAL CYCLONE WITHIN THE NEXT 24 HOURS IS UPGRADED TO HIGH.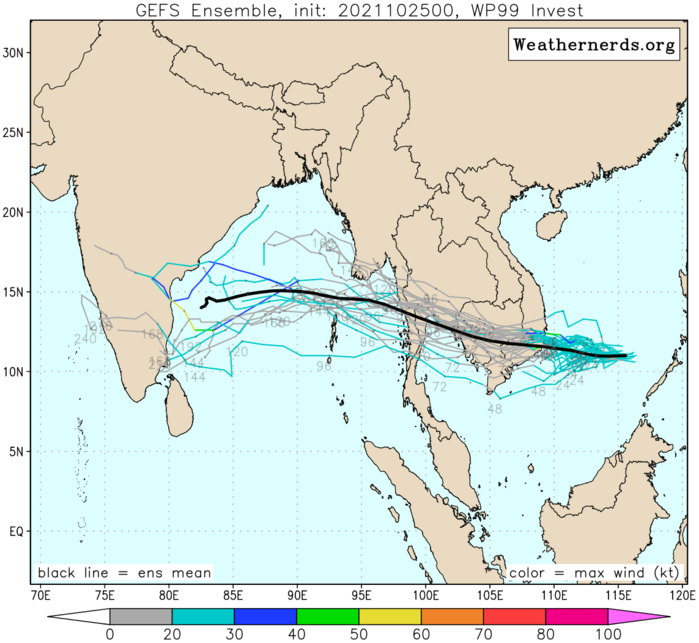 GLOBAL NUMERICAL MODELS ARE IN GOOD AGREEMENT THAT INVEST 99W WILL TRACK WEST-NORTHWESTWARD AND MAKE LANDFALL OVER VIETNAM WITHIN THE NEXT 36 HOURS. THE MODELS INDICATE THE POSSIBILITY OF A WEAK TROPICAL DEPRESSION BEFORE LANDFALL, BUT THE CURRENT TRACK SPEED OF INVEST 99W, WHICH IS FASTER THAN IN MODEL GUIDANCE, INDICATES THE SYSTEM MAY MAKE LANDFALL SOONER WITH LESS TIME OVER WATER TO REACH WARNING CRITERIA.
EASTERN NORTH PACIFIC: HU 17E(RICK). WARNING 11 ISSUED AT 25/04UTC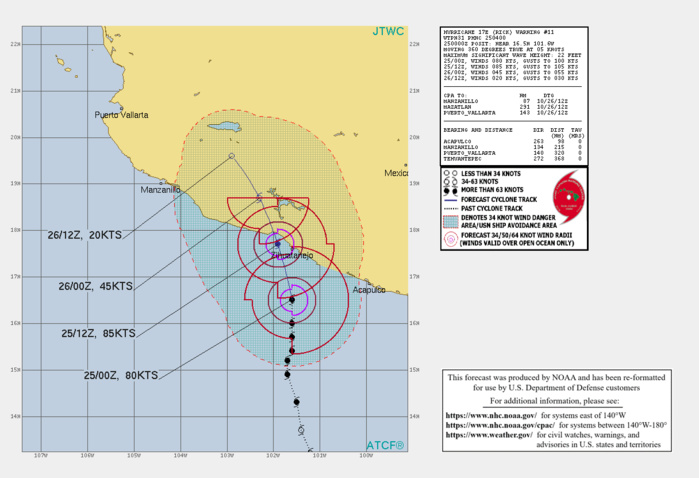 1721102012 127N 919W 25
1721102018 127N 928W 25
1721102100 127N 937W 25
1721102106 127N 947W 25
1721102112 126N 958W 25
1721102118 125N 970W 25
1721102200 125N 982W 25
1721102206 126N 993W 25
1721102212 127N1003W 30
1721102218 129N1009W 35
1721102300 132N1012W 45
1721102306 137N1014W 55
1721102312 143N1015W 65
1721102318 149N1017W 75
1721102400 152N1017W 75
1721102406 154N1016W 75
1721102412 157N1016W 75
1721102418 160N1016W 75
1721102500 165N1016W 80
NNNN