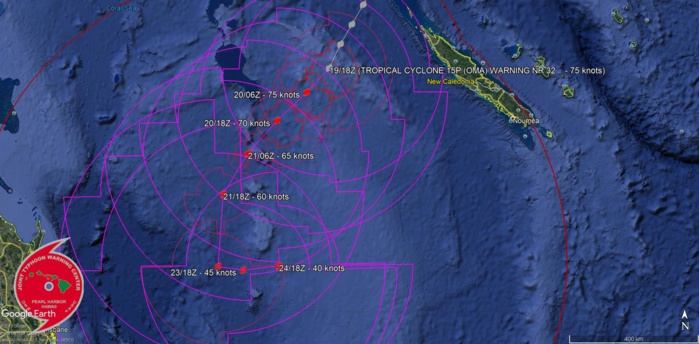 2019 FEB 20 0025UTC SOUTH PACIFIC
TC
#
OMA
#
15P
This system is currently analysed as a 75knots TC, CAT1 US.
WARNING 32/JTWC
Click on the TC graphic to read the Remarks for Warning 32 .
Satellite bulletins are to be found in the comments of this post on JTWC BIS.
As of 18:00 UTC Feb 19, 2019:
Location: 21.1°S 161.5°E
Maximum Winds: 75 kt ( 140km/h)
Gusts: 90 kt ( 170km/h)
Minimum Central Pressure: 965 mb
https://www.facebook.com/groups/1817419381676514/
Cheers,
Patrick Hoareau
REMARKS:
192100Z POSITION NEAR 21.3S 161.3E.
TROPICAL CYCLONE 15P (OMA), LOCATED APPROXIMATELY 606 NM
NORTHEAST OF BRISBANE, AUSTRALIA, HAS TRACKED SOUTH-SOUTHWESTWARD
AT 07 KNOTS OVER THE PAST SIX HOURS. ANIMATED ENHANCED INFRARED
SATELLITE IMAGERY DEPICTS TIGHTLY-CURVED DEEP CONVECTIVE BANDING
WRAPPING INTO A LARGE, RAGGED EYE. A 191705Z SSMIS 37GHZ MICROWAVE
IMAGE REVEALS A LOW LEVEL CIRCULATION CENTER (LLCC) WITH HIGH
CONFIDENCE. THE INITIAL INTENSITY REMAINS AT 75 KNOTS ON THE
CONSERVATIVE SIDE OF DVORAK CURRENT INTENSITY ESTIMATES RANGING FROM
4.5 TO 5.0 (77 TO 90 KNOTS FROM PGTW AND KNES, RESPECTIVELY). UPPER-
LEVEL ANALYSIS INDICATES LOW (5 TO 15 KNOTS) VERTICAL WIND SHEAR
WITH STRONG POLEWARD OUTFLOW AND WEAK EQUATORWARD OUTFLOW. TC 15P IS
FORECAST TO TRACK SOUTHWESTWARD THROUGH TAU 36 ALONG THE WESTERN
PERIPHERY OF A SUBTROPICAL RIDGE (STR). AFTER TAU 36, THE SYSTEM
SHOULD TURN SOUTHWARD TOWARD A BREAK IN THE STR ASSOCIATED WITH A
DEEP SHORTWAVE TROUGH TO THE SOUTH. AFTER TAU 48, THERE IS STILL
HIGH UNCERTAINTY AS THE AFOREMENTIONED SHORTWAVE TROUGH SHIFTS EAST
AND DEEPENS OVER NEW ZEALAND. AT TAU 72, THE SYSTEM MAY BECOME
QUASISTATIONARY IN A MORE UNFAVORABLE ENVIRONMENT OF LOW SEA SURFACE
TEMPERATURES, CONVERGENT WESTERLIES AND HIGHER SHEAR CAUSING IT TO
GRADUALLY DISSIPATE. THEREFORE, THERE IS LOW OVERALL CONFIDENCE
(HIGH UNCERTAINTY) IN THE JTWC FORECAST TRACK AND INTENSITY AFTER
TAU 48. MAXIMUM SIGNIFICANT WAVE HEIGHT AT 191800Z IS 25 FEET. NEXT
WARNINGS AT 200300Z, 200900Z, 201500Z AND 202100Z.//
NNNN
Click to animate the image.