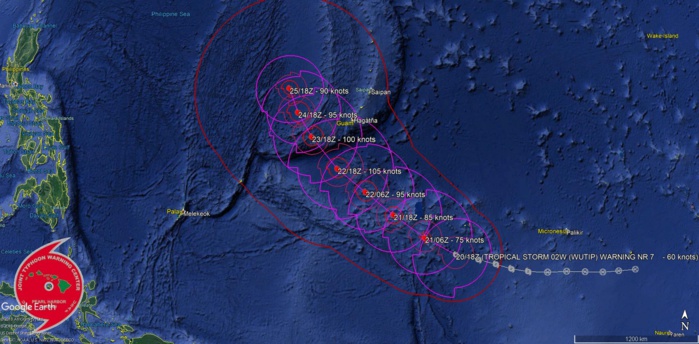 2019 FEB 20 1940UTC WESTERN NORTH PACIFIC
TS
#
WUTIP
#
02W
This system is currently analysed as a 60knots TS.
WARNING 7/JTWC
Click on the TC graphic to read the Remarks for Warning 7 and view sat pics and charts .
Satellite bulletins are to be found in the comments of this post on JTWC BIS.
As of 18:00 UTC Feb 20, 2019:
Location: 5.6°N 151.1°E
Maximum Winds: 60 kt (110km/h)
Gusts: 75 kt (140km/h)
Minimum Central Pressure: 987 mb
https://www.facebook.com/groups/1817419381676514/
Cheers,
Patrick Hoareau
WDPN31 PGTW 202100
MSGID/GENADMIN/JOINT TYPHOON WRNCEN PEARL HARBOR HI//
SUBJ/PROGNOSTIC REASONING FOR TROPICAL STORM 02W (WUTIP)
WARNING NR 07//
RMKS//
1. FOR METEOROLOGISTS.
2. HOUR SUMMARY AND ANALYSIS.
TROPICAL STORM (TS) 02W (WUTIP), LOCATED APPROXIMATELY 609 NM
SOUTHEAST OF ANDERSEN AFB, HAS TRACKED WESTWARD AT 14 KNOTS OVER THE
PAST SIX HOURS. ANIMATED ENHANCED INFRARED SATELLITE IMAGERY DEPICTS A
SWIFTLY CONSOLIDATING SYSTEM WITH AN IMPROVED CONVECTIVE SIGNATURE,
WITH THE CONVECTIVE ACTIVITY OFFSET TOWARDS THE WEST OF THE LLCC. A
201828Z AMSU-B 89GHZ MICROWAVE IMAGE INDICATES DEEP CONVECTIVE BANDING
WRAPPING INTO THE DEFINED LLCC, AND SUPPORTS THE INITIAL POSITION WITH
GOOD CONFIDENCE. THE INITIAL INTENSITY IS ASSESSED AT 60 KNOTS BASED
ON A DVORAK INTENSITY ESTIMATE OF T3.5 (55 KNOTS) FROM PGTW AND RJTD
AND SATELLITE CONSENSUS ESTIMATE OF 67 KNOTS. TS 02W LIES IN A
FAVORABLE UPPER-LEVEL ENVIRONMENT WITH EASTERLY DIFFLUENT FLOW ALOFT
AND LOW TO MODERATE EASTERLY (15-20 KNOTS) VWS. SST VALUES (29C) AND
HIGH OCEAN HEAT CONTENT VALUES ARE CONDUCIVE FOR FURTHER DEVELOPMENT.
TS 02W IS TRACKING WESTWARD UNDER THE STEERING INFLUENCE OF THE LOW-
TO MID-LEVEL SUBTROPICAL RIDGE (STR) POSITIONED TO THE NORTH.
3. FORECAST REASONING.
A. THERE IS NO SIGNIFICANT CHANGE TO THE FORECAST PHILOSOPHY SINCE
THE PREVIOUS PROGNOSTIC REASONING MESSAGE. HOWEVER, THIS FORECAST
BRINGS THE TRACK SLIGHTLY CLOSER TO GUAM AND MORE TOWARDS THE RECURVE
SCENARIO, AS ECMWF IS NOW AGREEING WITH THE OTHER MODELS ON A RECURVE
OCCURRING BEYOND TAU 96.
B. THROUGH TAU 72, TS 02W IS EXPECTED TO TRACK WEST-NORTHWESTWARD
ALONG THE SOUTHERN PERIPHERY OF A DEEP-LAYERED STR ENTRENCHED TO THE
NORTH. THE SYSTEM IS FORECAST TO RAPIDLY INTENSITY UNDER FAVORABLE
ENVIRONMENTAL CONDITIONS, REACHING A PEAK OF 105 KNOTS AT TAU 48. THE
SYSTEM WILL BEGIN TO SLOWLY WEAKEN THROUGH TAU 72 AS INCREASING VWS
OFFSETS STRONG POLEWARD OUTFLOW. NUMERICAL MODEL GUIDANCE IS IN GOOD
AGREEMENT WITH A SPREAD OF 115NM AT TAU 72.
C. BEYOND TAU 72, UNCERTAINTY INCREASES SIGNIFICANTLY, WITH A LARGE
SPREAD (289NM) BETWEEN THE ECMWF ON THE WEST AND THE REMAINDER OF THE
CONSENSUS MEMBERS ON THE EAST SIDE OF THE ENVELOPE. IN GENERAL THE
ECMWF HAS WITH THIS RUN STARTED TO SHIFT OVER TOWARDS THE EAST, COMING
MORE IN LINE WITH THE OTHER MODELS IN INDICATING A RECURVE TO THE WEST
OF THE MARIANAS BEYOND TAU 96. ECMWF HAS COME INTO BETTER AGREEMENT
WITH THE OTHER MODELS, IT REMAINS SIGNIFICANTLY WEST OF THE REMAINDER
OF THE GUIDANCE. THE NAVGEM AND EGRR, WHILE STILL RECURVING THE
SYSTEM, HAVE MOVED TOWARDS THE WEST WITH THE LAST RUN AND GALWEM HAS
NOW SHIFTED TO THE STAIR STEP WESTWARD TRACK THAT ECMWF PREVIOUSLY
INDICATED. WITH SUCH A CONFUSED AND CHANGING MODEL PACKAGE, THE JTWC
OFFICIAL FORECAST HAS SHIFTED ONLY SLIGHTLY TOWARDS THE EAST AT THIS
POINT AND FAVORS THE THE ECMWF SOLUTION DUE TO THE LACK OF A
MIDLATITUDE RECURVE MECHANISM (DEEP SHORTWAVE TROUGH AND ASSOCIATED
FRONTAL SYSTEM), AND PRESENCE OF A STRONG STR. OVERALL, THERE IS LOW
CONFIDENCE IN THE JTWC FORECAST BEYOND TAU 72 DUE TO THE UNCERTAINTY
IN THE NUMERICAL GUIDANCE.//
NNNN