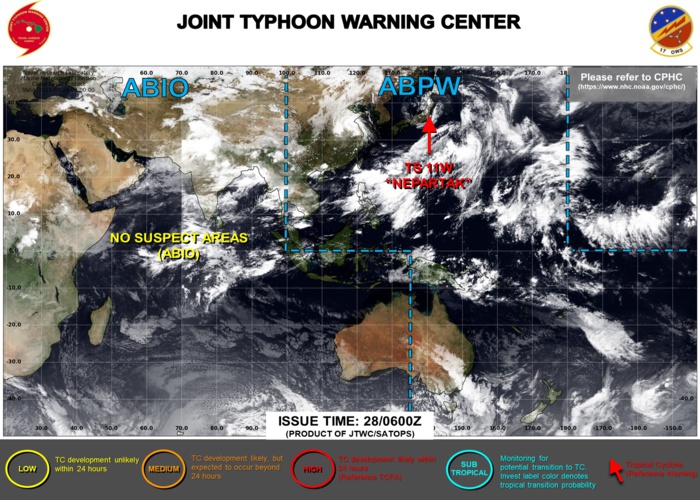 JTWC IS ISSUING 6HOURLY WARNINGS ON 11W. 3HOURLY SATELLITE BULLETINS ARE ISSUED ON 11W AND ON 09W(OVER-LAND).
2021 JULY 28 1115UTC #WESTERNNORTHPACIFIC
REMNANTS OF #09W #INFA
UPDATE
As of 06:00 UTC July 28, 2021:
Location: 33.0°N 117.0°E
Maximum Winds: 25 kt
Gusts: /
Minimum Central Pressure: 985 mb
OVER-LAND
------------------------------------------
SD #11W #NEPARTAK
WARNING 20/JTWC
As of 06:00 UTC July 28, 2021:
Location: 40.2°N 140.3°E
Maximum Winds: 30 kt ( 55km/h)
Gusts: /
Minimum Central Pressure: 997 mb
SUBTROPICAL
LOCATED AT 28/00UTC APPROXIMATELY 80 KM WEST-SOUTHWEST OF MISAWA, JAPAN, HAS TRACKED
NORTHWESTWARD AT 28 KM/H OVER THE PAST SIX HOURS.
Satellite bulletins are to be found in the comments of this post on
JTWC BIS
2 WEEK CYCLONIC DEVELOPMENT POTENTIAL:
Issued at 27/1730UTC by

NOAA

.
In collaboration with the JTWC and several well known organizations.
Archives:
HERE
Cheers,
Patrick Hoareau
JTWC PH
ILES SOEURS
Joint Typhoon Warning Center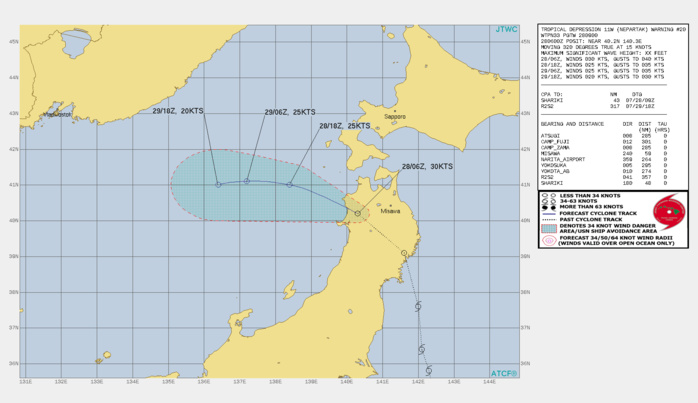 11W(NEPARTAK). WARNING 20 ISSUED AT 28/09UTC.THERE ARE NO SIGNIFICANT CHANGES TO THE FORECAST FROM THE PREVIOUS WARNING. FORECAST DISCUSSION: 11W IS MOVING FAIRLY RAPIDLY ACROSS NORTHERN HONSHU, AND SHOULD REEMERGE OVER THE SEA OF JAPAN WITHIN THE NEXT FEW HOURS. AS THE EXTENSION OF THE SUBTROPICAL RIDGE BUILDS IN TO THE NORTH, THE SYSTEM WILL TRACK MORE WESTWARD AS IT MOVES INTO THE CENTRAL SEA OF JAPAN. AS THE TRACK HAS MOVED FURTHER NORTH THAN PREVIOUSLY FORECAST, IT WILL EMERGE OVER COOLER WATERS WITH SSTS BETWEEN 24 TO 25 CELSIUS, PRECLUDING ANY ADDITIONAL DEVELOPMENT. SIMULTANEOUSLY THE UPPER-LEVEL LOW WHICH HAS BEEN TRACKING OVER TOP OF 11W WILL STOP AND THEN MOVE EASTWARD OVER THE NEXT 24 HOURS, ALLOWING FOR AN UPPER-LEVEL JET STREAK TO MOVE OVER TOP OF 11W, DRASTICALLY INCREASING VERTICAL WIND SHEAR AND LEADING TO DISSIPATION OVER WATER NO LATER THAN 36H.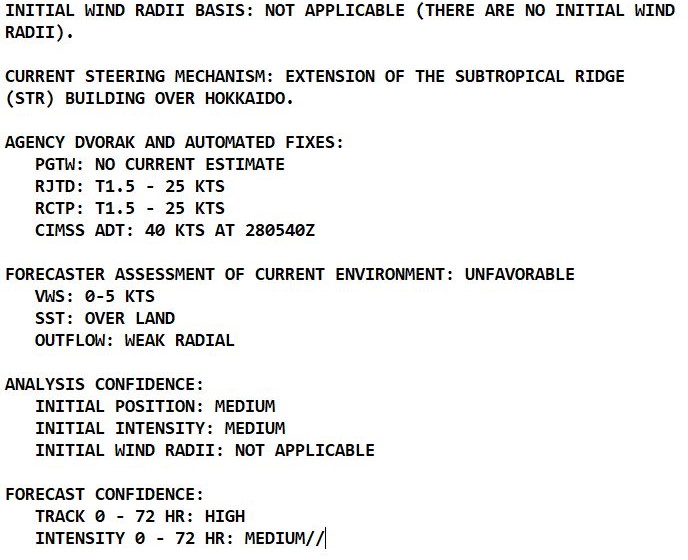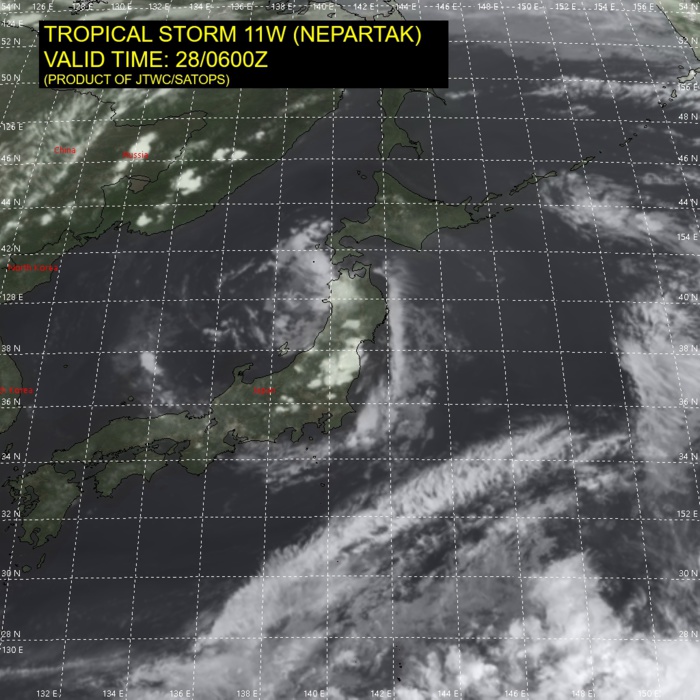 11W(NEPARTAK). SATELLITE ANALYSIS, INITIAL POSITION AND INTENSITY DISCUSSION: 11 (NEPARTAK) REMAINS CLASSIFIED AS A SUBTROPICAL DEPRESSION. ANIMATED MULTISPECTRAL SATELLITE IMAGERY (MSI) DEPICTS A RAGGED AND DISORGANIZED LOW LEVEL CIRCULATION (LLC) CENTERED OVER THE FAR WESTERN PORTION OF NORTHERN HONSHU. SCATTERED WEAK CONVECTIVE ACTIVITY IS FLARING OVER AND JUST NORTHWEST OF THE ASSESSED CENTER, BUT OVERALL THE CONVECTIVE STRUCTURE HAS COLLAPSED AS THE SYSTEM CROSSED OVER THE NORTHERN JAPANESE ALPS. THE SYSTEM REMAINS UNDER AN UPPER-LEVEL LOW, AND CIRA THERMAL CROSS SECTIONS CONTINUE TO EXHIBIT STRONG SUBTROPICAL CHARACTERISTICS, WITH A WEAK COLD ANOMALY IN THE LOW TO MID-LEVELS TOPPED BY A MODERATELY STRONG WARM ANOMALY IN THE UPPER LEVELS. THE INITIAL POSITION IS ASSESSED WITH MEDIUM CONFIDENCE, AS THERE IS A LARGE DISCREPANCY BETWEEN THE PGTW AND RJTD FIX POSITIONS, WITH RJTD WELL OUT TO SEA WHILE PGTW REMAINS OVER LAND. SURFACE OBSERVATIONS FROM FUKAURA AND ANIMATED RADAR DATA ASSISTED IN REFINING THE INITIAL POSITION. THE INITIAL INTENSITY REMAINS AT 30 KNOTS WITH MEDIUM CONFIDENCE BASED PRIMARILY ON THE SURFACE PRESSURE READINGS OF 999 MB FROM FUKAURA.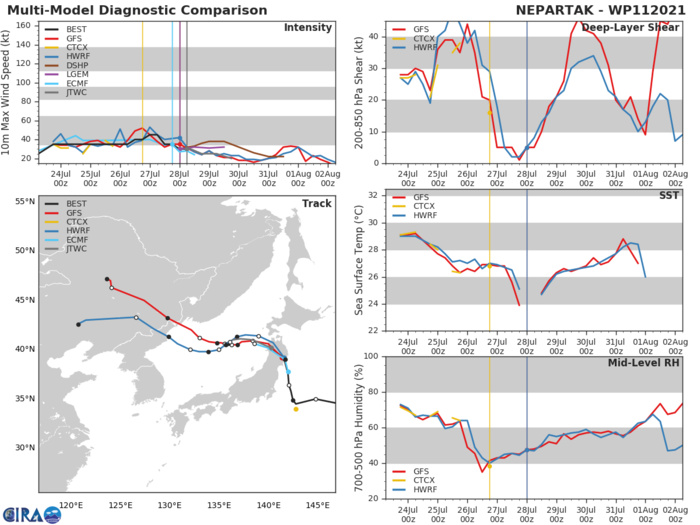 11W(NEPARTAK).MODEL DISCUSSION: NUMERICAL MODEL GUIDANCE IS IN GOOD AGREEMENT THROUGH THE DURATION OF THE FORECAST AND THE JTWC FORECAST TRACKS CLOSE TO THE CONSENSUS MEAN TRACK. THE JTWC INTENSITY FORECAST TRACKS BELOW THE INTENSITY CONSENSUS MEAN AS IT IS BEING UNREALISTICALLY PULLED HIGHER DUE TO SOME MEMBERS NOT DECAYING THE SYSTEM ENOUGH OVER LAND. SOME MEMBERS OF THE CONSENSUS STILL DEPICT A WEAK VORTEX TRACKING WEST-SOUTHWEST THROUGH 48H OR EVEN AT 60H, HOWEVER IN LIGHT OF THE EXPECTED IMPACT OF VERY HIGH VERTICAL WIND SHEAR (40-50 KTS) AFTER 36H, WHAT LLCC THAT MAY STILL EXIST WILL NOT BE ABLE TO REGENERATE TO MORE THAN 20 KNOTS.

WEEK 1 : Jul 28/Aug 03: Tropical Storm Nepartak developed east of Japan and is currently nearing landfall over northern Honshu island. Dry air entrainment has resulted in poor presentation on satellite imagery, with most of the convection well removed from the circulation center. The Joint Typhoon Warning Center forecasts further weakening of Tropical Storm Nepartak ahead of and following the landfall. During both Week-1 and Week-2, an enhanced and northward displaced monsoon gyre will provide a wide region of favorable conditions and incipient circulations for tropical cyclogenesis over the Northwest Pacific. Dynamical model forecasts show multiple closed lows and tropical cyclones developing near and north of 20N extending from the vicinity of Taiwan to near 150E over the next two weeks. With steering currents fairly weak, interests in Japan, mainland China, and Taiwan should monitor the latest forecasts from their local meteorological agencies. Tropical cyclone development is also favored for the East Pacific in the wake of the strong Kelvin wave, with the National Hurricane Center currently monitoring two areas south and southwest of Mexico for potential formation. NOAA.

A favorable environment for additional tropical cyclone development is forecast to persist into Week-2, prompting a moderate confidence hazard on the outlook. No tropical cyclones are anticipated to form across the Main Development Region of the Atlantic during the outlook period, though conditions are anticipated to become slightly more favorable towards the end of Week-2, with dynamical models showing a disturbance emerging off the coast of Africa. Should the MJO or additional Kelvin waves cross the Western Hemisphere during Week-2, conditions may become more favorable for development during the Week-34 time frame. NOAA.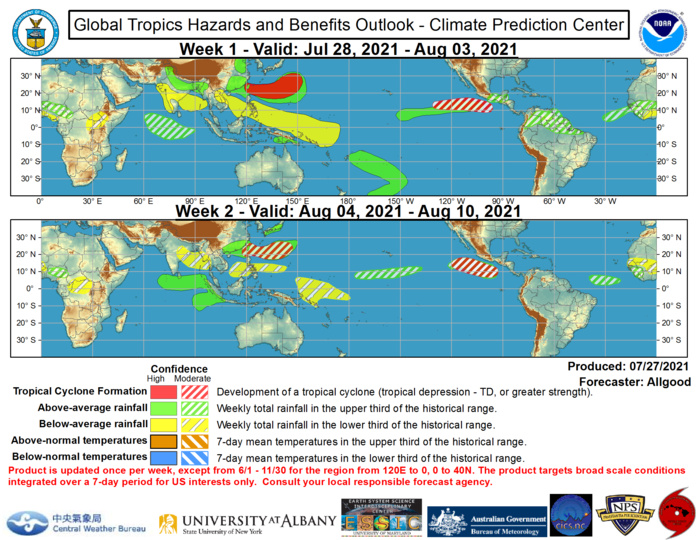 The precipitation outlook during the next two weeks is based on a consensus of GEFS, CFS, and ECMWF guidance, with some consideration given to precipitation composites based on prior MJO events. For hazardous weather concerns during the next two weeks across the U.S., please refer to your local NWS Forecast Office, the Weather Prediction Center's Medium Range Hazards Forecast, and CPC's Week-2 Hazards Outlook. Forecasts over Africa are made in consultation with the International Desk at CPC and can represent local-scale conditions in addition to global scale variability. NOAA.