WEEK 1: 15/21 SEPTEMBER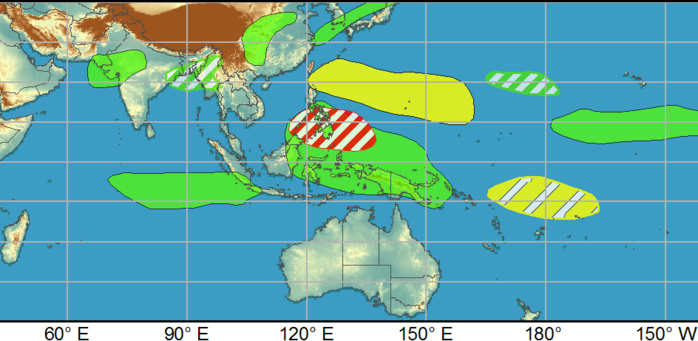 Dynamical models show a general potential for tropical cyclone development over the West Pacific basin in the vicinity of the Philippines, but the Joint Typhoon Warning Center is not currently monitoring any specific invest areas.NOAA.

During Week-1, a tropical wave emerging off the western coast of Africa has a 90 percent chance of development according to the latest tropical weather outlook from the National Hurricane Center (NHC). Additionally, low pressure is anticipated to form north of the Bahamas during Week-1, with a 60 percent chance of formation through the next five days. This potential system will most likely remain offshore, but may bring some impacts to the coastal Carolinas as it tracks generally northward. Late in Week-1 or early Week-2 period, a second tropical wave is forecast to emerge from Africa and has a moderate potential for development. NOAA.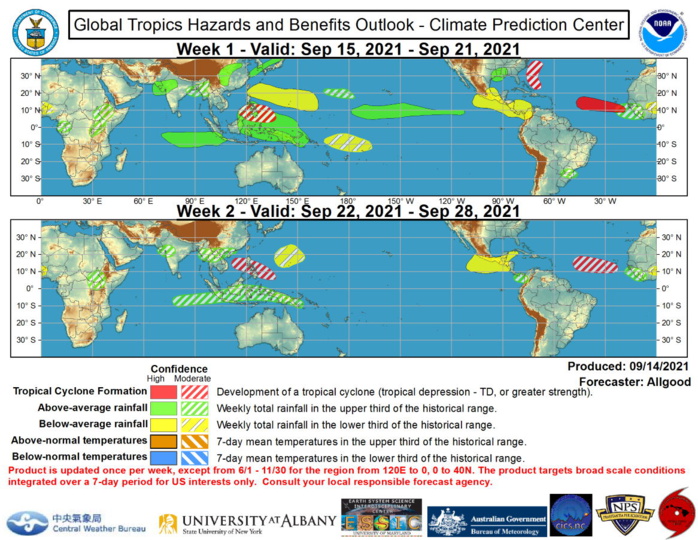 The precipitation outlook during the next two weeks is based on a consensus of GEFS, CFS, and ECMWF guidance, anticipated TC tracks including long-lived Typhoon Chanthu which is forecast to pass near South Korea and western Japan as a tropical storm over the next few days, and precipitation composites of past Indian Ocean and Maritime Continent MJO events for Week-1. The strongest precipitation signals favor enhanced (suppressed) convection across the equatorial Maritime Continent (vicinity of Central America) during both Week-1 and Week-2. Model solutions for precipitation diverge considerably during Week-2. For hazardous weather concerns during the next two weeks across the U.S., please refer to your local NWS Forecast Office, the Weather Prediction Center's Medium Range Hazards Forecast, and CPC's Week-2 Hazards Outlook. Forecasts over Africa are made in consultation with the International Desk at CPC and can represent local-scale conditions in addition to global scale variability.NOAA.