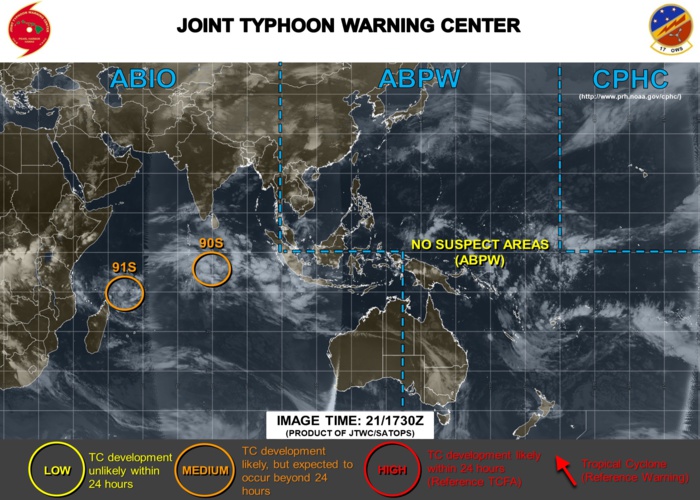 INVEST 90S
Location: 4.0°S 80.2°E
Maximum Winds: 25 kt
Minimum Central Pressure: 1004 mb
(1) THE AREA OF CONVECTION (INVEST 90S) PREVIOUSLY LOCATED
NEAR 4.2S 79.5E, IS NOW LOCATED NEAR 4.0S 80.2E, APPROXIMATELY 509
NM EAST-NORTHEAST OF DIEGO GARCIA. A 211538Z ASCAT PASS REVEALS AN
AREA OF 25-30 KNOTS WINDS TO THE NORTHEAST. ANIMATED ENHANCED
INFRARED SATELLITE IMAGERY AND A 211606Z MHS 89GHZ MICROWAVE IMAGE
DEPICT A CONSOLIDATING LOW LEVEL CIRCULATION (LLC) WITH CONVECTION
AROUND THE CENTER. UPPER-LEVEL ENVIRONMENTAL ANALYSIS SHOWS LOW
VERTICAL WIND SHEAR (5-10 KNOTS) AND A POINT SOURCE ALOFT IS
ENHANCING OUTFLOW. SEA SURFACE TEMPERATURES (28-29 CELSIUS) WILL
HELP FURTHER DEVELOPMENT. GLOBAL MODELS INDICATE SOUTHEASTWARD
INITIAL MOTION OVER THE NEXT 36-48 HOURS WITH GRADUAL
INTENSIFICATION TO TROPICAL CYCLONE STRENGTH, WITH VARYING TIME
FRAMES AND INTENSITY. IT IS POSSIBLE 90S WILL INTERACT WITH AND
ABSORB A CIRCULATION TO THE SOUTHEAST BEFORE CONSOLIDATING. MAXIMUM
SUSTAINED SURFACE WINDS ARE ESTIMATED AT 20 TO 25 KNOTS. MINIMUM SEA
LEVEL PRESSURE IS ESTIMATED TO BE NEAR 1004 MB. THE POTENTIAL FOR
THE DEVELOPMENT OF A SIGNIFICANT TROPICAL CYCLONE WITHIN THE NEXT 24
HOURS IS UPGRADED TO MEDIUM.
-----------------------------------------------------------------
INVEST 91S
Location: 9.7°S 53.0°E
Maximum Winds: 20 kt
Minimum Central Pressure: 1005 mb
(2) THE AREA OF CONVECTION (INVEST 91S) PREVIOUSLY LOCATED
NEAR 8.9S 54.4E, IS NOW LOCATED NEAR 9.7S 53.0E, APPROXIMATELY 711
NM NORTH OF LA REUNION. ANIMATED ENHANCED INFRARED SATELLITE IMAGERY
AND A PARTIAL 211551Z GMI 89GHZ MICROWAVE IMAGE SHOW FRAGMENTED,
FORMATIVE BANDING ASSOCIATED WITH THE BROAD LOW-LEVEL CIRCULATION.
UPPER-LEVEL ANALYSIS DEPICTS LOW TO MODERATE (10-25 KNOTS) VERTICAL
WIND SHEAR (5-10 KNOTS) WITH POLEWARD OUTFLOW INTO THE UPPER LEVEL
WESTERLIES TO THE SOUTH. SEA SURFACE TEMPERATURES (28-29 CELSIUS) IN
THE SURROUNDING WATERS REMAIN SUPPORTIVE FOR FUTURE DEVELOPMENT.
GLOBAL MODELS INDICATE A WESTWARD TO SOUTHWESTWARD TRACK WITH
GRADUAL INTENSIFICATION IN 48-72 HOURS. MAXIMUM SUSTAINED SURFACE
WINDS ARE ESTIMATED AT 20 TO 25 KNOTS. MINIMUM SEA LEVEL PRESSURE IS
ESTIMATED TO BE NEAR 1003 MB. THE POTENTIAL FOR THE DEVELOPMENT OF A
SIGNIFICANT TROPICAL CYCLONE WITHIN THE NEXT 24 HOURS IS UPGRADED TO
MEDIUM.