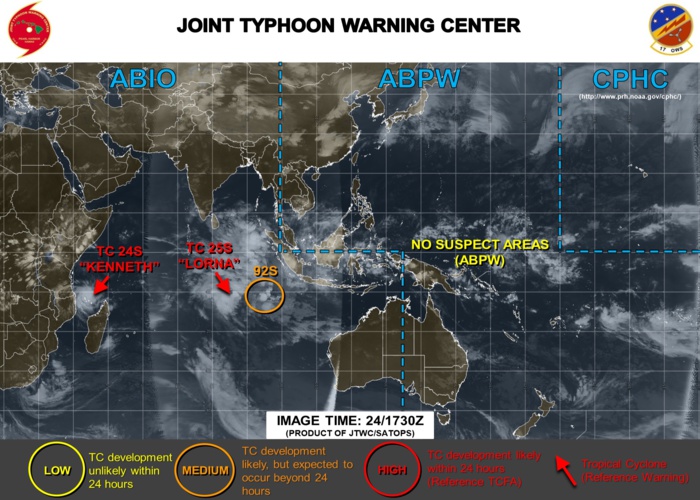 Location: 11.4°S 93.8°E
Maximum Winds: 20 kt
Minimum Central Pressure: 1005 mb
(1) THE AREA OF CONVECTION (INVEST 92S) PREVIOUSLY LOCATED
NEAR 9.4S 93.8E, IS NOW LOCATED NEAR 11.2S 94.2E, APPROXIMATELY 167
NM WEST-NORTHWEST OF COCOS ISLAND. ANIMATED ENHANCED INFRARED
SATELLITE IMAGERY AND A 241501Z MHS METOP-A 89GHZ MICROWAVE IMAGE
DEPICT A CONSOLIDATING LOW-LEVEL CIRCULATION (LLC) WITH PERSISTENT
CONVECTION AND FORMATIVE BANDING. UPPER LEVEL ANALYSIS SHOWS GOOD
POLEWARD OUTFLOW ALOFT AND A SMALL TONGUE OF LOW VERTICAL WIND SHEAR
(VWS) SURROUNDED BY HIGHER (15-30 KNOT) VWS TO THE NORTH AND SOUTH,
HINDERING DEVELOPMENT AT THIS TIME. SEA SURFACE TEMPERATURES (28-29
CELSIUS) IN THE SURROUNDING WATERS SUPPORT FUTURE DEVELOPMENT.
GLOBAL MODELS INDICATE A SOUTHWARD TRAJECTORY AND A POSSIBLE MERGER
OR DIRECT CYCLONE INTERACTION WITH 25S AFTER TAU 48. MAXIMUM
SUSTAINED SURFACE WINDS ARE ESTIMATED AT 20 TO 25 KNOTS. MINIMUM SEA
LEVEL PRESSURE IS ESTIMATED TO BE NEAR 1005 MB. THE POTENTIAL FOR
THE DEVELOPMENT OF A SIGNIFICANT TROPICAL CYCLONE WITHIN THE NEXT 24
HOURS REMAINS MEDIUM.