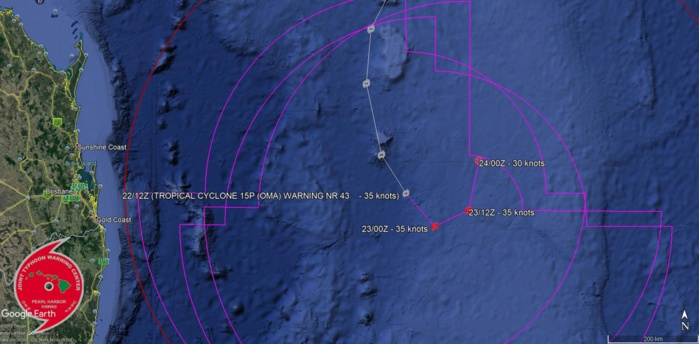 2019 FEB 22 1550UTC SOUTH PACIFIC
TC
#
OMA
#
15P
This system is currently analysed as a 35knots TC.
WARNING 43/JTWC
Click on the TC graphic to read the Remarks for Warning 43 and view sat pics and charts .
Satellite bulletins are to be found in the comments of this post on JTWC BIS.
As of 12:00 UTC Feb 22, 2019:
Location: 27.7°S 157.9°E
Maximum Winds: 35 kt ( 65km/h)
Gusts: 45 kt ( 85km/h)
Minimum Central Pressure: 994 mb
https://www.facebook.com/groups/1817419381676514/
Cheers,
Patrick Hoareau
REMARKS:
221500Z POSITION NEAR 27.8S 160.1E.
TROPICAL CYCLONE (TC) 15P (OMA), LOCATED APPROXIMATELY 367 NM EAST OF
BRISBANE, AUSTRALIA, HAS TRACKED SOUTH-SOUTHEASTWARD AT 08 KNOTS OVER
THE PAST SIX HOURS. ANIMATED ENHANCED INFRARED (EIR) SATELLITE
IMAGERY SHOWS THE LOW LEVEL CIRCULATION (LLC) HAS BECOME ALMOST FULLY
EXPOSED WITH THE BULK OF THE CONVECTION SHEARED SOUTHEASTWARD OF THE
LLC. RAIN BANDS CONTINUED TO UNRAVEL AND HAD BECOME MORE FRAGMENTED.
THE INITIAL POSITION IS BASED WITH HIGH CONFIDENCE ON THE EXPOSED LLC
IN THE EIR LOOP AND LINED UP WITH A RAGGED AND ELONGATED LLC FEATURE
IN THE 221059Z AMSU MICROWAVE IMAGE. THE INITIAL INTENSITY IS BASED
ON THE HIGH END OF AGENCY AND OBJECTIVE DVORAK ESTIMATES OF
T2.0/30KTS TO T2.7/37KTS. TC 15P IS TRACKING ALONG THE WESTERN
PERIPHERY OF AN STR OVER COOL SEA SURFACE TEMPERATURES (SSTS) AND
INCREASING VERTICAL WIND SHEAR, THAT FOR NOW, ARE PARTLY OFFSET BY A
ROBUST POLEWARD OUTFLOW. BY TAU 12, A SECONDARY STR FROM THE
SOUTHWEST WILL COMPETE FOR STEERING AND SLOWLY TURN THE CYCLONE
EQUATORWARD. THE RESULTING QUASI-STATIONARY (QS) MOTION WILL RESULT
IN A NEUTRAL ENVIRONMENT. AFTER TAU 24, POSSIBLY SOONER, DIMINISHING
OUTFLOW AS THE SECONDARY STR ASSUMES STEERING AND COOLING SSTS AS A
RESULT OF QS UPWELLING WILL WEAKEN TC OMA, LEADING TO DISSIPATION BY
TAU 36. NUMERICAL MODELS ARE IN OVERALL AGREEMENT WITH AN EVENTUAL
EQUATORWARD TRACK BUT DIFFER SIGNIFICANTLY IN THE DEGREE OF TURN AND
ALONG TRACK SPEEDS. IN VIEW OF THESE, THERE IS LOW CONFIDENCE IN THE
JTWC TRACK FORECAST. MAXIMUM SIGNIFICANT WAVE HEIGHT AT 221200Z IS 15
FEET. NEXT WARNINGS AT 222100Z, 230300Z, 230900Z AND 231500Z.//
NNNN