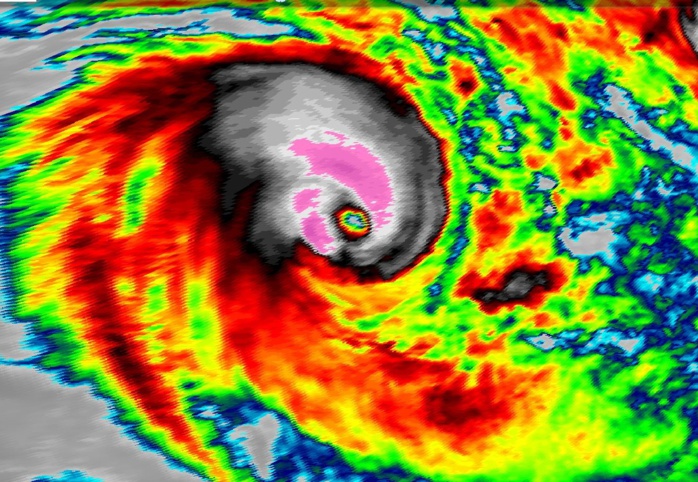 14UTC
TC HALEH 17S
https://www.facebook.com/groups/1817419381676514/
As of 12:00 UTC Mar 04, 2019:
Location: 18.7°S 72.6°E
Maximum Winds: 105 kt (195km/h)
Gusts: 130 kt (240km/h)
Minimum Central Pressure: 951 mb
REMARKS:
041500Z POSITION NEAR 18.9S 72.5E.
TROPICAL CYCLONE (TC) 17S (HALEH), LOCATED APPROXIMATELY 870 NM EAST
OF PORT LOUIS, MAURITIUS, HAS TRACKED SOUTH-SOUTHWESTWARD AT 08
KNOTS (KTS) OVER THE PAST SIX HOURS. ANIMATED MULTISPECTRAL
SATELLITE IMAGERY SHOWS THE 25-30 NM WIDE EYE HAS PERSISTED FOR THE
PAST SIX HOURS AND THE CLOUD FIELD HAS REMAINED FAIRLY SYMMETRIC.
THE INITIAL POSITION IS BASED, WITH HIGH CONFIDENCE, ON THE MSI LOOP
AND AN EYE FEATURE IN A 041130Z SSMIS 89 GHZ MICROWAVE IMAGE. THE
INITIAL INTENSITY OF 105 KTS IS CONSISTENT WITH MULTI-AGENCY DVORAK
CURRENT INTENSITY ESTIMATES OF T5.5 (102 KTS). THE ENVIRONMENT IS
FAVORABLE WITH EXCELLENT POLEWARD OUTFLOW, LOW (10-15 KT) VERTICAL
WIND SHEAR (VWS), AND WARM (28-29 CELSIUS) SEA SURFACE TEMPERATURE
(SST). FOR THE DURATION OF THE FORECAST, TC 17S WILL TRACK ALONG THE
PERIPHERY OF A SUBTROPICAL RIDGE (STR), CURRENTLY LOCATED TO THE
SOUTHEAST. AROUND TAU 96, THE TRACK WILL GRADUALLY SHIFT FROM
SOUTHWESTWARD TO SOUTHWARD AS TC 17S ROUNDS THE STR AXIS. THROUGH
TAU 48, THE ENVIRONMENT IS EXPECTED TO REMAIN SUPPORTIVE AND THE
INTENSITY SHOULD REMAIN AT 100 KTS OR GREATER THROUGH THAT PERIOD.
AFTER TAU 48, A COMBINATION OF DIMINISHED OUTFLOW, INCREASED VWS,
AND COOLER SSTS ARE EXPECTED TO CAUSE THE CYCLONE TO STEADILY
WEAKEN, FALLING TO 55 KTS BY TAU 120. BETWEEN TAU 96 AND 120, TC 17S
IS EXPECTED TO BEGIN EXTRATROPICAL TRANSITION AS IT MOVES INTO THE
MID-LATITUDE BAROCLINIC ZONE. WITH THE EXCEPTION OF NAVGEM, WHICH
LIES EAST OF THE OTHER MEMBERS, NUMERICAL MODEL GUIDANCE IS IN GOOD
AGREEMENT THROUGHOUT THE FORECAST. TO OFFSET THE INFLUENCE OF
NAVGEM, THE JTWC TRACK FORECAST IS HEDGED JUST WEST OF THE CONSENSUS
TRACK, WITH GOOD CONFIDENCE BASED ON STRONG AGREEMENT IN THE BULK OF
THE MODEL GUIDANCE. MAXIMUM SIGNIFICANT WAVE HEIGHT AT 041200Z IS 43
FEET. NEXT WARNINGS AT 042100Z, 050300Z, 050900Z AND 051500Z.//
NNNN