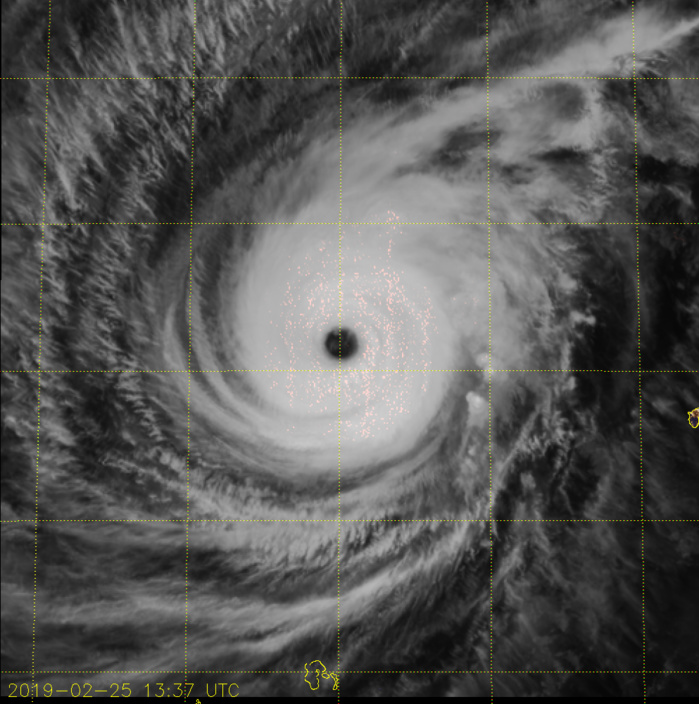 1337UTC
https://www.meteo974.re/M974World_r7.html
No threat to any land.
2019 FEB 25 14UTC WESTERN NORTH PACIFIC
STY
#
WUTIP
#
02W
This system is currently analysed as a 130knots TC, CAT4 US.
WARNING 26/JTWC
Click on the image to read the Remarks for Warning 26 and view sat pics and charts .
Satellite bulletins are to be found in the comments of this post on JTWC BIS.
As of 12:00 UTC Feb 25, 2019:
Location: 14.2°N 140.1°E
Maximum Winds: 130 kt (240km/h)
Gusts: 160 kt (300km/h)
Minimum Central Pressure: 929 mb
https://www.facebook.com/groups/1817419381676514/
Cheers,
Patrick Hoareau
WDPN31 PGTW 251500
MSGID/GENADMIN/JOINT TYPHOON WRNCEN PEARL HARBOR HI//
SUBJ/PROGNOSTIC REASONING FOR SUPER TYPHOON 02W (WUTIP) WARNING NR
26//
RMKS/
1. FOR METEOROLOGISTS.
2. 6 HOUR SUMMARY AND ANALYSIS.
SUPER TYPHOON (STY) 02W (WUTIP), LOCATED APPROXIMATELY 260 NM
NORTH OF ULITHI, HAS TRACKED NORTH-NORTHWESTWARD AT 04 KNOTS OVER
THE PAST SIX HOURS. STY 02W HAS WEAKENED SLIGHTLY OVER THE PAST SIX
HOURS, HOWEVER, ANIMATED ENHANCED INFRARED SATELLITE IMAGERY DEPICTS
AN AXISYMMETRIC CORE OF DEEP CONVECTION WITH A 25NM ROUND EYE, WHICH
SUPPORTS THE INITIAL POSITION WITH HIGH CONFIDENCE. A 251149Z MHS
89GHZ MICROWAVE IMAGE SHOWS SPIRAL BANDING WRAPPING INTO A SYMMETRIC
EYEWALL. DESPITE THE MARGINALLY FAVORABLE SST VALUES (26 TO 27C) AND
LOW OCEAN HEAT CONTENT VALUES, THE SYSTEM HAS MAINTAINED RADIAL
OUTFLOW AND AN UNUSUALLY ROBUST POLEWARD OUTFLOW CHANNEL INTO
A ZONAL JET STREAM TO THE NORTH (AS EVIDENCED BY THE TRANSVERSE
BANDING ALONG THE NORTHERN PERIPHERY OF THE SYSTEM IN THE ANIMATED
WATER VAPOR IMAGERY). THE CURRENT INTENSITY IS ASSESSED AT 130 KNOTS
BASED ON DVORAK INTENSITY ESTIMATES OF 6.0/7.0 FROM PGTW AND 6.5/7.0
FROM RJTD AS WELL AS A 250858Z SATCON ESTIMATE OF 131 KNOTS. STY 02W
IS TRACKING NORTH-NORTHWESTWARD UNDER THE STEERING INFLUENCE OF A
DEEP-LAYERED SUBTROPICAL RIDGE (STR) POSITIONED TO THE NORTHEAST.
3. FORECAST REASONING.
A. THERE IS NO CHANGE TO THE FORECAST PHILOSOPHY SINCE THE
PREVIOUS PROGNOSTIC REASONING MESSAGE.
B. THROUGH TAU 24, STY 02W IS FORECAST TO TRACK NORTHWESTWARD TO
WEST-NORTHWESTWARD ALONG THE SOUTHWESTERN PERIPHERY OF THE DEEP-
LAYERED STR TOWARD A BREAK IN THE STR ASSOCIATED WITH A SHORTWAVE
TROUGH PROPAGATING TO THE NORTH. GRADUAL WEAKENING IS EXPECTED DUE
TO AN IMMINENT EYEWALL REPLACEMENT CYCLE SUGGESTED IN THE UW-CIMSS M-
PERC PRODUCT AS WELL AS DRY AIR ENTRAINMENT EVIDENT IN THE TOTAL
PRECIPITABLE WATER IMAGERY. AFTER TAU 24, THE SHORTWAVE TROUGH IS
FORECAST TO SHIFT NORTHEAST ALLOWING AN EXTENSION OF THE LOW- TO MID-
LEVEL STR TO REBUILD TO THE NORTH. CONSEQUENTLY, STY WUTIP WILL TURN
WESTWARD AND ACCELERATE. MORE SIGNIFICANT WEAKENING IS EXPECTED BY
TAU 36 AS VERTICAL WIND SHEAR (VWS) INCREASES AND SST VALUES
DECREASE SLIGHTLY TO 26C. NUMERICAL MODEL GUIDANCE IS IN FAIR
AGREEMENT WITH SOME UNCERTAINTY IN THE TIMING OF THE TURN TO THE
WEST.
C. AFTER TAU 72, INCREASING VWS (30-40 KTS) AND CONVERGENCE
ASSOCIATED WITH INCREASING UPPER-LEVEL (200MB) WESTERLIES OVER THE
SYSTEM AS WELL AS DRY AIR ENTRAINMENT ASSOCIATED WITH A NORTHEAST
SURGE EVENT WILL SERVE TO RAPIDLY WEAKEN THE SYSTEM LEADING TO
DISSIPATION BETWEEN TAU 96 AND TAU 120. NUMERICAL MODEL GUIDANCE IS
IN POOR AGREEMENT WITH A 610NM SPREAD IN SOLUTIONS AT TAU 120.
THEREFORE, THERE IS LOW CONFIDENCE (HIGH UNCERTAINTY) IN THE JTWC
FORECAST TRACK DUE TO THE RAPIDLY EVOLVING SYNOPTIC ENVIRONMENT AND
LARGE MODEL SPREAD.//
NNNN