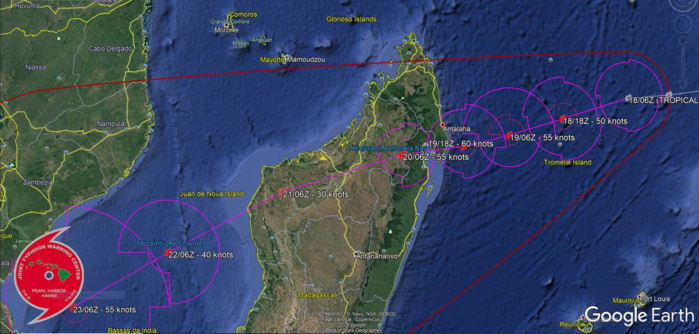 12S(ELOISE). WARNING 3. FORECAST TO TRACK WEST- SOUTHWESTWARD THROUGH THE FORECAST PERIOD ALONG THE NORTHWESTERN FLANK OF A DEEP-LAYERED SUBTROPICAL RIDGE ENTRENCHED TO THE SOUTHEAST AND SOUTH. 12S IS FORECAST TO STEADILY INTENSIFY TO A PEAK OF 60 KNOTS BY 36H AS IT APPROACHES THE NORTHEAST COAST OF MADAGASCAR JUST SOUTH OF ANTALAHA. THE SYSTEM WILL WEAKEN RAPIDLY AFTER MAKING LANDFALL NEAR 48H, AND INTENSITY WILL FALL BELOW 35KNOTS OVER THE MOUNTAINOUS TERRAIN OF MADAGASCAR BY 72H. AFTER 72H, 12S IS FORECAST TO RE-INTENSIFY AS IT EMERGES OVER THE MOZAMBIQUE CHANNEL.
2021 JAN 18 0830UTC
TC #12S #ELOISE
#
SOUTHINDIANOCEAN
As of 06:00 UTC Jan 18, 2021:
WARNING 3
Location: 13.7°S 56.6°E
Maximum Winds: 45 kt ( 85km/h)
Gusts: 55 kt ( 100km/h)
Minimum Central Pressure: 998 mb
INTENSIFYING
Satellite bulletins are to be found in the comments of this post on
JTWC BIS
Cheers,
Patrick Hoareau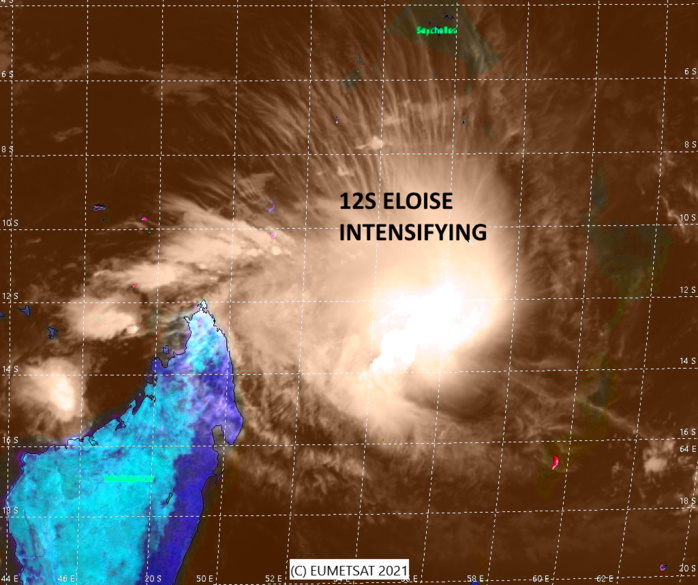 18/06UTC. SATELLITE IMAGERY REVEALS A PARTIALLY-EXPOSED LOW-LEVEL CIRCULATION CENTER (LLCC) OBSCURED UNDER THE SOUTHEASTERN EDGE OF PERSISTENT DEEP CONVECTION.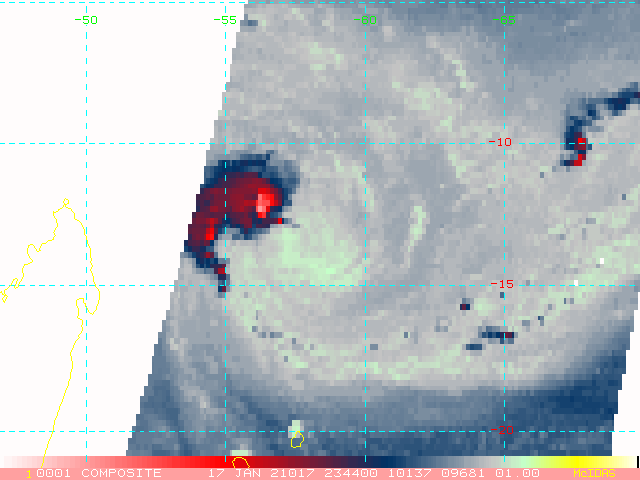 COMPOSITE MICROWAVE IMAGE SUPPORTS THE INITIAL POSITION WITH FAIR CONFIDENCE AND SHOWS SHALLOW BANDING WRAPPING AROUND A BROAD LLCC WITH A CURVED DEEP CONVECTIVE BAND DISPLACED OVER THE WEST AND NORTHWEST QUADRANTS.