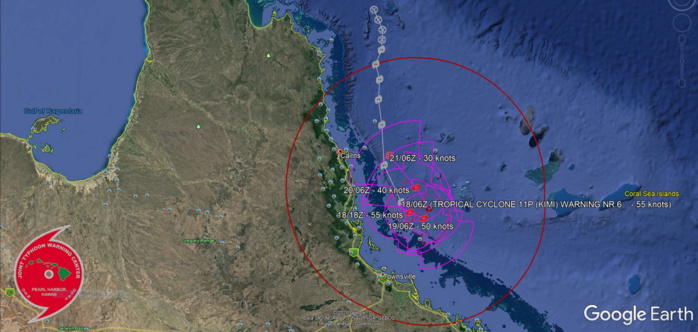 11P(KIMI). WARNING 6.THE SYSTEM IS TRACKING SLOWLY SOUTH-SOUTHEASTWARD WITH RECENT RADAR IMAGERY SHOWING AN EASTWARD TURN.WILL BECOME QUASI- STATIONARY OVER THE NEXT 12-24 HOURS WITH AN EQUATORWARD TRACK CHANGE BY 36H. AFTER 36H, INCREASING LOW-LEVEL SOUTHERLY FLOW (WITH COOLER, MORE STABLE AIR) IS EXPECTED TO WEAKEN THE SYSTEM AND STEER IT NORTH-NORTHWESTWARD WITH INTENSITY FALLING BELOW 35KNOTS ANTICIPATED BY 72H.
2021 JAN 18 0945UTC
TC #11P #KIM
#
SOUTHPACIFICOCEAN
As of 06:00 UTC Jan 18, 2021:
WARNING 6
Location: 17.8°S 147.1°E
Maximum Winds: 55 kt ( 100km/h)
Gusts: 70 kt ( 130km/h)
Minimum Central Pressure: 991 mb
Satellite bulletins are to be found in the comments of this post on
JTWC BIS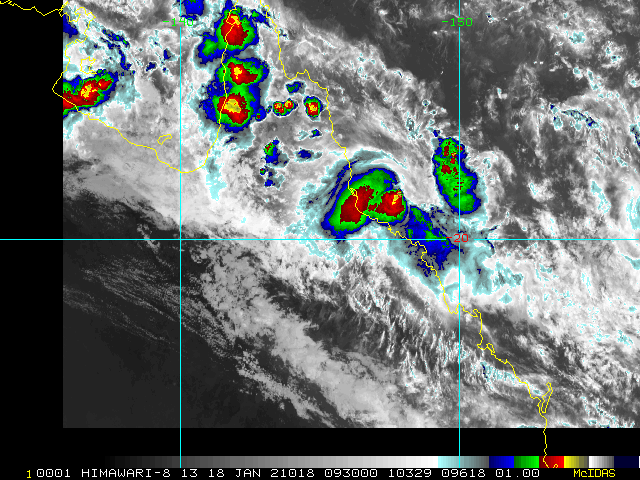 18/0930UTC. ENHANCED INFRARED SATELLITE IMAGERY DEPICTS A COMPACT SYSTEM WITH PERSISTENT DEEP CONVECTION OBSCURING THE LOW-LEVEL CIRCULATION CENTER (LLCC). ANIMATED RADAR IMAGERY FROM THE TOWNSVILLE RADAR, FORTUNATELY, REVEALS TIGHTLY-CURVED BANDING WRAPPING INTO A SMALL, WELL-DEFINED LLCC.