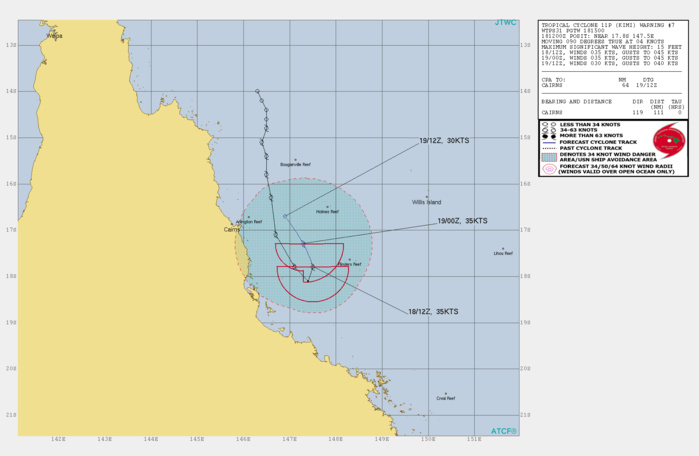 WARNING 7. THE SYSTEM WILL TRACK EQUATORWARD THROUGH THE FORECAST PERIOD WITH STEADY WEAKENING AND DISSIPATION ANTICIPATED BY 24H. DUE TO THE COMPLEX, EVOLVING STEERING INFLUENCES AND POOR MODEL AGREEMENT, THERE IS LOW CONFIDENCE (HIGH UNCERTAINTY) IN THE JTWC FORECAST TRACK.
2021 JAN 18 1610UTC
TC #11P #KIM
#
SOUTHPACIFICOCEAN
As of 12:00 UTC Jan 18, 2021:
WARNING 7
Location: 17.8°S 147.5°E
Maximum Winds: 35 kt ( 65km/h)
Gusts: 45 kt ( 85km/h)
Minimum Central Pressure: 1001 mb
WEAKENING
Satellite bulletins are to be found in the comments of this post on
JTWC BIS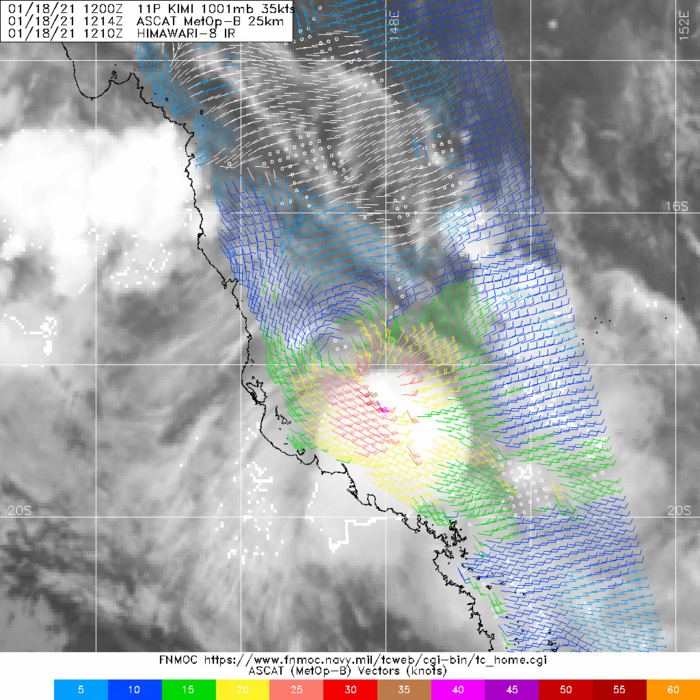 18/1214UTC. ASCAT- BULLSEYE IMAGE REVEALS A DEFINED CIRCULATION, WHICH SUPPORTS THE INITIAL POSITION WITH GOOD CONFIDENCE, WITH 20-25 KNOT WINDS OVER THE NORTHERN SEMICIRCLE AND 35-40 KNOT GRADIENT WINDS OVER THE SOUTHERN SEMICIRCLE. THIS IMAGE SUPPORTS THE INITIAL INTENSITY ASSESSMENT OF 35 KNOTS AND ALSO SUPPORTS THE ABRUPT EQUATORWARD TRACK CHANGE OVER THE PAST SIX HOURS.